November 4 2020
I have all kinds of good news here! If you are not ready for winter it's flipped your way.  If you want winter, do not despair. This may be a good sign.
This week started with flurries and will end with the 70s. Such is the way of an active weather pattern in early November. The cold air that brought us the strong winds has already be traded off for a warmer and quiet weather pattern.  It's all about the jet stream, and it could hold for the next week.
Jet Stream Snapshot
The storm track (arrow) will shift west and north of us.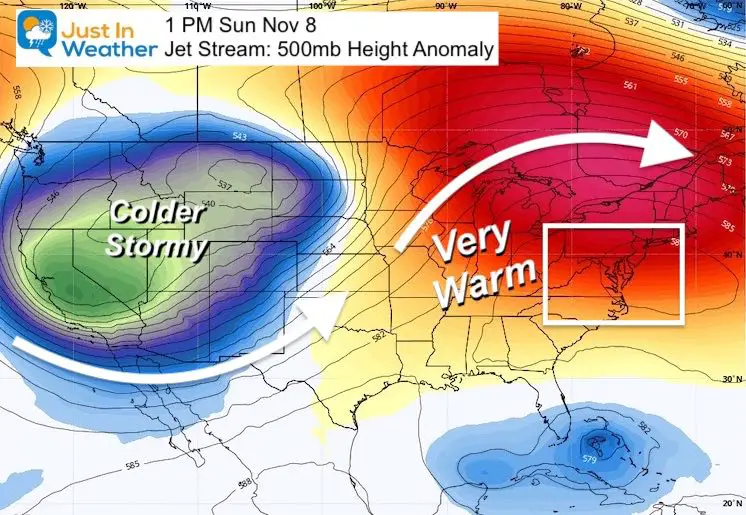 Keep in mind the old saying 'what goes up, must come down'.  We are building a ridge (orange and red) in the jet stream that will lock us in to a quiet and warm weather pattern for a while. As that happens, the western US gets a trough (blue and green) will turn colder and stormy.
This is actually really good news to quell the wildfires and lower the risk for more.
Jet Stream Forecast Animation
The trend shows a building trough for the western US, while we stay on warm side.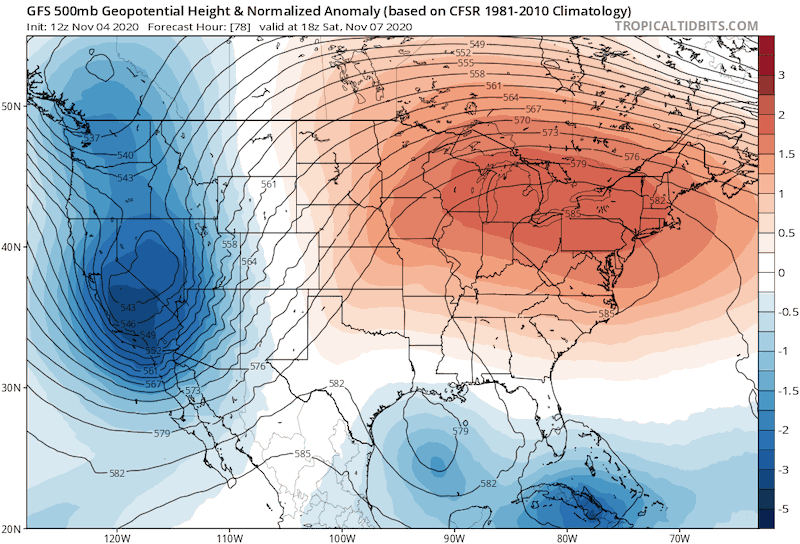 Temperature Outlook
NOAA has projected a mostly likely outlook for the next 10 days to remain very warm in the east, while the west turns much colder.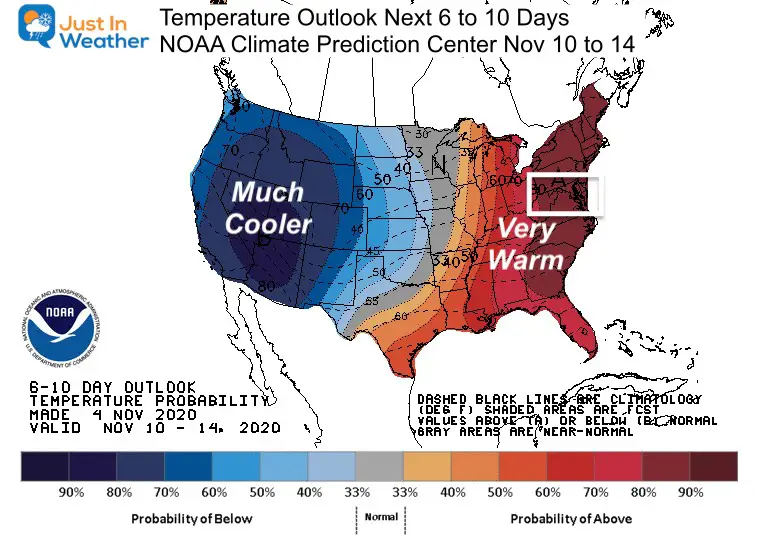 What does this mean in real numbers?
By November 8, Baltimore averages a high temperature of 59ºF, and we get 1 degree cooler every 2 to 3 days.  We can thank the low sun angle and losing 2 minutes of daylight each day.
But, the forecast projections have us reaching the lower 70s by Friday and remaining that warm through most of next week.
The trick is that compute models tend to underplay warm us this time of year. It is possible within this pattern we could see some days in the upper 70s to near 80ºF. That would be 20 to 25 degrees above average!
The end, perhaps next weekend.
Temperature Outlook Extended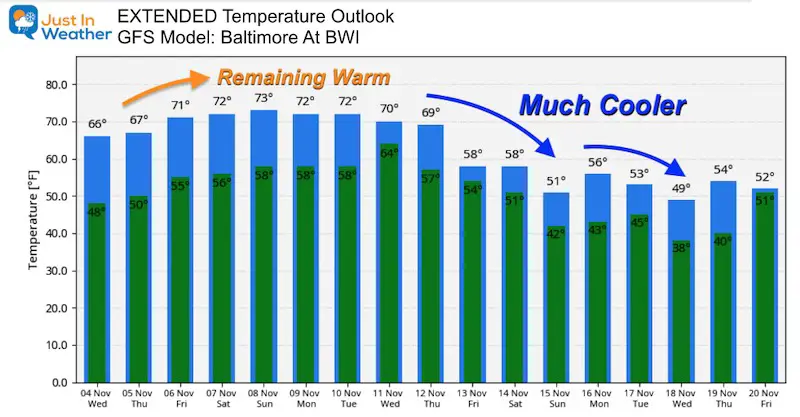 Arctic Oscillation
Good News For Winter Lovers
Think about the Law Of Averages. In my experience, when we see late season warm spell like this, it allows the cold to build elsewhere.  This will surge with with an abrupt end, that could bring us into even colder air for Thanksgiving Week.
One element we look at is the Arctic Oscillation. This pattern around the North Pole can demonstrate the strength of the Polar Vortex and resulting cold air available for us in the middle latitudes.
Positive Arctic Oscillation (+AO) = Warmer for us
Negative Arctic Oscillation (-AO) = Colder for us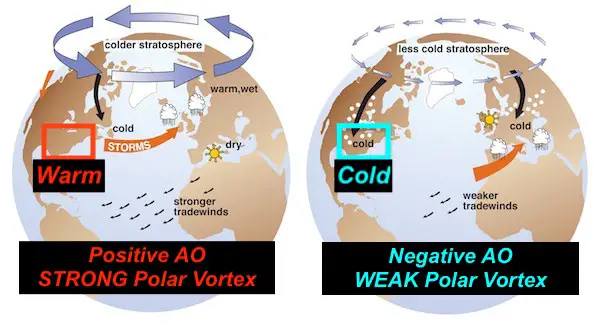 The GFS Model Forecast below shows the trend for the AO over the next two weeks.  The forecast is the green line with the black dot.
After being positive for the stretch, the fall of the AO around November 14 coincides with the return to colder air shown in the forecast above.   This is forecast to reach the neutral level by November 20, and may continue to trend negative.
If this does trend negative, that would time with Thanksgiving week for the first chance to see some hint of winter nearby. This does not promise us a snowstorm! Let's be clear about that! But it might start some Lake Effect Snow events, and perhaps some storms that could end with some first season snow showers before the end of the month.
Faith In The Flakes
I have a few more articles about the Winter Outlook to share with you. We still have a little time, but I am almost ready to make my winter outlook.  I will be cautious with the big fail from last year. But I am optimistic. Stay tune.
FITF.
YOUR INTERACTIVE WEATHER PAGES
14 Local Maryland Pages (and York PA)
We have made a page for Maryland Weather which gives you the current conditions for 14 present area locations.
Local Hourly Forecasts and Local Radar
Central Maryland
Delmarva
Pennsylvania
Maryland Weather Page
I wanted to keep it simple. Just the basics for a quick view at any time.
Please share your thoughts, best weather pics/video, or just keep in touch via social media
---
Email Updates
Please make sure you sign up (above or click here to sign up for email alerts…. ) for my newsletter. This way you will get an email to make sure you are notified of each post.
---
Also See: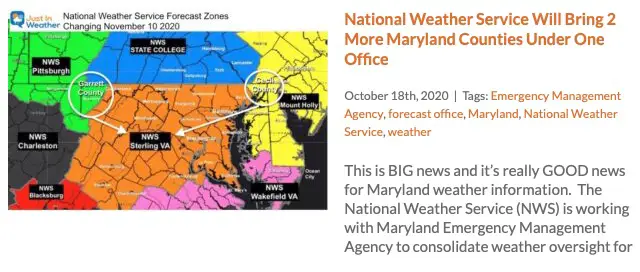 Help Solve The Mystery
UFO, Meteor, Or Something Else Caught On Cam In Owings Mills MD This Week?
Explore More:
Autumnal Facts and Weather Stats
Record Low Tied at BWI and Frost Photos Sep 20
Typical First Frost and Freeze
Also See:
July 2020 The hottest on record. Will it hint at snow this winter?
Comet NEOWISE Viewing All July (photos/video)
Other  Links:
Baltimore Weather At BWI May Not Be As Hot As Reported
Construction at the airport close to the weather station may be added artificial heat. Click here or the image for the details.
Also See:
Just In Power Kids:
Proceeds go to our programs Providing FREE holistic care for kids in cancer treatment and up to 5 years post treatment and caregivers.