November 3, 2020
Sometimes something truly special happens and we watch in awe. Other times that happens on a contentious election day and it serves as a great distraction to bring us together to embrace it and try to figure it out. What this cloud did today was amazing, and right over our region.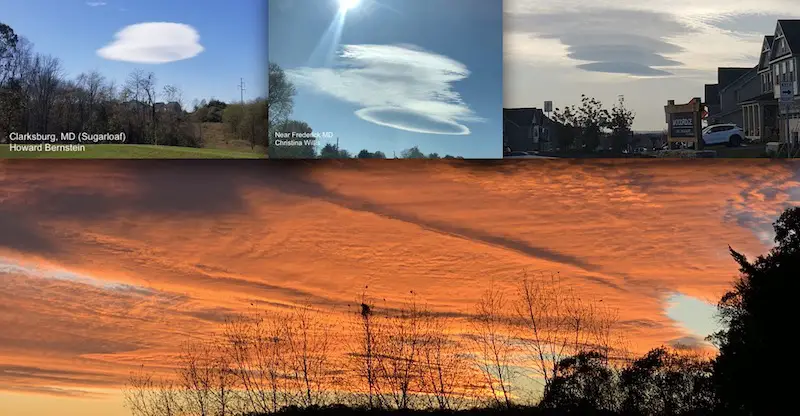 Below is the story of the transformation this clod experienced, which was captured by many photos and a satellite loop you must see (if you are a weather geek like me).
Lenticular Cloud
At first, there was a little cloud with rounded edges. It's the 'flying saucer' clouds often seen over western US mountains where air is forced around the tall peaks, then converges and  condenses on the other side. When we see them, there are usually some fast winds at work aloft.
The first photo I saw was from Howard Bernstein, a meteorologist from WUSA. He said this was near Sugarloaf Mountain. Not common, but has happened before.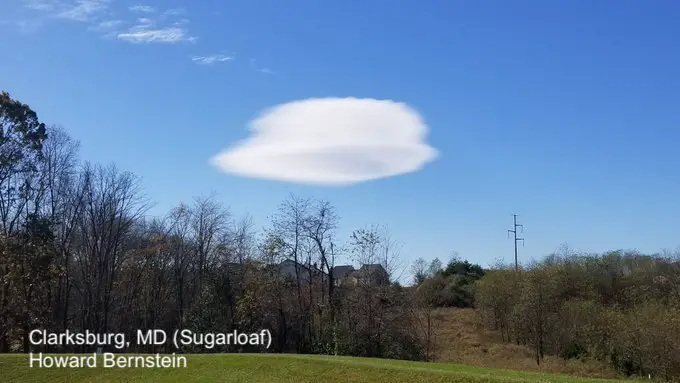 Then I Christina Willis sent me this picture near Frederick.  It looks like the same cloud, near the same location, but with a little extra cloud formation on top.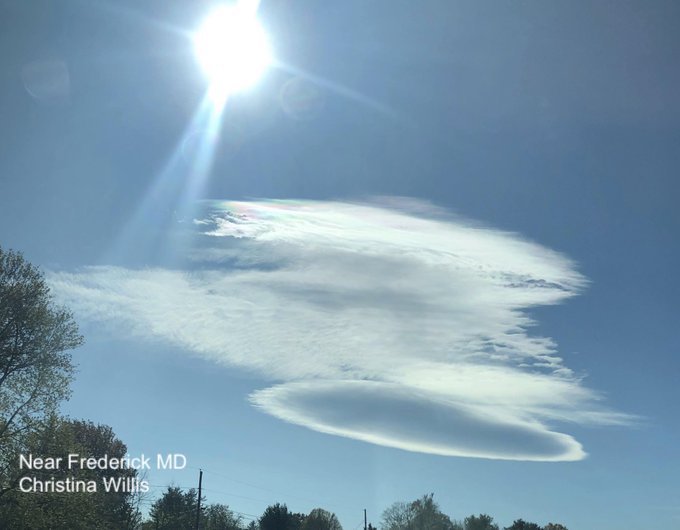 1 Hour Later
Fast forward an hour, move about 30 miles northeast, and here is the same cloud appearing to have stacked a few more lenticulars on top of it. A triple decker!
This was in New Market, MD by Lake Linganore.
This is a shot of the lenticular cloud I posted during the lunch hour. This was a little later, and north of the cloud. I was south. Notice the stacking. #WUSA9Weather #GetUpDC @wusa9 @TenaciousTopper @MiriWeather @chesterlampkin @ChrisClimate @capitalweather @JustinWeather https://t.co/5wUoDicYh5

— Howard Bernstein (@hbwx) November 3, 2020
Edge Of The Longer Cloud
Another hour and farther northeast, here was the view of a larger, distinct cloud line over Sykesville in Carroll County, MD. Thanks to Sally Ebare for helping to complete the story.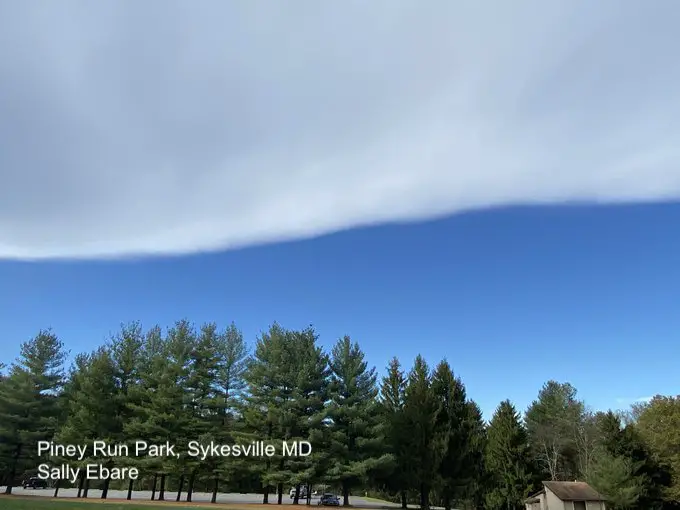 This cloud grew quickly on upper level winds and expanded to the northeast. It was only about 30 miles wide, but a few hundred miles long.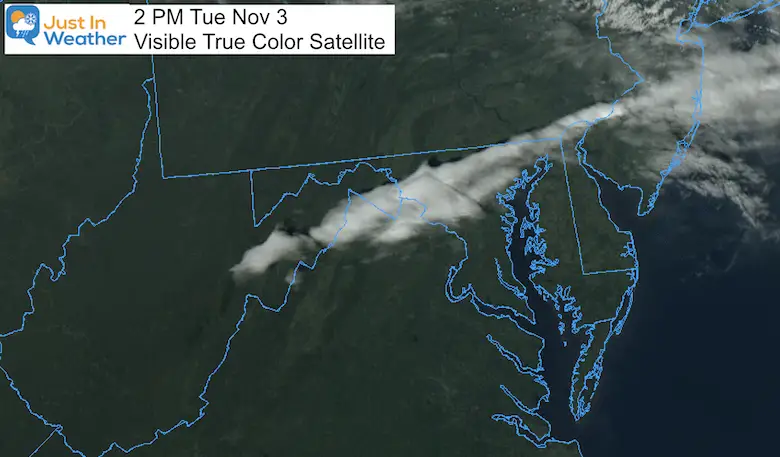 Satellite Loop
This is the fun part. Watch the little cloud in the first image quickly grown and expand east, while the line remained in place.
I am sorry I did not pause the last frame in this loop. It spans just a few hours, but shows the growth very well.
Magnificent Sunset:
Perhaps the best part of this experience. Here was my view as that long line was breaking up just after 5 PM EST.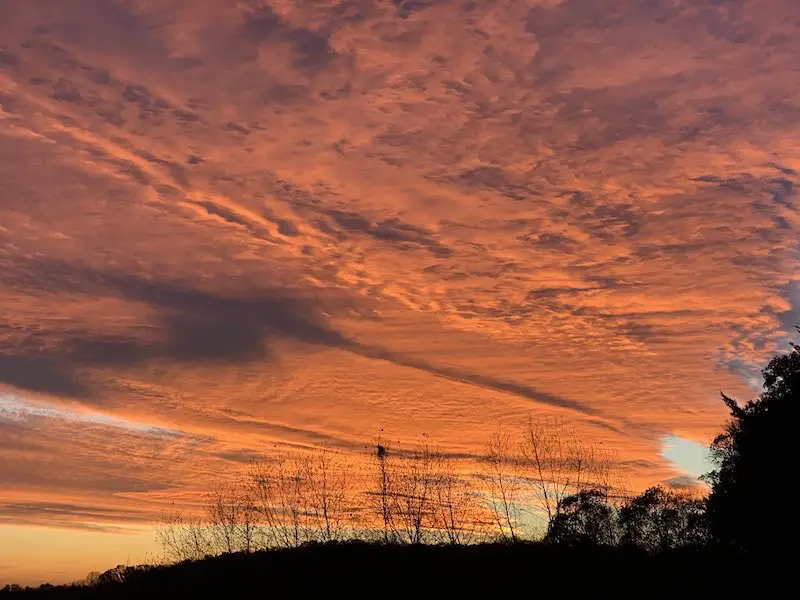 So, What Happened?
Surface Weather
There were no surface features, but strong winds prevails between two air masses marked by High Pressure to the north and south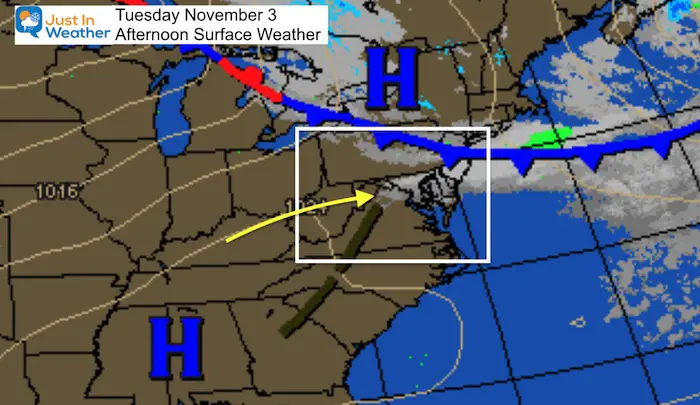 I asked the question on Twitter and had sone other meteorologists responded.  Check out the answer from my former Chief at WBAL- Tom Tasselmyer.
Weak H5 disturbance tracking SE helping other factors. pic.twitter.com/8pFb9LvTdI

— Tom Tasselmyer (@ttasselWBAL) November 3, 2020
There was some kink or weakness to the jet stream. Not sure if it was the jet streak I suggested, or influence from the mountains propagating waves downstream
It was certainly very cool. If you saw it, you had the blessing of a distraction on this Election Day. A cool view of clouds and great sunset.  No rain. No snow. So purely academic for us geeks.
Perhaps now you want to keep the fun going? Join my 'Other' Election Day Poll For Winter Snow
Click this image to VOTE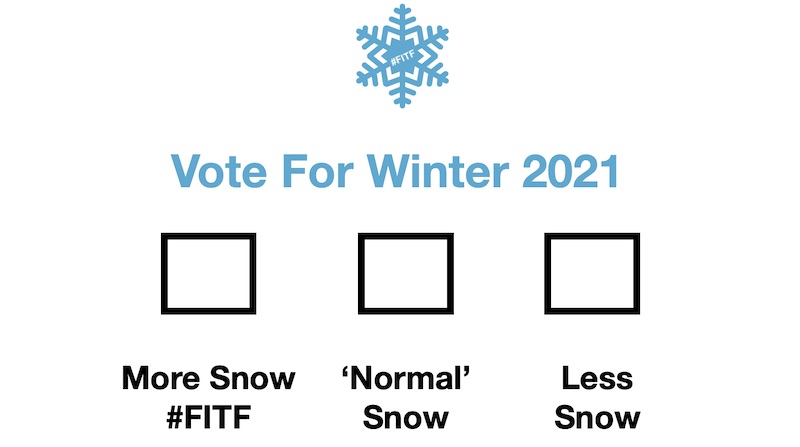 Please share your thoughts, best weather pics/video, or just keep in touch via social media
---
Email Updates
Please make sure you sign up (above or click here to sign up for email alerts…. ) for my newsletter. This way you will get an email to make sure you are notified of each post.
YOUR INTERACTIVE WEATHER PAGES
14 Local Maryland Pages (and York PA)
We have made a page for Maryland Weather which gives you the current conditions for 14 present area locations.
Local Hourly Forecasts and Local Radar
Central Maryland
Delmarva
Pennsylvania
Maryland Weather Page
I wanted to keep it simple. Just the basics for a quick view at any time.
Also See: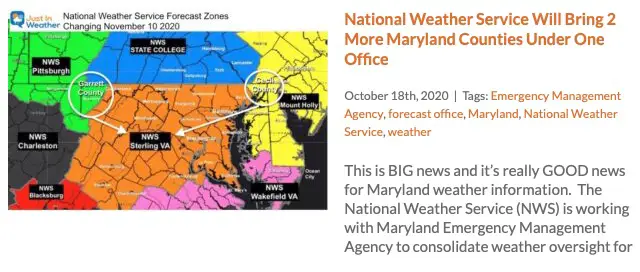 Help Solve The Mystery
UFO, Meteor, Or Something Else Caught On Cam In Owings Mills MD This Week?
Explore More:
Autumnal Facts and Weather Stats
Record Low Tied at BWI and Frost Photos Sep 20
Typical First Frost and Freeze
Also See:
July 2020 The hottest on record. Will it hint at snow this winter?
Comet NEOWISE Viewing All July (photos/video)
Other  Links:
Baltimore Weather At BWI May Not Be As Hot As Reported
Construction at the airport close to the weather station may be added artificial heat. Click here or the image for the details.
Also See:
Just In Power Kids:
Proceeds go to our programs Providing FREE holistic care for kids in cancer treatment and up to 5 years post treatment and caregivers.