October 31 2020
This Halloween brings so many weather headlines, I really did not know where to begin.  This morning starts with a Freeze Warning and Frost Advisory, and we will check the sunrise temps.  The day will be clear and dry, but chilly.
Tonight is Halloween for whomever can celebrate it, and we should see the Full Moon/Blue Moon.
Clocks Turn Back 1 Hour Tonight!
Sunday brings rain for the Ravens game, heavy rain for Delmarva, then this first accumulating snow for the mountains of Western Maryland to West Virginia. Should I make another snow chase? Did you see my run to NE PA Friday. That video is below.
To celebrate, we have a NEW FITF Hoodie and FREE T-Shirt Offer.
Sunday SnapShot
See the full timeline slider below.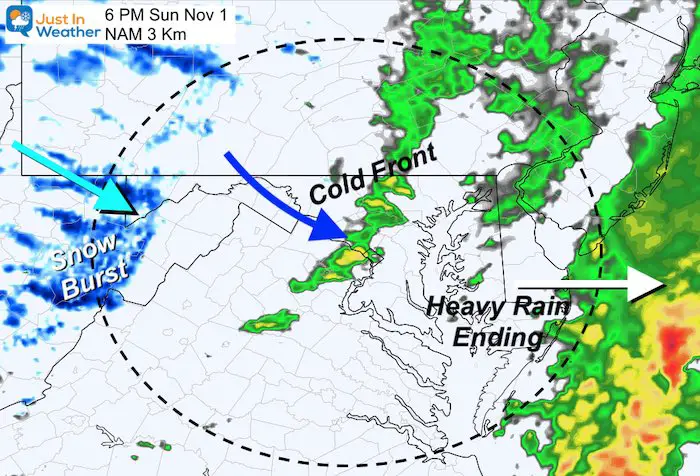 Highlights We'll Explore Below
Rainfall Sunday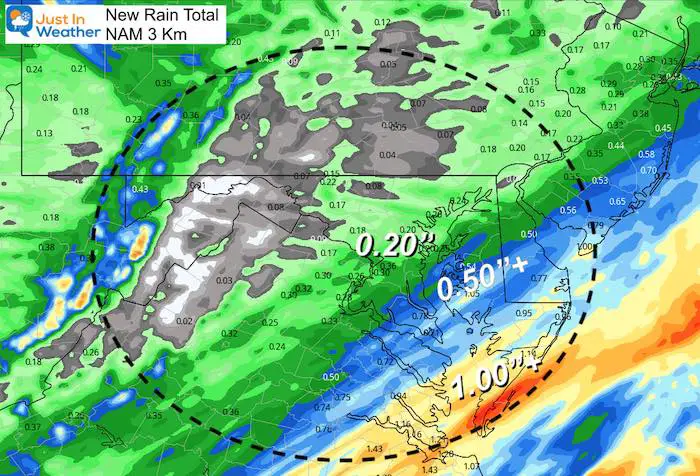 Snowfall By Monday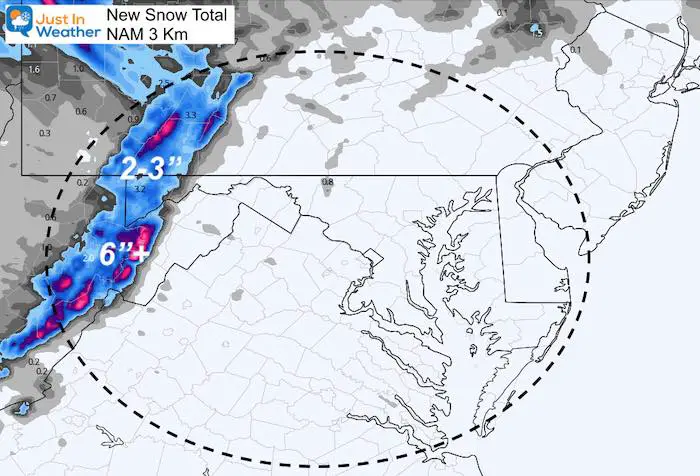 INTRO FITF OFFER THIS WEEKEND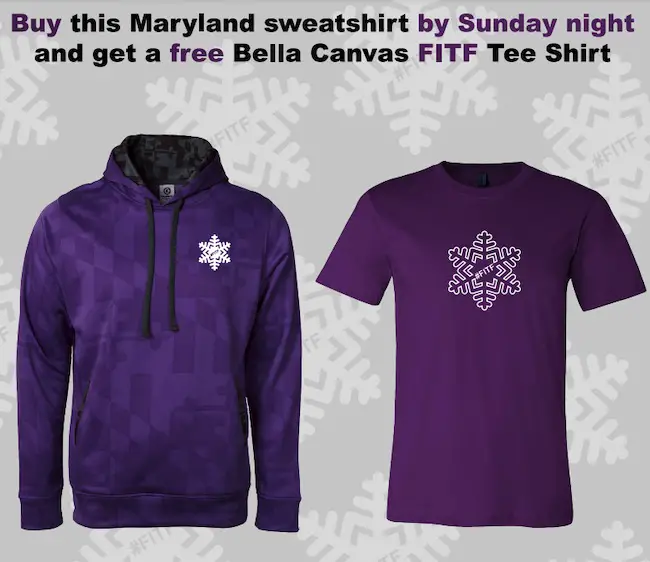 Let's Back Up To This Morning
Freeze Warning and Frost Advisory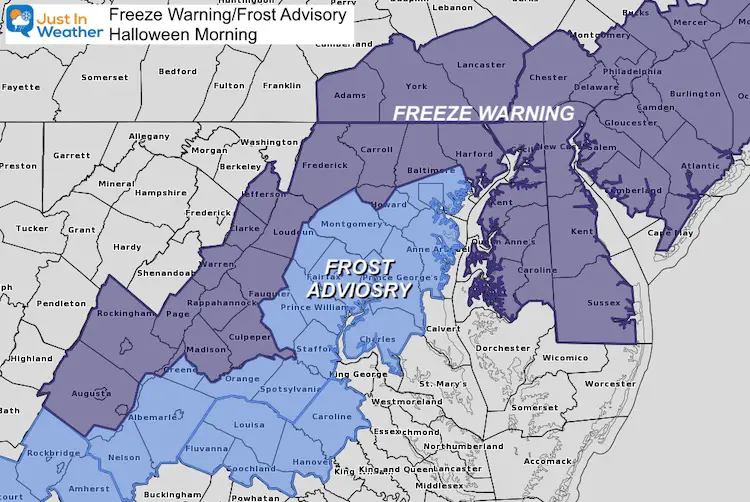 Sunrise Temperatures
Did you hit the freeze or have frost?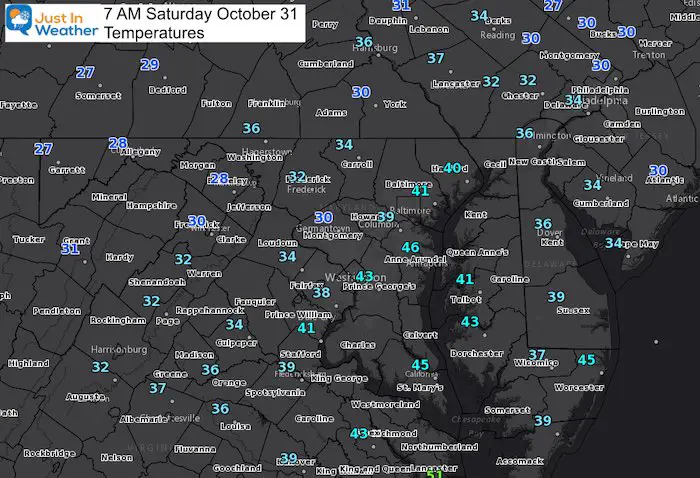 This Afternoon
Staying Chilly!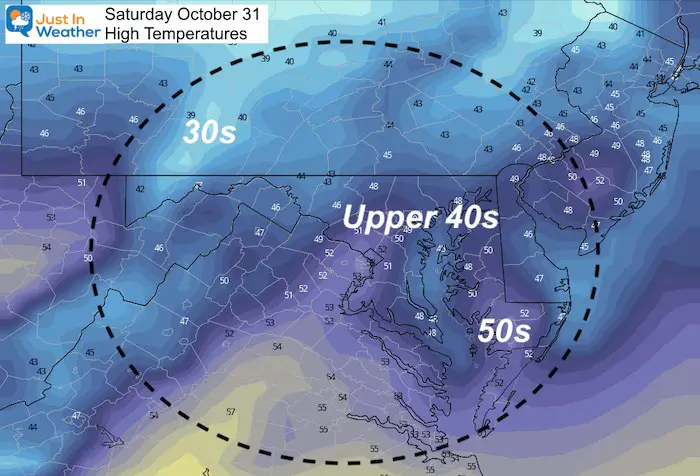 Full Moon Blue Moon
The moon turns full this morning, but will still look like it this evening.
This is the second full moon this month, which is one of the reasons it's called a Blue Moon. The original definition was 4 full moons in a season (3 months)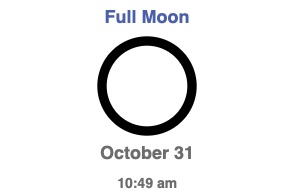 Halloween: Are your kids celebrating?
Some communities are Tick-or-Treating still. If so, check the hourly temps for you town in our local weather pages.
Click this image to get your forecast.

REMINDER TONIGHT:
Replace Batteries in Smoke Detector And Turn (older) Clocks Back 1 Hour
Sun Times (for Baltimore)
Today: Sunrise 7:34 AM; Sunset 6:06 PM
Sunday: Sunrise 6:35 AM; Sunset 5:05 PM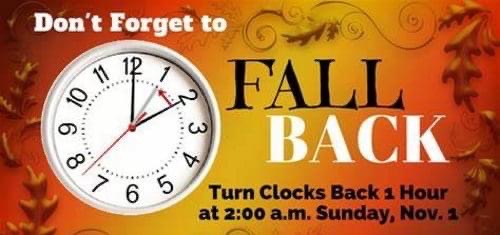 Sunday Rain and Snow
A quick moving system will bring in heavy rain for southern Maryland and Delmarva. Moderate rain in central Maryland will fall on the Ravens game, where they opened up to limited number of fans.
Colder air will follow, and a few inches of snow should fall on Depp Creek Lake!
Radar Simulation —> slider
Temperature Forecast 
Sunday Morning
Sunday Afternoon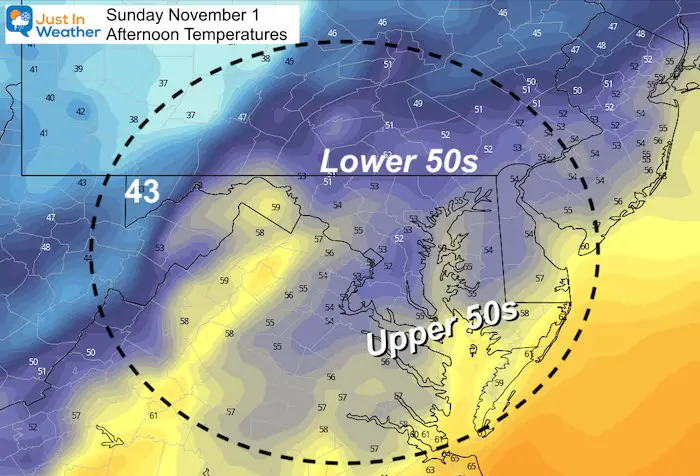 Monday Morning
Another round of Freeze Warnings And Frost Advisories likely.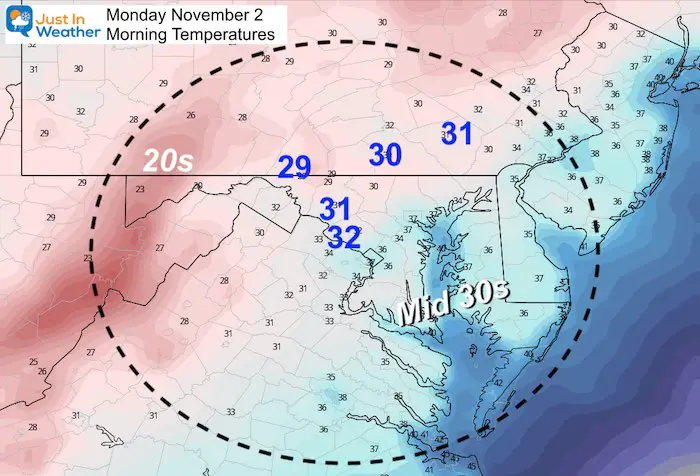 My Snow Chase October 0 To Northeast PA
YOUR INTERACTIVE WEATHER PAGES
14 Local Maryland Pages (and York PA)
We have made a page for Maryland Weather which gives you the current conditions for 14 present area locations. Many of these match up with the spots on our route.  Please use this list below are reference. I will include them daily with my articles on the kids.
NEW
Local Hourly Forecasts and Local Radar
Central Maryland
Delmarva
Pennsylvania
Maryland Weather Page
I wanted to keep it simple. Just the basics for a quick view at any time.
Please share your thoughts, best weather pics/video, or just keep in touch via social media
---
Email Updates
Please make sure you sign up (above or click here to sign up for email alerts…. ) for my newsletter. This way you will get an email to make sure you are notified of each post.
---
Also See: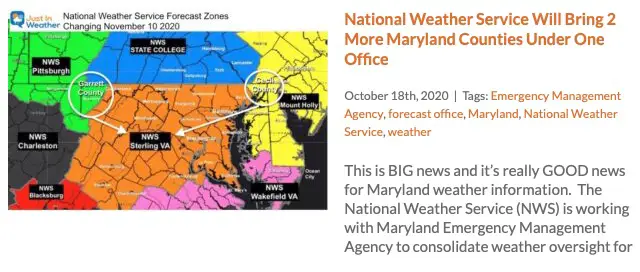 Help Solve The Mystery
UFO, Meteor, Or Something Else Caught On Cam In Owings Mills MD This Week?
Explore More:
Autumnal Facts and Weather Stats
Record Low Tied at BWI and Frost Photos Sep 20
Typical First Frost and Freeze
Also See:
July 2020 The hottest on record. Will it hint at snow this winter?
Comet NEOWISE Viewing All July (photos/video)
Other  Links:
Baltimore Weather At BWI May Not Be As Hot As Reported
Construction at the airport close to the weather station may be added artificial heat. Click here or the image for the details.
Also See:
Just In Power Kids:
Proceeds go to our programs Providing FREE holistic care for kids in cancer treatment and up to 5 years post treatment and caregivers.