October 20 2020
I know the talk of cold and snow may be hard to imagine now in the eastern US.  We are rounding the corner to the final third of October with a week of afternoon temps in the 70s. But this time of year we often get the weather to bring a big warm up before a big cool down. Call it the Law of Averages.
What is expected to happen over the next 10 days with the weather, may play a role in setting us up for an early winter. Even the Polar Vortex is getting some air time.  It's quite early for that, but not too early if you have Faith in the Flakes. Atmospheric memory could get a work out.
The Jet Stream view here is a look at heights for the 500mb level pressure level, around 18,000 feet above the ground.  The height variations reflect a column of warm or cold air, which in term helps direct the wind flow and storm pattern.
Jet Stream Comparison: This Week To Next Week
This week we will keep pumping in the warm air. That means afternoons in the 70s, comfortable for shorts.  But the added moisture and longer nights will also bring on morning fog.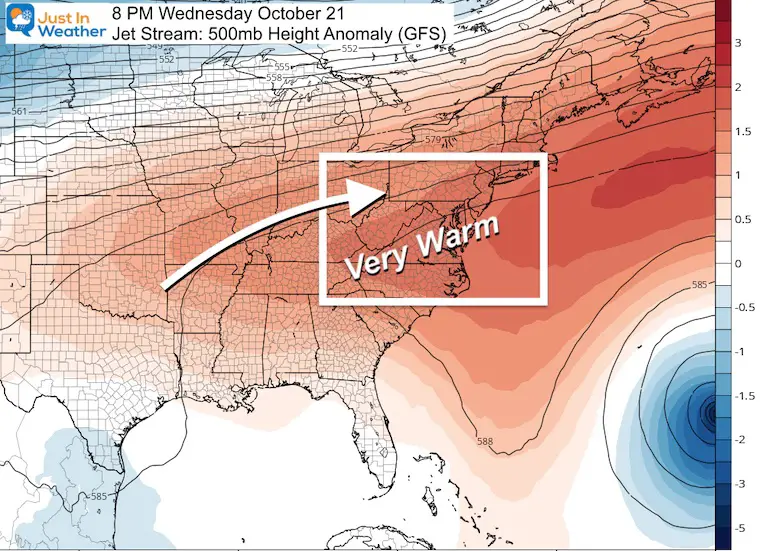 Next Week: The deep tough will bring in very cold air.  Early projections show us 15 to 20 degrees below normal. We could actually end up even colder than that.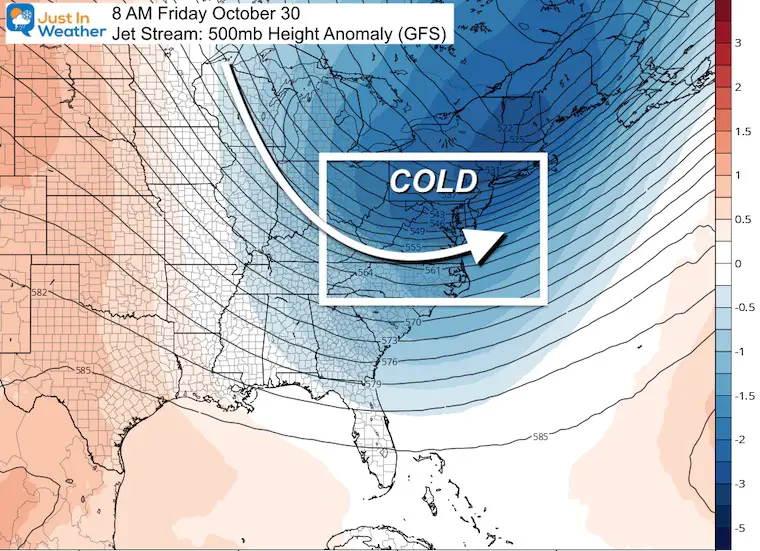 Just about all computer guidance now is pointing towards and early winter pattern with snow pushing pretty far south. This is not a seasonal outlook. This is over the next week. We have already seen snow in parts of the US.  As it gets closer, the Jet stream will be diving south and bringing us much colder air before Halloween.
Jet Stream Animation
The crash of cold air (shown in blue) arrives for us next Tuesday and Wednesday. The coldest air may pass just before Halloween, but it will be chilly to end the month.  A resurgent push of colder air is expected in the first days of November.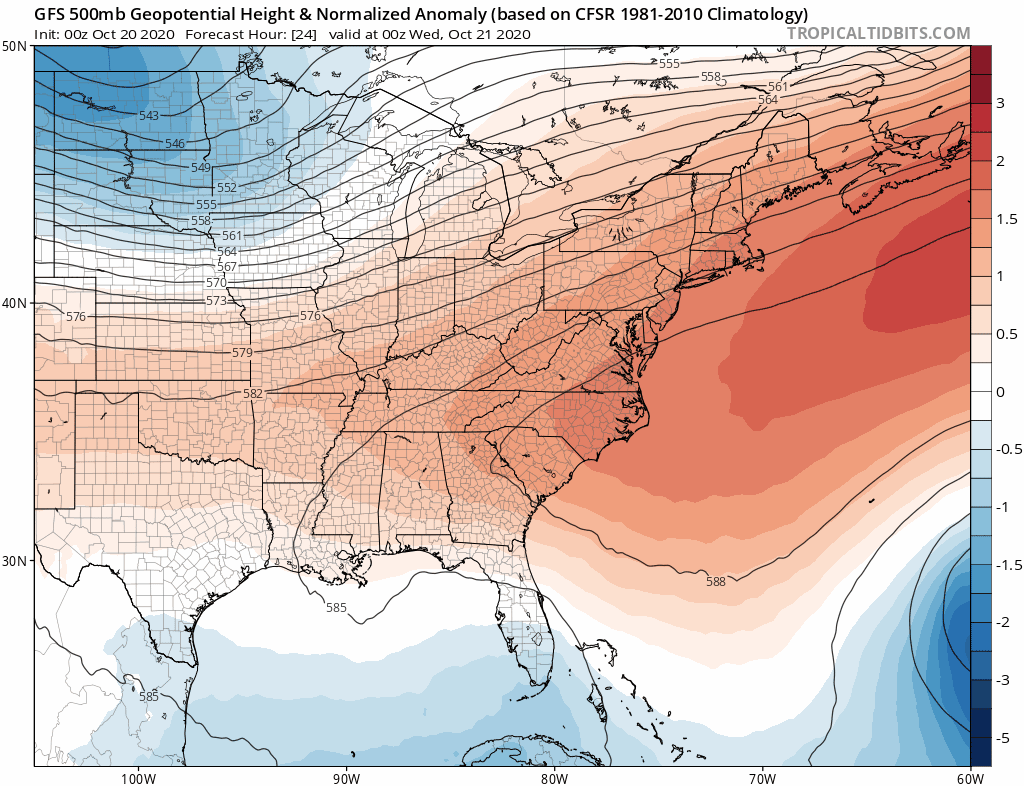 I am not the only one thinking winter will arrive early.
Some of the long range weather experts in our field appear to be more and more bullish on the storm next week, and the pattern setting up into November. I want to share thoughts from a few others so you know this isn't just me being a snow-hound and wishing this on.
Meteorologist Larry Cosgrove
It now appears that a deeper, colder 500MB shortwave will dig into the lower Great Plains about a week from today. Surface cyclogenesis over E TX will be followed by a fast track scenario into West Virginia, then on through interior New England. Besides carrying a sharp temperature boundary, all of the Caribbean Sea moisture will hit up against the frontal structure. That, my friends, is a recipe for trouble.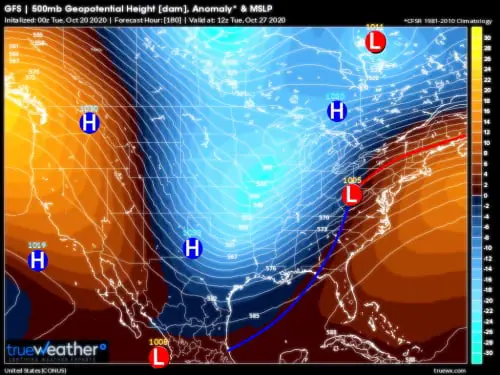 Dr. Judah Cohen 
GFS growing more confident in strengthening Ural blocking heading into early November. This has long term implications for the #polarvortex as discussed in the blog but in the short term will favor expansion of #cold and #snow across East Asia. pic.twitter.com/zJC2KsTE50

— Judah Cohen (@judah47) October 20, 2020
What does this mean in plain English?
I figured someone would ask that.  Well, extensive cold and building early snow in Siberia can translate to shifting the Polar Vortex around the North Pole. That may dislodge that core of cold air and shift that to bulge into the eastern US next month.
That does not mean the Chesapeake Bay is about to freeze, but it would bring an active storm pattern with progressively colder air. Eventually, that could mean early season snow.
Snowfall Projections
I do NOT like to show snow forecasts with any legitimacy for our region more that  days away. Too much can change. So looking at the rest of the nation, I believe you will not hold me to this. If anything, the general idea not the totals is the important factor. We will watch to see how this plays out.
This Week
Fargo is not just a TV show. They may be on the edge of some heavy snow with a few weather systems. This first one could bring weather headlines by this Thursday, while we remain in the warm air.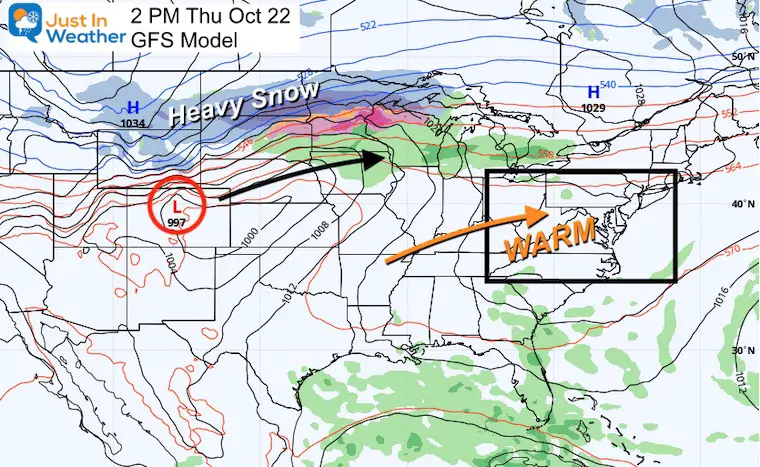 Before Halloween
This GFS Model has outperformed the European Model, so I decided to stick with this.
Northern Plains: Over 1 foot of snow along the path of this week's storm.
Texas Snow:  I would take some of this with a grain of salt… and they won't need to salt the roads near Dallas. But getting snow and sleet to fall there is very possible.
Locally: This may be par for the course for western Maryland and West Virginia. There could be the first snow of the season there next week. They usually get hit with flakes before Halloween. What may be really interesting is that if the wind flow is right, we could get flurries into some of the suburbs as well.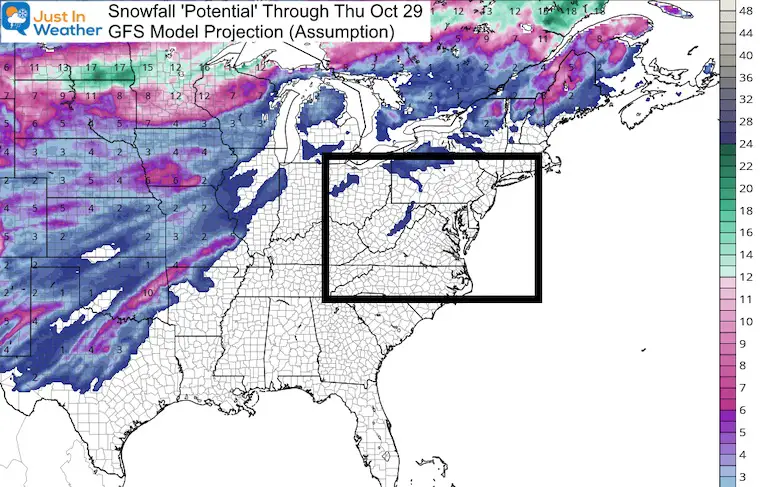 Temperature Outlook 
The GFS Model is pushing the 80s tomorrow and two more days close to that mark.
Then the bottom falls out next week! Highs drop into the lower 50s and upper 40s.  That would be 10 to 15 degrees below average. Note this forecast meteogram is for Baltimore. The inland suburbs would end up even colder.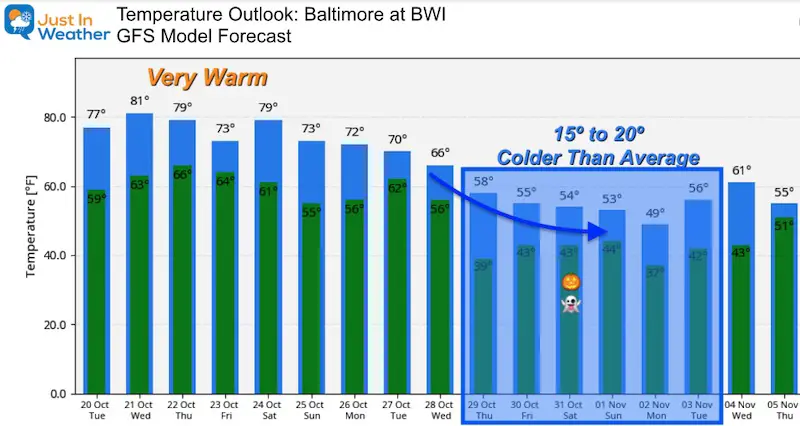 Also See: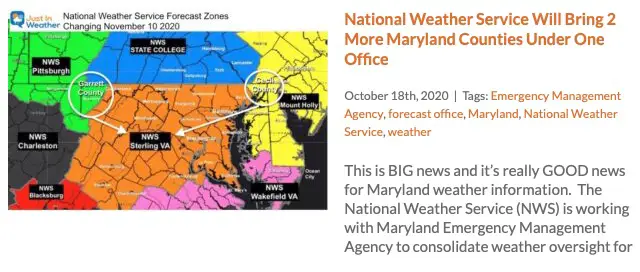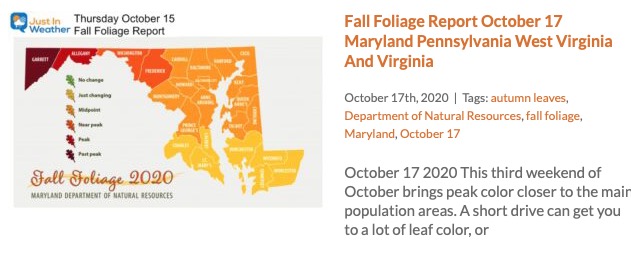 YOUR INTERACTIVE WEATHER PAGES
14 Local Maryland Pages (and York PA)
We have made a page for Maryland Weather which gives you the current conditions for 14 present area locations. Many of these match up with the spots on our route.  Please use this list below are reference. I will include them daily with my articles on the kids.
NEW
Local Hourly Forecasts and Local Radar
Central Maryland
Delmarva
Pennsylvania
Maryland Weather Page
I wanted to keep it simple. Just the basics for a quick view at any time.
Please share your thoughts, best weather pics/video, or just keep in touch via social media
---
Email Updates
Please make sure you sign up (above or click here to sign up for email alerts…. ) for my newsletter. This way you will get an email to make sure you are notified of each post.
---


Sunflower Season: Millers Farm Photos And Info
Help Solve The Mystery
UFO, Meteor, Or Something Else Caught On Cam In Owings Mills MD This Week?
Explore More:
Autumnal Facts and Weather Stats
Record Low Tied at BWI and Frost Photos Sep 20
Typical First Frost and Freeze
Also See:
July 2020 The hottest on record. Will it hint at snow this winter?
Comet NEOWISE Viewing All July (photos/video)
Other  Links:
Baltimore Weather At BWI May Not Be As Hot As Reported
Construction at the airport close to the weather station may be added artificial heat. Click here or the image for the details.
Also See:
Just In Power Kids:
Proceeds go to our programs Providing FREE holistic care for kids in cancer treatment and up to 5 years post treatment and caregivers.