Sunday October 11 2020
Delta has been downgraded to the tropical depression and no more updates coming from the National Hurricane Center. But this is a potent area of Low Pressure that will bring us heavy rain and a period of gusty winds. We will have a dry morning, but watch for rain to build during the afternoon. Them some local flooding is possible and the full storm impacts tonight into Monday morning.
Sunday Morning Satellite Snapshot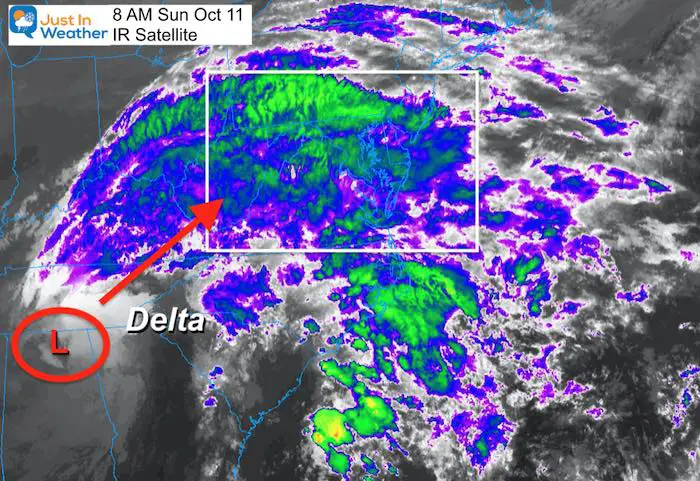 The rain will slowly build in from the south today, and could reach central Maryland by mid afternoon. We all get in on the steady and heavy rain tonight into Monday morning. That's when winds will be strongest. Then lingering showers through Monday afternoon.
Below is a look at the rain timeline, totals, wind forecast, temperatures, and your local weather pages with live radar. Good News: The National Weather Service radar in Sterling VA has been fixed!
Radar Snapshot
Southern Maryland will get rain this morning. Some showers have reached Crisfield and near Salisbury.
St. Mary's, Lexington Park, and perhaps Annapolis/Washington could get showers by noon. The the first showers expand north to PA.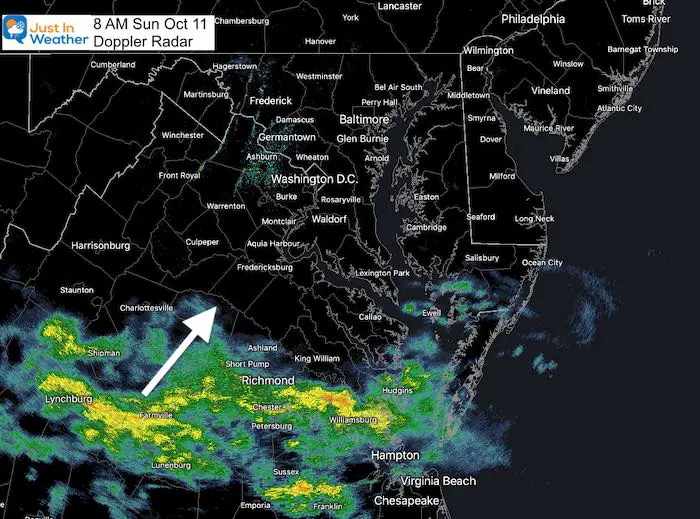 Radar Simulation Today —> slider
This is a rough gage, so the real radar may vary. Southern areas will get rain first.
Monday Morning Peak Winds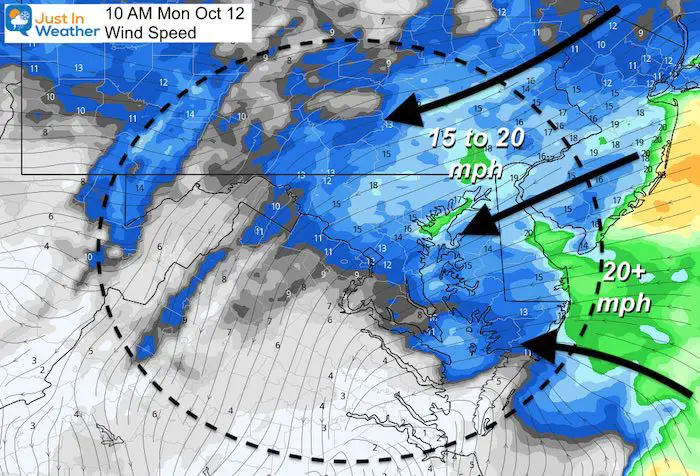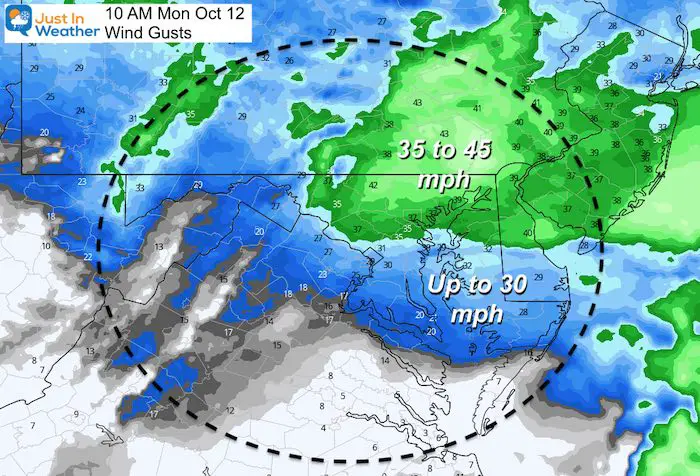 Radar Simulation Monday —> slider
Heavy rain overnight and early morning Monday. Then showers linger into the afternoon.
Rain Total Forecast
This could be enough for some local flooding, even though some areas are in need of rain.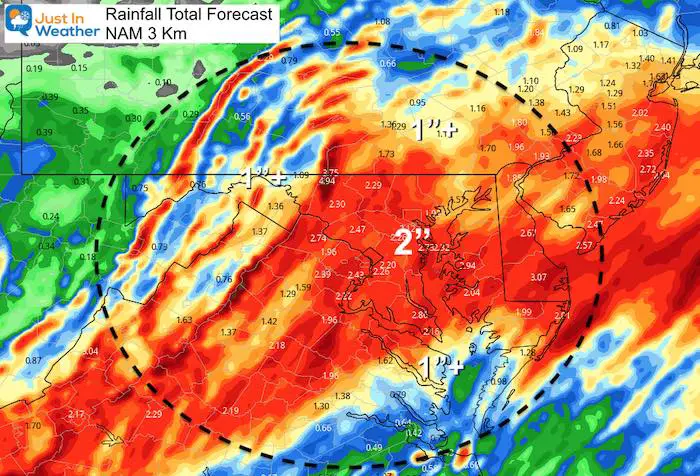 Temperature Forecast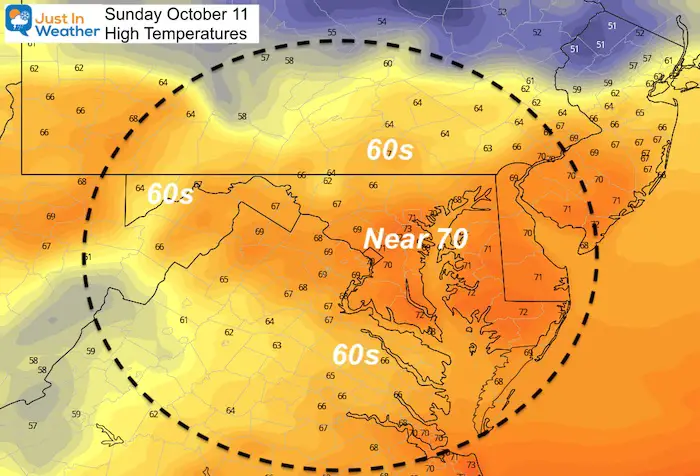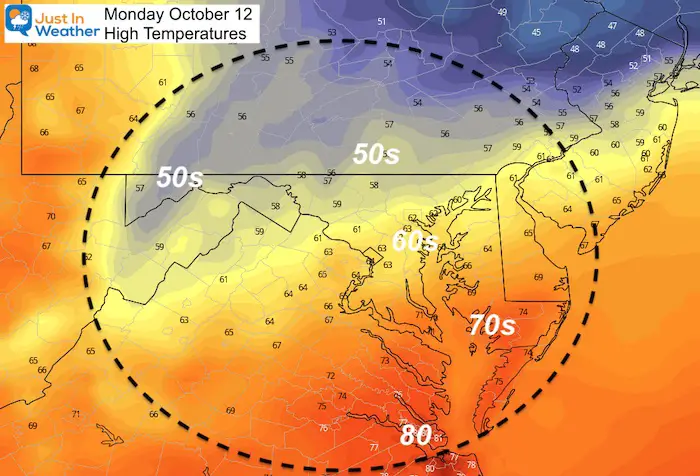 Looking Ahead
We will have a pattern change by the end of the week and next weekend. Even more colder air could dominate the following week. I will have a report dedicated to that shortly.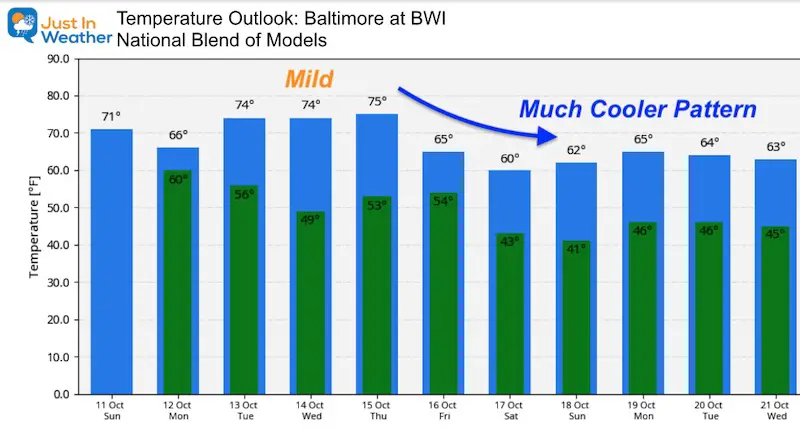 Explore More:
Today's climate data, sun times, moon phase, and weather data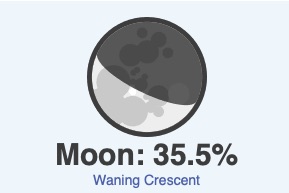 YOUR INTERACTIVE WEATHER PAGES
14 Local Maryland Pages (and York PA)
We have made a page for Maryland Weather which gives you the current conditions for 14 present area locations. Many of these match up with the spots on our route.  Please use this list below are reference. I will include them daily with my articles on the kids.
NEW
Local Hourly Forecasts and Local Radar
Central Maryland
Delmarva
Pennsylvania
Maryland Weather Page
I wanted to keep it simple. Just the basics for a quick view at any time.
Please share your thoughts, best weather pics/video, or just keep in touch via social media
---
Email Updates
Please make sure you sign up (above or click here to sign up for email alerts…. ) for my newsletter. This way you will get an email to make sure you are notified of each post.
---
Also See




Sunflower Season: Millers Farm Photos And Info
Help Solve The Mystery
UFO, Meteor, Or Something Else Caught On Cam In Owings Mills MD This Week?
Explore More:
Autumnal Facts and Weather Stats
Record Low Tied at BWI and Frost Photos Sep 20
Typical First Frost and Freeze
Also See:
July 2020 The hottest on record. Will it hint at snow this winter?
Comet NEOWISE Viewing All July (photos/video)
Maryland Strong Love ❤️ 
My 'bonus' daughter made this map of Maryland a few years ago. We brought it back for needed positivity. Now on her pick of tanks, and this cool Maryland T for men or women.
Click here or on the image to see more
This is all LOCAL: Made by Maryland Print House; Proceeds support my Maryland Trek 7 this August for Just In Power Kids.
Related Posts
2020 Tropical Storm and Hurricane Names and Naming History
Atlantic Tropical History: Maps of Origin Regions Every 10 Days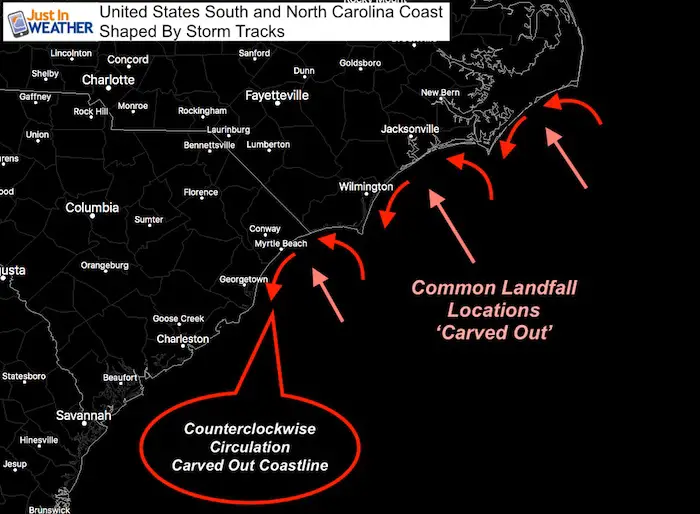 Other  Links:
Was Your County Not Included?
Click this map for more on the regional forecast zones
Baltimore Weather At BWI May Not Be As Hot As Reported
Construction at the airport close to the weather station may be added artificial heat. Click here or the image for the details.