Sunday October 11 2020
Last night my phone erupted with messages of a fireball seen nearby. That is when a meteor, or space rock, enters Earth's atmosphere and burns up on the way down. This leaves a streak of light in the sky for a few seconds, so you must be out and looking to spot it. That is why it is rare, and also called a shooting star.  Blink, and you can miss it, plus they often come without notice.
The Saturday night event was at 8:26 PM EDT, so plenty of people were awake outside or traveling making this the most popular of the week.   This was widely seen across western Pennsylvania, Maryland, and New Jersey.  It was highlighted by a collective observation of green light. That often means there was copper in the space rock burning up.
Meteor Shower Sighting Reports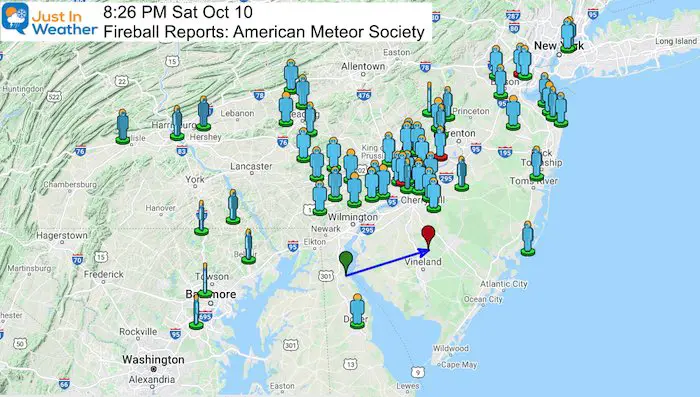 As exciting as that is, this was the the 5th report in as many days. It has been very busy since my last report with dash cam video on September 30.   We have a few meteor showers on the calendar this month, but these events have been outside of the prime viewing time.
Two fireballs were seen in Pennsylvania on October 6 within 5 minutes of each other.  There were also two more on Friday October 9 just 49 minutes apart. So let's take a look at what's happened recently.
Video Report of Two Fireballs In 5 minutes On October 6th
Two Fireballs On October 9th
First Event Friday Morning
When: 5:44 AM
Where: Central Pennsylvania
Viewer Map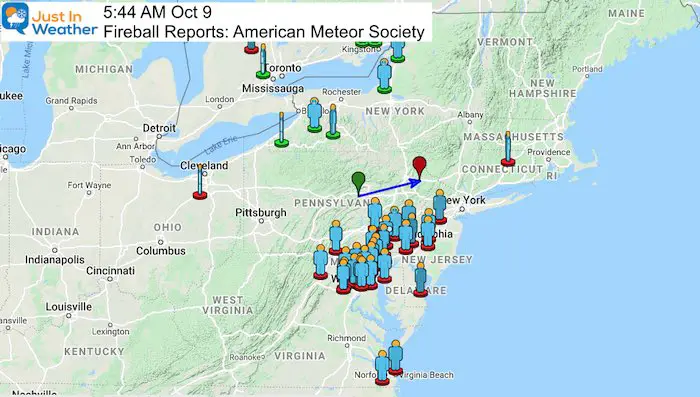 Heat Map
This is the highlighted concentration of report population density.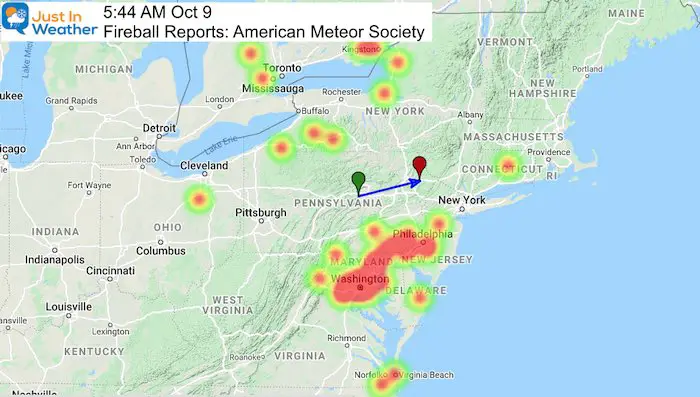 See the viewer reports from the American Meteor Society
Second Event Friday Morning
When: 5:33 AM
Where: West-Central Pennsylvania
Video
Viewer Map
Heat Map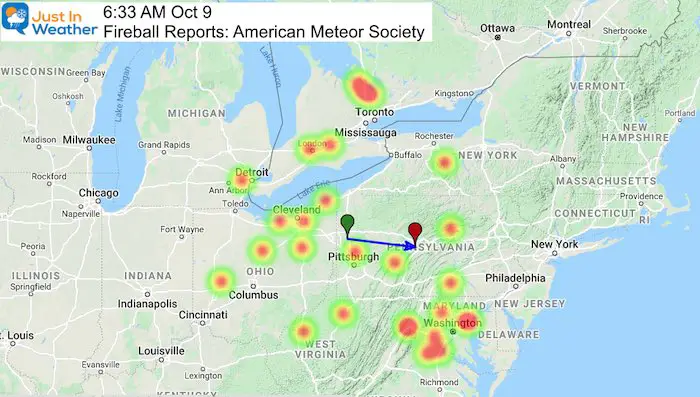 See the viewer reports from the American Meteor Society
Fireball On October 10th
When: 5:44 AM
Where: West-Central Pennsylvania
Heat Map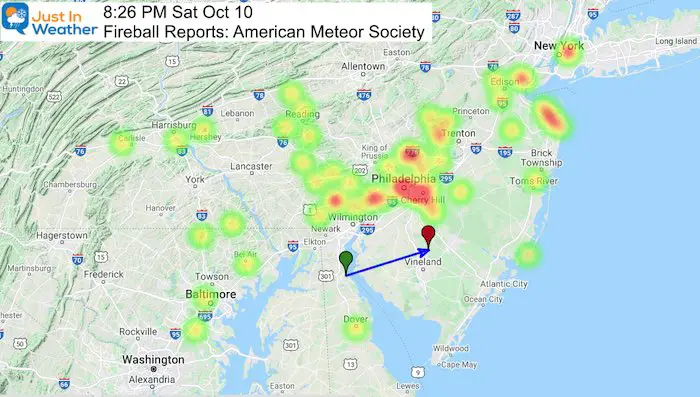 This one got more comments on my Facebook post
Also see the viewers reports from the American Meteor Society
Also See:

Help Solve The Mystery
UFO, Meteor, Or Something Else Caught On Cam In Owings Mills MD This Week?

Comet NEOWISE Viewing All July (photos/video)


Please share your thoughts, best weather pics/video, or just keep in touch via social media
---
Email Updates
Please make sure you sign up (above or click here to sign up for email alerts…. ) for my newsletter. This way you will get an email to make sure you are notified of each post.
---
Explore More:
Autumnal Facts and Weather Stats
Record Low Tied at BWI and Frost Photos Sep 20
Typical First Frost and Freeze
Also See:
July 2020 The hottest on record. Will it hint at snow this winter?
Maryland Strong Love ❤️ 
My 'bonus' daughter made this map of Maryland a few years ago. We brought it back for needed positivity. Now on her pick of tanks, and this cool Maryland T for men or women.
Click here or on the image to see more
This is all LOCAL: Made by Maryland Print House; Proceeds support my Maryland Trek 7 this August for Just In Power Kids.
Related Posts
2020 Tropical Storm and Hurricane Names and Naming History
Atlantic Tropical History: Maps of Origin Regions Every 10 Days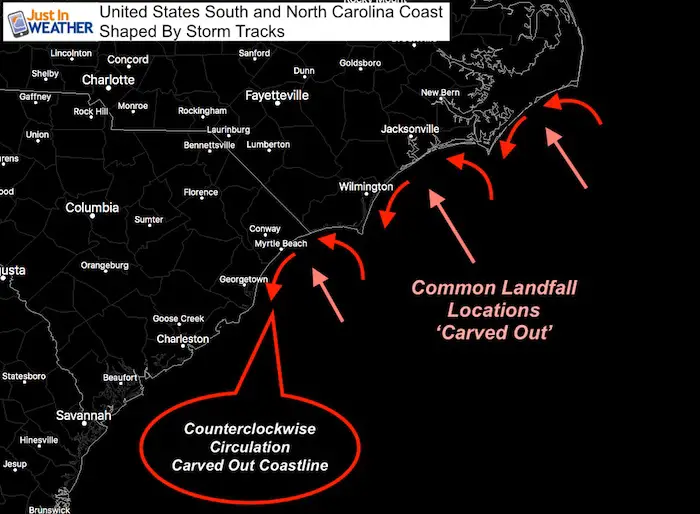 Other  Links:
Was Your County Not Included?
Click this map for more on the regional forecast zones
Baltimore Weather At BWI May Not Be As Hot As Reported
Construction at the airport close to the weather station may be added artificial heat. Click here or the image for the details.
Also See:
Just In Power Kids:
Proceeds go to our programs Providing FREE holistic care for kids in cancer treatment and up to 5 years post treatment and caregivers.
Shine On
Proceeds from all sales go to Just In Power Kids. Click the image to shop and show your support.