Thursday August 20, 2020
We are about to enter the peak of the Atlantic Hurricane season over the next few weeks in an already very active season. The next few days will be both active and possibly historic. While we are looking at two tropical depressions now. One in the western Caribbean, the other in the western Atlantic Ocean. The timing of their development and track puts both of them as named storms in the Gulf of Mexico early next week.
This has only happened two times on record!
This may also introduce a rare event call Fujiwara, when two cyclones near each other can orbit around or influence the other track. That would depend on how strong and how close they may get. But they would not join forces into one bigger storm. Only in rare cases a smaller storm can get absorbed by a larger storm.
Thursday Evening Satellite Snapshot
Both Tropical Depression (T.D.) Thirteen AND Fourteen are forecast to be in the northern Gulf of Mexico on Tuesday at 2 PM.
Only TWO times in recorded history were there two cyclones in the Gulf of Mexico at the same time of at least tropical storm strength (winds 39 mph +):
September 5, 1933 (Treasure Coast & Cuba-Brownsville)
June 18, 1959 (Unnamed and Beulah)
There were NEVER two hurricanes reported in the Gulf at the same time.
Satellite Loop
Race To Name
The next two names on the list are Laura and Marco. But T.D. Fourteen looks healthier than T.D. Thirteen this evening, even though it was identified later.  So it is a toss up with will get named first.
It's important to note that a cyclone becomes an official Tropical Storm and gets a name when the sustained winds are 39 mph or higher.
Forecast Tracks:
National Hurricane Center and Computer Model Guidance
Note: I personally do not like to put too much stock in storm tracks before they get named. The timing and location when organized can make an impact on the future expectations. But NHC has plotted maps early. I have include associated computer model guidance for each system.
Tropical Depression  Thirteen
National Hurricane Center Forecast Plot
Path north of Puerto Rico, Southern Bahamas, Florida Keys, then east of Tampa as a Hurricane.
The last image is Tuesday at 2 PM
Computer Model Guidance
Tropical Depression  Fourteen
National Hurricane Center Forecast Plot
Path across Honduras, near Cancun Mexico, then into the western Gulf of Mexico as a Tropical Storm.
The last image is Tuesday at 2 PM, same as the last image for T.D. Thirteen's forecast.
Computer Model Guidance
GFS Model Forecast Animation
It is important to note that two tropical cyclones at the same time will be tough to lock in with a forecast. They may or may not affect each other. But it is likely both will be affecting a wide area of the Gulf of Mexico at the same time.  So is the year 2020!
I am working on a new Tropical Weather Page so that you can see all the updates as they happen. Pleas keep checking back.
Tropical Related Posts
2020 Tropical Storm and Hurricane Names and Naming History
Atlantic Tropical History: Maps of Origin Regions Every 10 Days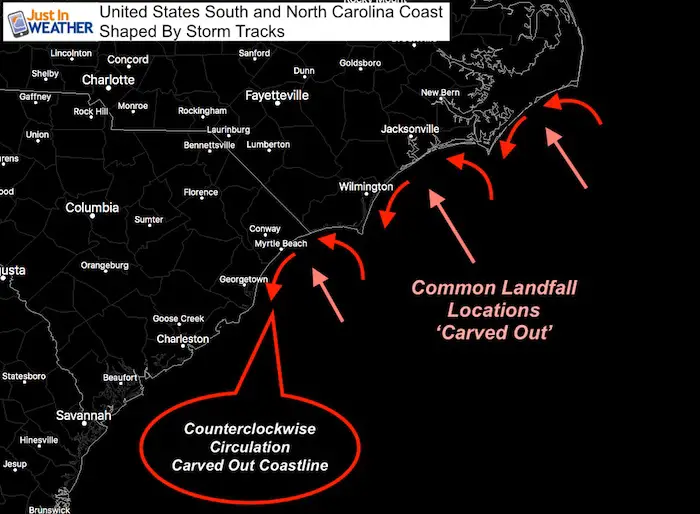 NEW INTERACTIVE WEATHER PAGES
This is still a work in progress, but please check out these interactive pages:
Maryland Weather Page
I wanted to keep it simple. Just the basics for a quick view at any time.
14 Local Maryland Pages (and York PA)
We have made a page for Maryland Weather which gives you the current conditions for 14 present area locations. Many of these match up with the spots on our route.  Please use this list below are reference. I will include them daily with my articles on the kids.
NEW
Local Hourly Forecasts and Local Radar
Central Maryland
Delmarva
Pennsylvania
Please share your thoughts, best weather pics/video, or just keep in touch via social media
---
Email Updates
Please make sure you sign up (above or  click here to sign up for email alerts…. ) for my newsletter. This way you will get an email to make sure you are notified of each post.
---
Maryland Trek Team Shirt
Maryland Trek 7 Raised over $80,000 for Just In Power Kids
All proceeds will continue to go to the Just In Power Kids programs
Maryland Trek Cycle Jerseys From Hill Killer
All proceeds will go to the Just In Power Kids programs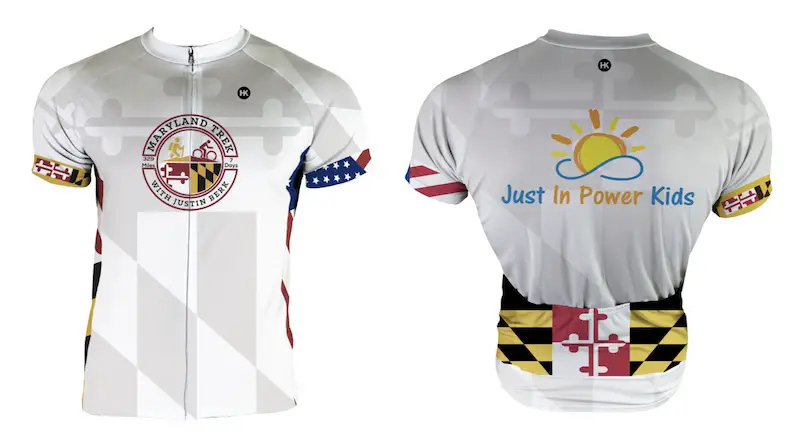 Also See:
July 2020 The hottest on record. Will it hint at snow this winter?
Comet NEOWISE Viewing All July (photos/video)
Maryland Strong Love ❤️ 
My 'bonus' daughter made this map of Maryland a few years ago. We brought it back for needed positivity. Now on her pick of tanks, and this cool Maryland T for men or women.
Click here or on the image to see more
This is all LOCAL: Made by Maryland Print House; Proceeds support my Maryland Trek 7 this August for Just In Power Kids.
Also See:
Derecho Crosses PA and NJ June 3: Full Radar Loop
New Video Series: What is this cloud?
Episode 3: Morning Glory at sunrise on the beach in North Carolina
Also See:
Water Spout OR Scud Cloud on videos and photos near Middle River Maryland
Other  Links:
Was Your County Not Included?
Click this map for more on the regional forecast zones
Baltimore Weather At BWI May Not Be As Hot As Reported
Construction at the airport close to the weather station may be added artificial heat. Click here or the image for the details.
Just In Power Kids:
Proceeds go to our programs Providing FREE holistic care for kids in cancer treatment and up to 5 years post treatment and caregivers.
Shine On
Proceeds from all sales go to Just In Power Kids. Click the image to shop and show your support.