August 1, 2020
We just finished the hottest July on record in Baltimore. This is typically the hottest month of the year, but we went over the top this time according to the weather station at BWI. Ironically, there were no individual days setting a record, and we ended this July with the coolest day of the month at 81ºF. But with 25 days at or above 90ºF, averaging the high and low temperatures of all 31 days, this was took the top spot.
In fact it was almost a full degree warmer than the previous hottest month.
For contrast, July 2014 brought Baltimore 5 record low temperatures. We quite often see in the history books extreme swings from one end to the other in a short period of time. So this has brought up a common question again: Can this mean a snowy winter?
Ranking The Top 10 Hottest Months On Record In Baltimore 
The interesting things on this chart:
The op 5 years were since 1995. The Past 25 years.
4 of the 5 previous 'Hottest' months were in between 1931 and 1955. A 15 year stretch of high heat.
Disclaimer: There have been many local meteorologists documenting that this weather station was running warmer than surrounding locations and The National Weather Service has acknowledged that. But there is a lot of red tape to get it moved to a better representative location, so this is what we have to work with for now.
Can a hot July indicate if we get a snowy winter?
This chart compares the top 10 hot years above to the following winter snowfall measured in Baltimore.  The data is all over the place.
3 following winters were above normal.
5 following winters were below normal.
1 following winter was near normal within a margin of error.
Take Away
This does not give us a clear answer. At least we can say that. But this does not tell the whole story. In my winter outlook I will compare years with El Nino/La Nina, Solar Minimum, and a little more date from the current tropical season.
This was an interesting exercise but if you have Faith in the Flakes and just can't wait for cooler weather, I was able to distract you for a fee minutes.  Hang in there. We've passed the worst of the summer heat and it will gradually get cooler.
FITF
Baltimore Weather At BWI May Not Be As Hot As Reported
Construction at the airport close to the weather station may be added artificial heat. Click here or the image for the details.
Please share your thoughts, best weather pics/video, or just keep in touch via social media
Also See:
Comet NEOWISE Viewing All July (photos/video)
Maryland Strong Love ❤️ 
My 'bonus' daughter made this map of Maryland a few years ago. We brought it back for needed positivity. Now on her pick of tanks, and this cool Maryland T for men or women.
Click here or on the image to see more
This is all LOCAL: Made by Maryland Print House; Proceeds support my Maryland Trek 7 this August for Just In Power Kids.
Maryland Trek Cycle Jerseys From Hill Killer
All proceeds will go to the Maryland Trek 6 total and Just In Power Kids programs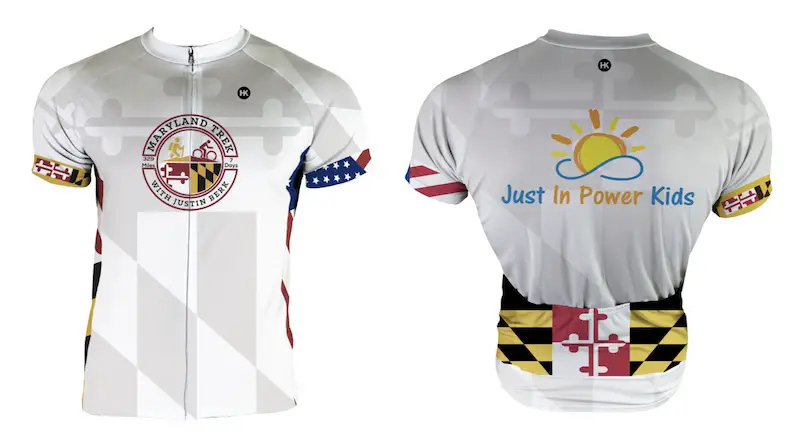 Thank you to our Title Sponsor for Maryland Trek 6
Shining on with Smyth and their contribution, our team has raised over $100,000 for Just In Power Kids to provide free programs for kids in and post cancer treatment.

Just In Power Kids:
Proceeds go to our programs Providing FREE holistic care for kids in cancer treatment and up to 5 years post treatment and caregivers.
Shine On
Proceeds from all sales go to Just In Power Kids. Click the image to shop and show your support.