Friday July 31 2020
Hurricane Isaias has a lot of attention now. Winds are up to 80 mph, making this a Category 1 storm. It is early for the second hurricane of the season and has been a challenge for many to pronounce. It is called phonetically spelled out ees-ah-EE-ahs, and the latest forecast tracks along the eastern US.
Here is the latest 'cone of uncertainty' which deserves a little explanation. There is still some wiggle room in the forecast beyond the scary headlines. Rip currents up the coast are pretty much a guarantee, but the track, intensity, and rainfall still less confirmed for our region. But the timing is looking like Tuesday for us.
Hurricane Isaias Forecast From Friday Evening
We will take a closer look below…
Let's take a look at the storm this evening:
Satellite Loop
The red and black colors represent the highest cloud tops. These are clearly rotating around the core, but also well to the east. This may eventually help to pull the energy to the east as it tries to organize.
In most cases, the strongest part of a hurricane in our part of the world is on the right side of the forward motion.
Friday Evening Status
SUMMARY OF 800 PM EDT…0000 UTC…INFORMATION
LOCATION…22.9N 75.9W

ABOUT 175 MI…280 KM SSE OF NASSAU

ABOUT 310 MI…500 KM SE OF FREEPORT GRAND BAHAMA ISLAND

MAXIMUM SUSTAINED WINDS…80 MPH…130 KM/H

PRESENT MOVEMENT…NW OR 310 DEGREES AT 15 MPH…24 KM/H

MINIMUM CENTRAL PRESSURE…987 MB…29.15 INCHES
Warnings and Watches
These are for higher likelihood of imnpact this weekend.
Hurricane Warnings (in red) are in place for the Bahamas.
A Hurricane Watch is in effect for...
* Hallendale Beach to south of Boca Raton Florida
* Volusia-Brevard County Line to the Flagler/Volusia County Line


A Tropical Storm Warning is in effect for...
* North of Ocean Reef to south of Boca Raton Florida
* Lake Okeechobee

A Tropical Storm Watch is in effect for...
* Flagler/Volusia County Line to Ponte Vedra Beach Florida
A Storm Surge Watch is in effect for...
* Jupiter Inlet to Ponte Vedra Beach Florida
What About Up The Coast?
Could this GFS Model showing the storm in Maryland really happen?
This shows a hit in Florida, then again in South Carolina, crossing North Carolina and southern Maryland…
SnapShot Forecast Maps
Here is the GFS Model showing the core of the storm inland of Ocean City.  It is important to note that IF this did happen, it would have already weakened quite a bit over land to the south. But the risk of heavy rain and tornadoes would still be presented.
The European ECMWF Model also shows an inland track. Again, with the likely weakening to a tropical storm or less, but still bringing some heavy rain and potential twisters.
Computer Model Forecasts
There are many models that are run to generate tropical cyclone forecast tracks. We often look for agreement or consensus. But that can also change each new model run.
This afternoon the models shifted the storm track farther west. But there are still many keeping the center east of Ocean City. I do not like jumping on an abrupt model shift in any season. If this was winter I would suggest to wait for another model run to see if there is a trend west, a blip, or holds.
Most importantly, there is consensus in the curve, but closer in there is a wide spread of tracks.
Cone of Uncertainty
When you see a forecast track with a tropical storm or hurricane, there is often a shaded region around it. That is the 'cone' that allows for wiggle room. Beyond 2 day, the forecast error can be off by much more than 60 miles. What is often the case, storms are more likely to end up on the right side of the cone, not down the middle.
Here is a closer look at the forecast cone up the coast.
Monday from the last forecast
If this goes inland, it will lose intensity and weaken to a tropical storm.
Tuesday from the last forecast
Look how wide that margin of error is.  Let's see how this looks tomorrow for any shifts or consistency.
But Can We Rely On This?
Forecast Accuracy
I have been saying for months that the computer model forecast have been poor. This has been in part due to Covid19 limiting air travel. Those planes have sent high altitude data into computer model forecasts. So with them missing, there has been less data and less accurate modeling.
More Weather Balloons have been launched to increase the amount of data. Normally stations around the country launch weather balloons in the morning and evening. Twice a day, every 12 hours to get a sampling of weather conditions through the atmosphere. This is fed into computer modeling.
Eastern US locations have doubled that to every 6 hours. This has been as far away as Caribou, Maine
Hurricane Hunters
Air Force Reconnaissance flights increase their frequency directly into the storm to gather more data to help improve forecasts.
CARIBBEAN – Eye of Hurricane #Isaias as seen this morning from flight station of NOAA WP3D Orion Miss Piggy #NOAA43, credit Lt. Cmdr. Doremus, NOAA Corps. Follow @NHC_Atlantic for latest forecast and advisories. #FlyNOAA #MsPiggyFlies pic.twitter.com/9gbF0nXx4y

— NOAA Aircraft Operations Center (@NOAA_HurrHunter) July 31, 2020
National Hurricane Center Forecast Maps
This is the most common map which shows the CONE forecast track, H for Hurricane and S for Tropical Storm, plus warnings and watches.
Wind Forecast 
This is a pretty colorful map. However, this highlights the winds at tropical storm intensity. Over 39 mph.
Look closely: The odds for Ocean City are close to 30% just to get tropical storm force winds.  That sound much less threatening that a looming hurricane.   That is one of the many elements I will be watching closely and translate into my forecasts ahead.
Related Posts
2020 Tropical Storm and Hurricane Names and Naming History
Atlantic Tropical History: Maps of Origin Regions Every 10 Days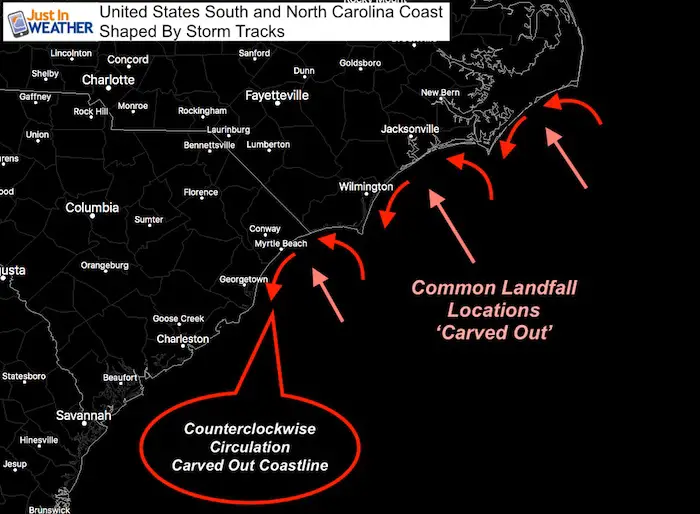 Please share your thoughts, best weather pics/video, or just keep in touch via social media
Also See:
Comet NEOWISE Viewing All July (photos/video)
Maryland Strong Love ❤️ 
My 'bonus' daughter made this map of Maryland a few years ago. We brought it back for needed positivity. Now on her pick of tanks, and this cool Maryland T for men or women.
Click here or on the image to see more
This is all LOCAL: Made by Maryland Print House; Proceeds support my Maryland Trek 7 this August for Just In Power Kids.
Water Spout OR Scud Cloud on videos and photos near Middle River Maryland
Other  Links:
Was Your County Not Included?
Click this map for more on the regional forecast zones
Baltimore Weather At BWI May Not Be As Hot As Reported
Construction at the airport close to the weather station may be added artificial heat. Click here or the image for the details.
Maryland Trek Cycle Jerseys From Hill Killer
All proceeds will go to the Maryland Trek 6 total and Just In Power Kids programs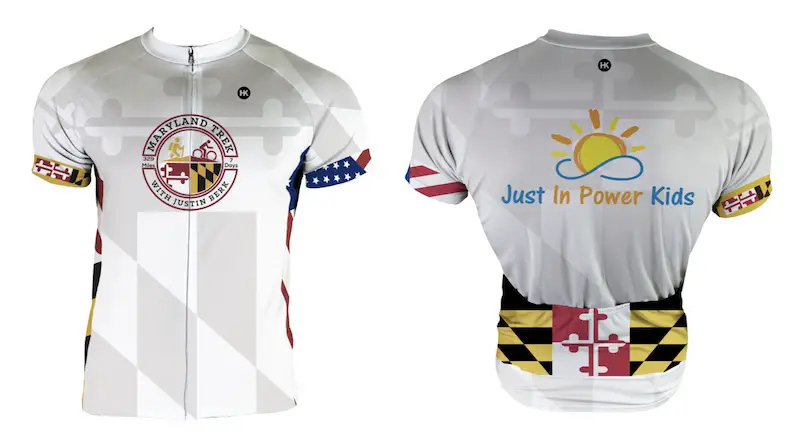 Thank you to our Title Sponsor for Maryland Trek 6
Shining on with Smyth and their contribution, our team has raised over $100,000 for Just In Power Kids to provide free programs for kids in and post cancer treatment.

Just In Power Kids:
Proceeds go to our programs Providing FREE holistic care for kids in cancer treatment and up to 5 years post treatment and caregivers.
Shine On
Proceeds from all sales go to Just In Power Kids. Click the image to shop and show your support.