July 14 2020
We are in for a rare double treat across this evening across the Mi Atlantic. Comet NEOWISE has shifted to the night sky for our viewing. This is just the beginning, and it will continue to rise higher and brighter for the next 10 days.  The western sky will be shared briefly by The International Space Station (ISS) flyover.  Yes, you may be able to see them at the same time just after 10 PM. See the viewing tips below.
What you might see (flipped)
This is not the first time ISS and Comet NEOWISE has shared the sky. In fact Larry Konski snapped this photo of the comet on Sunday in Fork, MD. What he thought was a shooting star appears to have been the ISS.
This time the comet will be seen in the night sky, and the ISS will be arriving from the southwest.  So facing west, ISS would be on the left and the comet should be seen on the right.
Video of Comet NEOWISE Rising over Earth from ISS
This amazing scene shows Comet NEOWISE rising over Earth's horizon.
You may want to skip to 3:14 for the first look at the comet.
Comet NEOWISE Viewing Tips
This comet was just discovered in late March. It will not be seen from Earth again fro another 6,800 years.
You may start to see it by 9 PM.
Best viewing will be 1 hour AFTER sunset (9:30 PM) 
ISS will arrive just after 10 PM. To see them at the same time, you will need to have an unobstructed view of the NW sky. If you know where the sun sets, you should see it to the right of that location. Hold your are out in front of you, and it should be about 1 fist high.
July 22: Comet NEOWISE will be 64 million miles from Earth, the closest approach.
July 25: Comet NEOWISE will be 30º above the horizon, equal to 3 fists high.
ISS Viewing Tips Tonight
This will be one of the longest flyovers possible!
Our view of the ISS flyover this will last 8 minutes and 43 seconds  with peak at 10:04 PM.
The track will start from the northwest sky. Find where the sun set and look just a little to the right (north).
10:01:03 PM = First View
Look in the region where the sun sets.
10:04:46 PM = Peak 
10:10:03 PM = Last View
ISS will pass nearly directly overhead.  Given the long path, you will need to be able to swivel or pivot so you can catch the whole show.
The International Space Station will appear like a fast moving plane with a very bright steady light, but no blinking lights.
Weather: Mostly clear and warm in the 70s.
Space Station Flyover Map
I've plotted this with track passing pretty much over Ocean City and the Delaware beaches.
ISS Trivia
You will be able to see it with your own eyes, but binoculars may help you identify some of the solar panels and central structure. I don't recommend a telescope since it will be moving pretty fast. Check out these stats:
Orbital speed: 17,000 mph
Complete Orbit = 92.65 minutes
Orbits per day: 15.54
Days in orbit: 17 years, 26 days
Altitude:  Ranges between 249 and 256 miles above the ground
Origin: The first component was launched in 1998
Occupied since November 2, 2000. This year will be the 20th anniversary!
LIVE NASA Video Stream
Docking Simulation from SpaceX
the last time we had a really good view of ISS was three evenings in a row at the end of May and early June. This was just after the SpaceX Dragon Capsule docked.
The simulation let's you control the Dragon on approach with ISS. There are instructions. It will help kids, and adult drivers realize there is no friction in space. So each movement needs to be small and steady.
Check it out and let me know what you think:
Please share your thoughts, best weather pics/video, or just keep in touch via social media
Maryland Strong Love ❤️ 
My 'bonus' daughter made this map of Maryland a few years ago. We brought it back for needed positivity. Now on her pick of tanks, and this cool Maryland T for men or women.
Click here or on the image to see more
This is all LOCAL: Made by Maryland Print House; Proceeds support my Maryland Trek 7 this August for Just In Power Kids.
Maryland Trek 7 
This will go on this August! Let's hope social distancing will be a memory then. One way to celebrate would be to become part of my team:
Consider joining our team for the week, a single day, or even as a sponsor.
Derecho Crosses PA and NJ June 3: Full Radar Loop
Water Spout OR Scud Cloud on videos and photos near Middle River Maryland
Other  Links:
Was Your County Not Included?
Click this map for more on the regional forecast zones
Baltimore Weather At BWI May Not Be As Hot As Reported
Construction at the airport close to the weather station may be added artificial heat. Click here or the image for the details.
Maryland Trek Cycle Jerseys From Hill Killer
All proceeds will go to the Maryland Trek 6 total and Just In Power Kids programs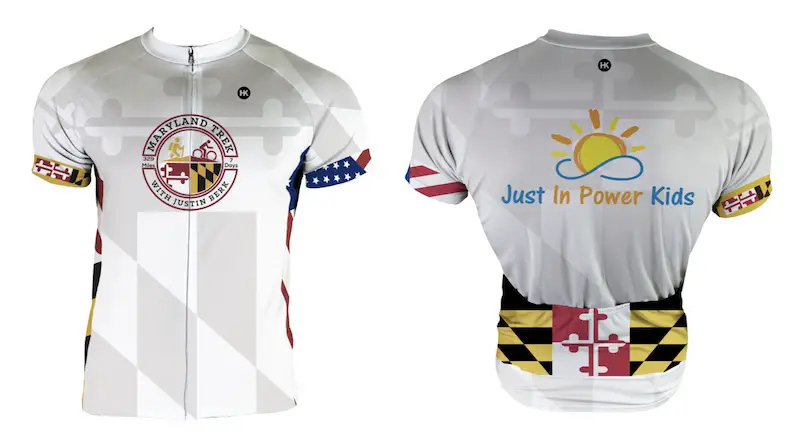 Thank you to our Title Sponsor for Maryland Trek 6
Shining on with Smyth and their contribution, our team has raised over $100,000 for Just In Power Kids to provide free programs for kids in and post cancer treatment.

Just In Power Kids:
Proceeds go to our programs Providing FREE holistic care for kids in cancer treatment and up to 5 years post treatment and caregivers.
Shine On
Proceeds from all sales go to Just In Power Kids. Click the image to shop and show your support.