July 8 2020
Comet NEOWISE was only a recent discovery on March 27. It passed around the sun on July 3 at a distance of 27.3 million miles and was not sure it would hold together. Well, it has and is now providing and amazing sight here on Earth with the naked eye. We just need a clear sky, but have plenty of chances this month.
While the viewing will be in the early mornings this week, it will which to the evenings for most of this month and get easier to see. This post has a few recent photos, an amazing video of the comet from the International Space Station (ISS), and how to find it with relative ease.
Photos of Comet NEOWISE
My friend Tony Hake captured a few photos from Denver, but we can see it anywhere. This shows it is visible to the naked eye. He did leave the exposure open for two seconds, so the sky was actually darker than seen here.
Comet NEOWISE will continue to climb higher in the sky over the next couple of mornings, then become visible in the evening sky and climb even higher for a few weeks. I'll explain below.
Where And When To Look
When: 5 AM
If you can wake up early, and IF the sky is clear, look to the Northeast before sunrise. That will be 5:47 AM on Thursday July 9. Start looking in the direction of the brightening sky.
Where: Northeast
Look where the sky is getting bright before dawn.
The comet will be brightest just before sunrise, about 10º above the horizon. If you reach our your arm in front of you, it will be about the height of your fist above the horizon.  Note that an unobstructed view is best. If you have a hill, trees or buildings in that direction, it will be blocked. If you are by the Bay or at the beach, just hope you have no cloud cover.
Calendar
Morning viewing will peak on July 11.
Evening viewing will begin low in the sky on July 12, but keep getting better.
July 22: Comet NEOWISE will be 64 million miles from Earth, the closest approach.
July 25: Comet NEOWISE will be 30º above the horizon, equal to 3 fists high.
Closer View in West Virginia
Video from ISS
This amazing scene shows Comet NEOWISE rising over Earth's horizon. You may want to skip to 3:14 for the first look at the comet.
Please share your thoughts, best weather pics/video, or just keep in touch via social media
Maryland Strong Love ❤️ 
My 'bonus' daughter made this map of Maryland a few years ago. We brought it back for needed positivity. Now on her pick of tanks, and this cool Maryland T for men or women.
Click here or on the image to see more
This is all LOCAL: Made by Maryland Print House; Proceeds support my Maryland Trek 7 this August for Just In Power Kids.
Maryland Trek 7 
This will go on this August! Let's hope social distancing will be a memory then. One way to celebrate would be to become part of my team:
Consider joining our team for the week, a single day, or even as a sponsor.
Derecho Crosses PA and NJ June 3: Full Radar Loop
Water Spout OR Scud Cloud on videos and photos near Middle River Maryland
Other  Links:
Was Your County Not Included?
Click this map for more on the regional forecast zones
Baltimore Weather At BWI May Not Be As Hot As Reported
Construction at the airport close to the weather station may be added artificial heat. Click here or the image for the details.
Maryland Trek Cycle Jerseys From Hill Killer
All proceeds will go to the Maryland Trek 6 total and Just In Power Kids programs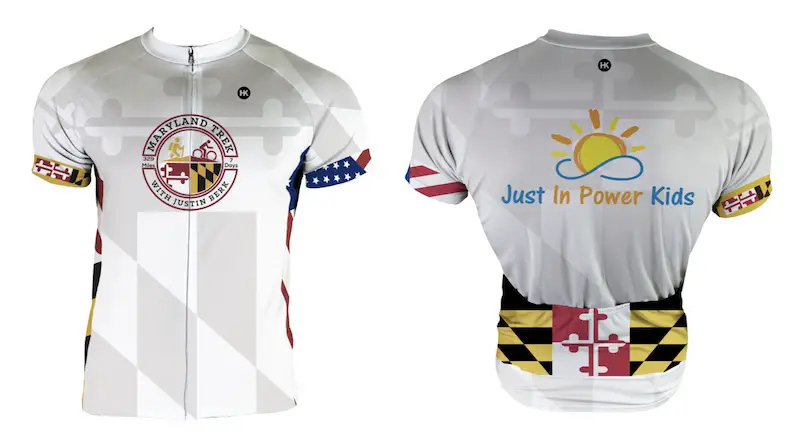 Thank you to our Title Sponsor for Maryland Trek 6
Shining on with Smyth and their contribution, our team has raised over $100,000 for Just In Power Kids to provide free programs for kids in and post cancer treatment.

Just In Power Kids:
Proceeds go to our programs Providing FREE holistic care for kids in cancer treatment and up to 5 years post treatment and caregivers.
Shine On
Proceeds from all sales go to Just In Power Kids. Click the image to shop and show your support.