April 10 2020
He had a few days in the 70s this week, and also snow flurries this morning across central Maryland. Temperatures are likely to drop below freezing for parts of our area this weekend and it is well within expectations through April.  There is a good reason why many gardeners suggest NOT to plan tomatoes until after Mother's Day.
Early surges of warm air in spring can be deceiving. Just because the temperatures reach the 80s or even 90ºF does not mean we safely into the growing season. In fact often an abnormal warm up in March or April can be matched by an equally abnormal cool down as the atmosphere tries to balance itself out.
A late frost or freeze is still possible and can harm or kill plants, even as we head into warmer months.  But it is more likely inland away from the water and the cities. The wester and northern suburbs can still expect a possible frost into early May. So getting gardens ready can take an effort in trust and patience.
Here is a look at the 'last' frost and freeze dates in our region. This is when most planting can be considered safe outside.  Note, this is the extreme and the 'safe bet' Below is a breakdown of dates the last frost or freeze that are more common for towns and cities in Maryland thanks to the University of Maryland.

Whenever I make an average map of anything weather related in Maryland, is is colorful. There is such a wide variety of conditions thanks to the contrast from the mountains, valleys, foothills, Chesapeake Bay, all the rivers and tributaries, and the Atlantic Ocean. This does extend across to Pennsylvania and Virginia, but tightly packed contours in central Maryland reflect how difficult weather forecasting can be.
See the break down of towns in the charts below. 
Note:
Air temperatures are measured at 5 to 6 feet above the ground. On a chilly morning, it could be 5 degrees or more colder on the ground than the air at the thermometer's level. That can allow frost to develop on grass and cars while the air is in the upper 30s.
A freeze is when the air itself is at or below 32ºF. This is more threatening to garden plants.
Last Freeze Date Chance By City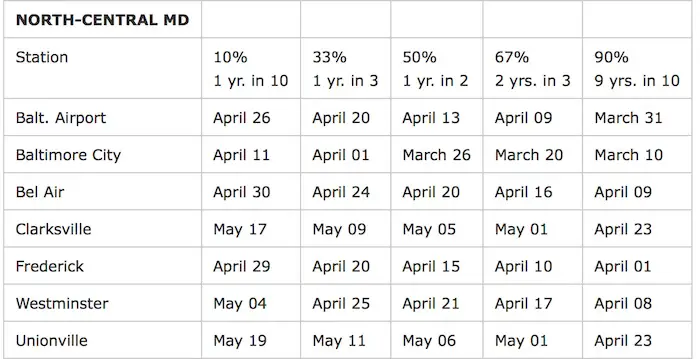 Please share your thoughts, best weather pics/video, or just keep in touch via social media
Keep In Touch Every Day
Just in case you don't get all posts on your social media feed, stay up to date with the latest info…
Click here to sign up for email alerts…. Be the first to hear any new weather.
Maryland Trek 7 
This will go on this August! Let's hope social distancing will be a memory then. One way to celebrate would be to become part of my team:
Consider joining our team for the week, a single day, or even as a sponsor.
Email Alerts
Please make sure you sign up (above or  click here to sign up for email alerts…. ) for my newsletter. This way you will get an email to make sure you are notified of each post.
Please share your thoughts, best weather pics/video, or just keep in touch via social media
Baltimore Weather At BWI May Not Be As Hot As Reported
Construction at the airport close to the weather station may be added artificial heat. Click here or the image for the details.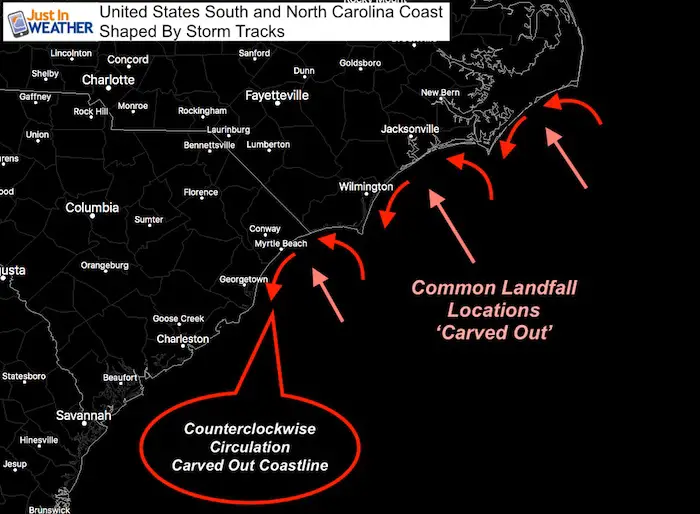 Maryland Trek Cycle Jerseys From Hill Killer
All proceeds will go to the Maryland Trek 6 total and Just In Power Kids programs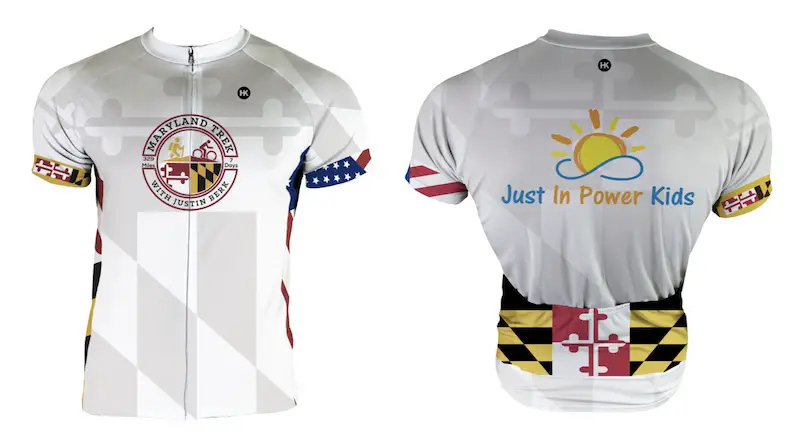 Thank you to our Title Sponsor for Maryland Trek 6
Shining on with Smyth and their contribution, our team has raised over $95,000 for Just In Power Kids to provide free programs for kids in and post cancer treatment.

Just In Power Kids:
Proceeds go to our programs Providing FREE holistic care for kids in cancer treatment and up to 5 years post treatment and caregivers.
Shine On
Proceeds from all sales go to Just In Power Kids. Click the image to shop and show your support.