April 5, 2020
Today is my birthday and I do not normally make a big deal about it. But while most of us are in quarantine, I look forward to my favorite time of the year.  I have one wish: Please consider joining my team, or at least mark it on your calendar to follow along.
This will be my 7th year hiking and biking across the state of Maryland between Wisp and Ocean City. Nothing will stop me from doing it, even if we continue social distancing this summer I will do it alone. But, I have high hopes we will be able to be with other people by then.
Did you know?
When I was 14 years old I almost lost my leg. Many doctors wanted to amputate, but I found the right fit and after a long post surgery treatment, I recovered.  My Story is on my Trek Website, which is where I want you to visit.
My birthday wish: To continue to grow my team/family with you or someone you know.  There is no catch. This brings out the best in people and brings us together.
In addition to the physical challenge  of 329 miles in 7 days:
We see Maryland from a perspective I want to share with more people.
We celebrate my surprise recovery from childhood illness by honoring kids in cancer treatment. Each day we carry the photo of one kid and tell their story in hopes of inspiring them.
This is a fundraiser for Just In Power Kids. But in the COVID-19 Crisis there may be less available to donate for our free programs. I get that! But the message is just as important for the kids we honor. Last year we retained over $100,000 to provide free holistic care AND free food to kids in cancer treatment. WE are not comparing the money this year. We just want to honor the kids.
The people that have joined me have become part of my family. I even met my wife Shannon during on of my Treks, and we got married at the end of the next year's event. It is the best and perhaps hardest thing you may do, but the rewards are so worth it!
To illustrate how important this is to me, Shannon got me this birthday gift today: A Corn Hole set with our Trek and Just In Power Kids painted on it:
Below is a look at some photos from Maryland Trek 6 last August (not on our website yet).
I would like you to visit our Maryland Trek website and consider signing up just to get on the list. It's just us that will contact you. No one else!
I am looking for people to:
Join for the entire week
Do a few days, or even just single one
Do a relay and split the hiking and biking between people.
Kids Trek Too: Have your kids and family join us on Day 5 ling the B & A Trail in AACo for two miles.
Sponsor?– Under normal circumstances, but we know that's hard for many to think of now.   But if you'd like to consider supporting us please let us know.
Who are we?
All walks of life of men and women ages from 20s to 60s. We have medical and fitness professionals, but also a mix from many other backgrounds. We want anyone who is able and willing.
You don't have to have a long history of endurance events, just a goal to be part of something bigger with all of us together and the rest just fits in place.
What you can do?
Join as a participant, volunteer, or sponsor (of that's even possible now).  
If these don't fit, just mark your calendar and follow my team when we do it.
When?
Full Event: August 9 to 15, 2020
Kids Trek Too is at Noon on Thursday August 13, 2020 at the B&A HQ in Anne Arundel County, MD.
Where?
Maryland!  This was last year's map. This year is exactly the same.
We start at the top of wisp Ski Resort and Finish in Ocean City.   See the daily route maps here.
Why?
Celebrating my recovery to encourage those on their journey to health now.  Each day we tell the story and trek for a child in cancer treatment. We also honor the recovery and lives of others lost along the way.
Just In Power Kids provides free holistic care (with doctors support), additional home aides, and free healthy meals to families in Johns Hopkins and Sinai.
Photos from Maryland Trek 6 in 2019
—>slider
*These are not on our trek website yet, but I wanted to share with you now.
It may be the most challenging, but may be the best week of your life. Please check out our Maryland Trek site and look at the bottom to
Join the 2020 Crew
Finish in Ocean City August 2019
Please share your thoughts, best weather pics/video, or just keep in touch via social media
Maryland Trek Cycle Jerseys From Hill Killer
All proceeds will go to the Maryland Trek 6 total and Just In Power Kids programs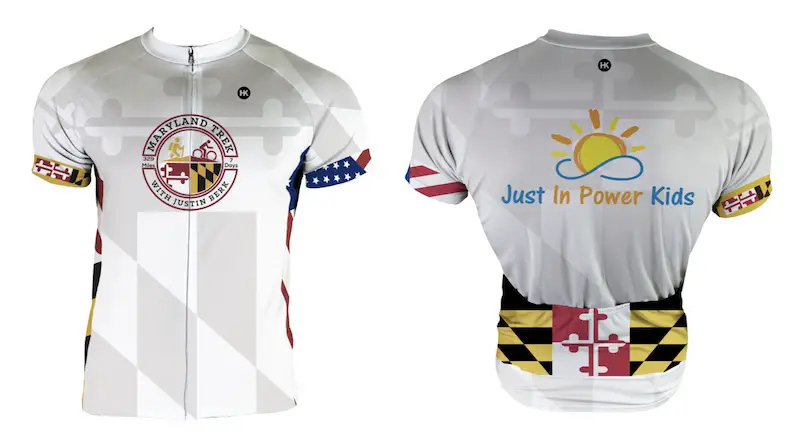 Thank you to our Title Sponsor for Maryland Trek 6
Shining on with Smyth and their contribution, our team has raised over $95,000 for Just In Power Kids to provide free programs for kids in and post cancer treatment.

Just In Power Kids:
Proceeds go to our programs Providing FREE holistic care for kids in cancer treatment and up to 5 years post treatment and caregivers.
Shine On
Proceeds from all sales go to Just In Power Kids. Click the image to shop and show your support.