Monday March 23 2020
While in the middle of the COVID19 Emergency, we had a cloudy and wet day here in the Mid Atlantic. The may be officially be called a Quarantine, but if felt like that today for many parents. Especially those with young kids.
Since it was dark and wet outside, I challenged parents to get their kids to draw Spring Art, assuming it would be bright and cheery. The response was wonderful with 22 displays of art from kids of all ages that should warm your spirit.
As much as I want to thank them all, perhaps the parents are thankful their kids were busy and productive.
Now I need your help.
Please scroll through all the art samples.
Then pick your top 3 favorites in the poll at the bottom. I can't pick a favorite and you might have trouble too. So this will let you at least vote for a few.
The poll will remain open until 10 AM Tuesday March 24. The one with the top votes will be my new Cover Photo on my Facebook Page the over 253,000 people will get to see.
Stay Positive
That the message from Addison in Hanover, MD and I love it!  But, I need the photo to be in landscape to display on Facebook. So this can not be used.
However it seemed fitting to lead off with this, as we follow the path to the kid art gallery.
Kid Spring Art Gallery Up For Voting
These are in alphabetical order as submitted with names, ages, and info from their parents.
Arissa
2. Caylin
3. Eden
4. Evie
5. Gavin
6. Gracie
7. Jordin
8. Joseph: Someone likes birds and was really busy today. Joseph submitted 3 pictures 😀
(1 of 3)
9. Joseph (2 of 3)
10. Joseph (3 of 3)
Meyers Family: 3 Kids
11. Addison
12. Aubri
13. Emilyn
14. Moriah
15. Nikki
16.  Andy from Perry Hall
17. Rock Family: Carleigh
18. Rock: Cecelia
19. Savannah
20. Scarlett
21. Sophia
Time To Vote
Please use this poll.
I will post the winner on my Facebook Page Cover Photo and announce on my Twitter and Instagram pages as well.
Which Spring Art picture should be my new Facebook Cover Photo? Please chose your top 3 picks
Moriah (11%, 256 Votes)
Joseph 2 (10%, 217 Votes)
Perry Hall Andy (9%, 191 Votes)
Joseph 3 (8%, 178 Votes)
Scarlet (8%, 171 Votes)
Jordin (7%, 165 Votes)
Gracie (6%, 142 Votes)
Evie (5%, 112 Votes)
Caylin (5%, 112 Votes)
Nikki (5%, 103 Votes)
Eden (4%, 98 Votes)
Savannah (4%, 91 Votes)
Joseph 1 (3%, 75 Votes)
Meyers: Aubri (3%, 58 Votes)
Meyers: Addison (3%, 57 Votes)
Meyers Emilyn (2%, 51 Votes)
Rock Cecelia (2%, 50 Votes)
Arissa (2%, 50 Votes)
Gavin (1%, 32 Votes)
Rock: Carleigh (1%, 15 Votes)
Sophia (0%, 10 Votes)
Total Voters: 979

 Loading ...
Please share your thoughts, best weather pics/video, or just keep in touch via social media
NOTICE: Get Forecasts By Email
I will be posting my forecast and sending out emails first every day. Today I am starting a daily video on Facebook for kids and educators to do the Pledge of Allegiance, a few morning announcements, and birthdays. My Facebook page link is at the bottom of this post.
Just in case you don't get all posts on your social media feed, stay up to date with the latest info…
Click here to sign up for email alerts…. Be the first to hear any new weather
---
Maryland Trek Cycle Jerseys From Hill Killer
All proceeds will go to the Maryland Trek 6 total and Just In Power Kids programs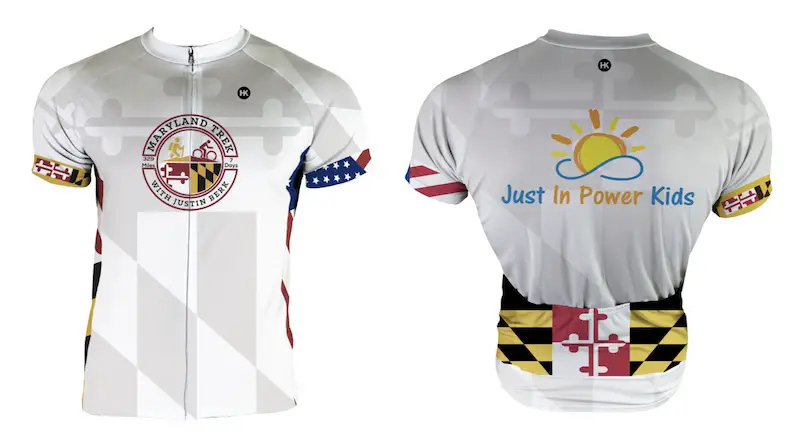 Thank you to our Title Sponsor for Maryland Trek 6
Shining on with Smyth and their contribution, our team has raised over $95,000 for Just In Power Kids to provide free programs for kids in and post cancer treatment.

Just In Power Kids:
Proceeds go to our programs Providing FREE holistic care for kids in cancer treatment and up to 5 years post treatment and caregivers.
Shine On
Proceeds from all sales go to Just In Power Kids. Click the image to shop and show your support.