March 1 2020
Spring begins today on the Meteorological calendar. The seasons are grouped together into full 3 month blocks.  Astronomical Spring will be the earliest in 124 year, thanks in part to Leap Year Day. It begins at 11:50 PM on March 19, 2020.
There may be little to celebrate as Baltimore just ended the 5th warmest winter season and first snow-less February since 1884. So it seems like winter hardly started. But this month does hold some big changes. Check them out:
Cherry Blossoms on National Mall
One sign of spring in our area is the annual progression of the cherry Blossoms in Washington DC. The National Parks Service announced they have reached the first of  stages. This is earlier than last year, but later than 2017, and 2018.
Temperature Jump
The average temperature will rise  10 degrees by the end of the month in Baltimore
March 1 Average High: 49ºF

March 1 Average Low: 29ºF
March 31 Average High: 59ºF

March 31 Average Low: 38ºF
Temperature Extremes
Coldest (just a few years ago)
Warmest
Snow?
Even in the mild winters, March can provide late snow. I discussed this in a recent report on  March snow after winter was slow
6 inches of snow falling on 14 dates in March

10 inches of snow or more have fallen on 6 dates in March.
Over 22 inches of snow
The most snow happened in 1941 when Baltimore had barely 4 inches of snow, then March 29 received a record 21.9 inches of snow.  The storm total was 22.2″. That was our 6th largest all time snow event on record.
March 1990 Extreme Flip
Record Highs were set
Record snow less than 2 weeks later
Daylight
We are in the fastest daily change of sunlight gaining more than 2:30 of sunlight each day!
March 1 Sunrise 6:38 AM

March 1 Sunset 5:59 PM
Daylight Saving Time is on Sunday March 8
We turn the clocks forward 1 hour.
March 31 Sunrise: 6:51 AM

March 31 Sunset: 7:29 PM
The net result will be sunset 1:30 later by the end of the month. But the morning sunrise will need to adjust and will be actually be 13 minutes later at the end of the month.
Super Moon Season
This month the full moon is on March 9. It will be the first of 3 super moons in a row (also April and May).  This is when it reaches with 90% of its closest to Earth during full or new moon phase).  Teachers and parents, this is the first day back to school after the clock change. You may want to mark it on your calendar and prepare (you know what I mean).
Baltimore history of snowless February(s) and winters when March brought the most snow:
Click here to see more: March Snow After Winter Has Been Slow
Please share your thoughts, best weather pics/video, or just keep in touch via social media
WEATHER WIFE COLLECTION
Thanks to Shannon (weather wife) for hand picking items 'she' wants to wear
The Yoga Pants have side leg pocket for your phone
The Hoodie is extra soft and has the important 'thumb holes'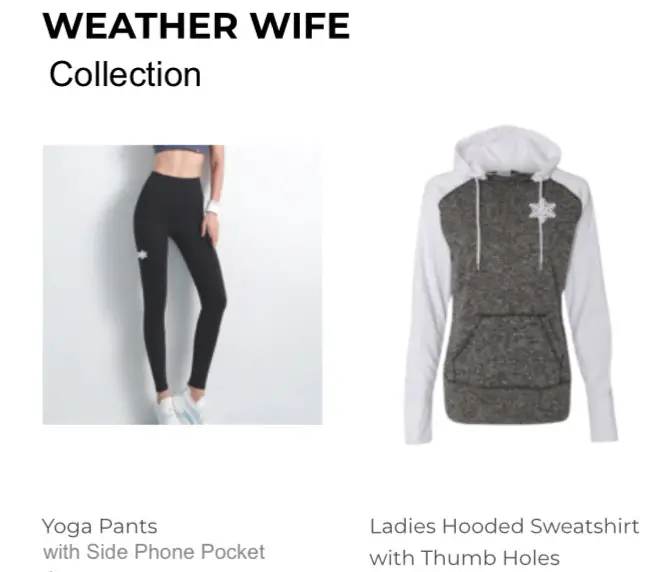 Winter Outlook Series:
My Call For Snowfall Winter 2019-2020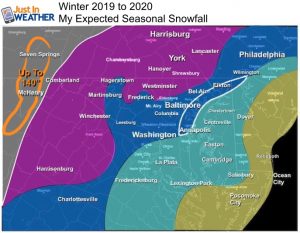 Snowy Winters Following A Hot and Dry September
NOAA Winter Outlook Leaves Room For More Snow With Mild 'Seasonal Average' Temperatures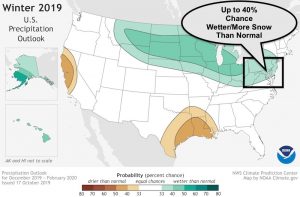 Also Read:
Other  Links:
See the maps for when we normally expect the first frost in this link.
Baltimore Weather At BWI May Not Be As Hot As Reported
Construction at the airport close to the weather station may be added artificial heat. Click here or the image for the details.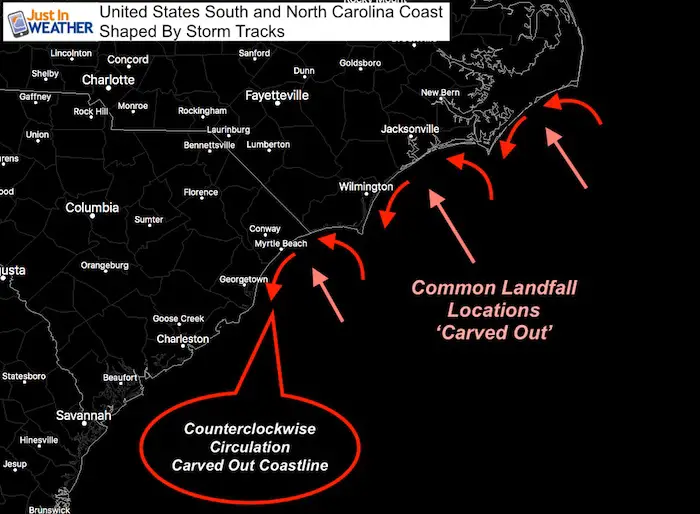 Maryland Trek Cycle Jerseys From Hill Killer
All proceeds will go to the Maryland Trek 6 total and Just In Power Kids programs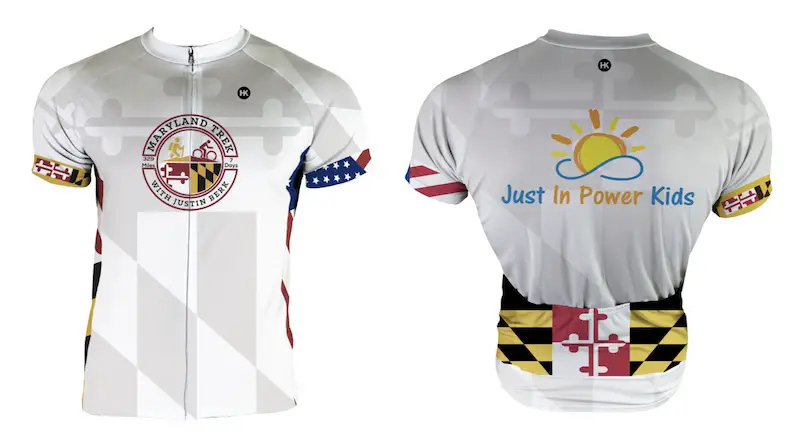 Thank you to our Title Sponsor for Maryland Trek 6
Shining on with Smyth and their contribution, our team has raised over $95,000 for Just In Power Kids to provide free programs for kids in and post cancer treatment.

Just In Power Kids:
Proceeds go to our programs Providing FREE holistic care for kids in cancer treatment and up to 5 years post treatment and caregivers.
Shine On
Proceeds from all sales go to Just In Power Kids. Click the image to shop and show your support.