February 3, 2020
Baltimore just broke a record high temperature with 67ºF.  This was the warmest February 3rd dating back to 1932, or 88 years ago!  Winter is not normally like this! But I figured it was a good time to explore the other side of winter: The years with low snow. If yo have heard it does not snow anymore like it used to, the data below may change your mind. It's quite common.
Normal Snow Season Per Month
February is typically the month with the most about of snow each winter. Even after a record warm day, snow has often returned this time of year.
I know we are all below expectations this winter.  If the season ended today, my outlook would fail. But, there is still plenty of time left to add to our total.
*See the map of our average winter snow at the bottom of this post
Besides warmth, lack of snow has made this winter seem like it never got started. BWI has recorded 1.8" so far this season. How does that stack up historically?
Sicne winter weather records began in 1883, Baltimore has NEVER has a winter void of snow. Only once did the city get less than 1 inch all winter. Only three times has the city has less than 2 inches of snow. If we don't get any more this season, this would be the fourth winter.
The description 'low snow' winter takes on an expanded meaning. A 'typical' winter brings around 21 inches of snow to Baltimore. I use the term 'Low Snow" for winters with less than half of that. I break it down to winters with under 5 inches of snow and between 5 and 10 inches of snow.
I dug through the 137 years of winter snow history in Baltimore and plotted out the results below.
18% Of Winters End Up As Low Snow
Low Snow happened 26 times, or 18% of winters. That might be more than many people expect to see. 
Extreme weather of this sort has been displayed on occasion and documented since the 1800s.
I wrote an article I wrote a few years ago about snowless Decembers. I that I showed remainder of those winters were near or above normal snow about 50% of the time. There is still reason to keep your Faith in the Flakes*
Lowest Snow Winters in Baltmore
0.7″ in the winter of 1949-1950. *The ONLY time a full winter resulted in less than a single inch in Baltimore.
1.2″ in 1972-1973
2.3″ in 2001-2002
Under 5 inches of snow
Notice the winters fitting this category are evenly scattered throughout the record period since 1883.
Between 5 and 10 inches of snow
14 out of 137 winters fit this category. 
Three winters since 2000

Two winters in the 1990s.

 

Seven winters have between 1883 and 1951.
Pairs of years under 10 inches of snow
There have been two years in a row with low snow occurring 4-Times since 1883. Twice those pairs were followed by one of the top snow winters
1888-1889: 9.0″
1889-1890: 4.9″
1949-1950: 0.7″ *Lowest on record
1951-1951: 6.2″
2000-2001: 8.7″
2001-2002: 2.3″
This was followed by out third highest snow total of 58.1″ in 2002-2003
2007-2008: 8.5″
2008-2009: 9.1″
This was followed by the most snow on record: 77″ in 2009-2010 
Is There Still A Chance We Get Snow This Winter?
With 26 winters since 1883 at 10 inches or less snowfall, there is company in the category. But that may not be what you want to hear if you have FITF.
There is no guarantee that this winter will remain there.  I do not want to give false hope, but I did have my reasons calling for more snow this winter early on.  Plus, there is still hope for snow lovers  today.
Top 25 SnowStorms
16 our of the top 25 top historical snowstorms in Baltimore have occurred in February or March. That is 64% of the greatest single event snow totals have occurred in the second half of winter:
Statistical Odds, NOT False Hope
The chart below I show in my school assemblies, and it is also what I used in my winter outlook.  Just looking back since 1993, Baltimore has had a pattern of large snowstorms every 3 to 4 years. It was the last storm, that was the largest on record that shifted the pattern. That epic 29.2″ snowfall occurred in 2016, just 2 years after the prior storm.
It has been 4 years since then. So statistically we are due!
I should add that between 2003 and 2010, almost every winter snowfall began on December 5th. That pattern was nice, but it eventually ended. So these things don't last forever, but they can provide some insight if you buy into it
Compare That Record Snowfall Around The Region
For most areas, close to or more than a full season of snow fell in that one event. Ironically, that was most of the snow that winter. Just one month earlier, we had record warmth close to 70ºF in Christmas 2015.
Season Snow Around The Region
All of the stats above are for Baltimore. But most people live outside of the city. The snowfall can dramatically change within a few miles. A lot less closer to the warmer Chesapeake Bay. A lot more west and north in the colder hills and mountains.  This maps helps explain why many snow events you hear me discuss might not have done anything where you live (if you are south or east of the city).
Compare to the average winter around our region as documented by NWS Baltimore Washington Office:
Snow History Since 1900
If you have heard "it does not snow anymore like it use to", this might help change that.
The biggest swings in winter weather were in the 1950s (lowest snow decade) and 1960s (highest snow decade).
The last two decades (2000-2019) have averaged higher then the prior three (1970-1999).
Decade Breakdown—> slider
Final Note:
Extremes breed extremes. Often when we have record warmth in winter, the jet stream will fit back with a reality check pretty soon.  February is just starting, and historically there is plenty of winter left for things to turn around.
Get Forecasts By Email
Just in case you don't get all posts on your social media feed, stay up to date with the latest info…
Click here to sign up for email alerts…. Be the first to hear any new weather
Please share your thoughts, best weather pics/video, or just keep in touch via social media
WEATHER WIFE COLLECTION
Thanks to Shannon (weather wife) for hand picking items 'she' wants to wear
The Yoga Pants have side leg pocket for your phone
The Hoodie is extra soft and has the important 'thumb holes'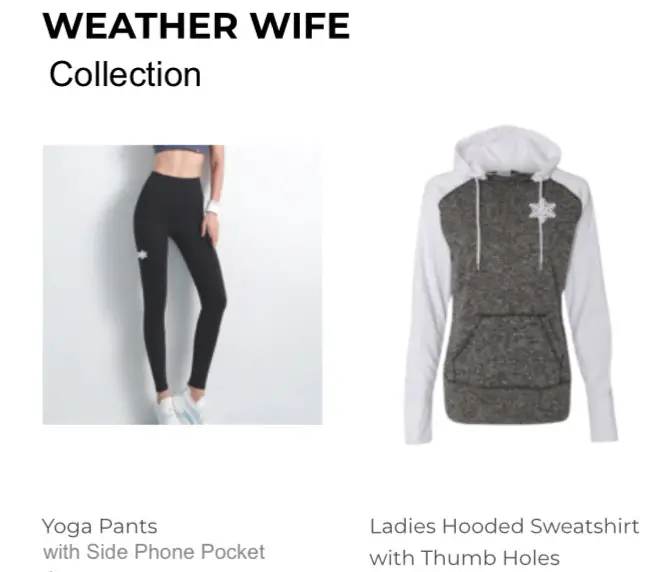 Winter Outlook Series:
My Call For Snowfall Winter 2019-2020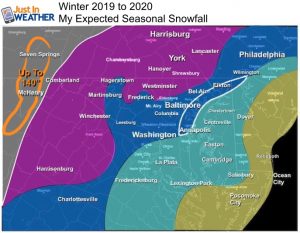 Snowy Winters Following A Hot and Dry September
NOAA Winter Outlook Leaves Room For More Snow With Mild 'Seasonal Average' Temperatures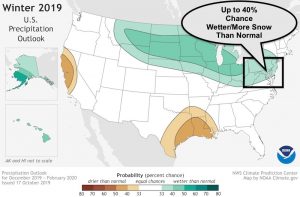 Other  Links:
See the maps for when we normally expect the first frost in this link.
Baltimore Weather At BWI May Not Be As Hot As Reported
Construction at the airport close to the weather station may be added artificial heat. Click here or the image for the details.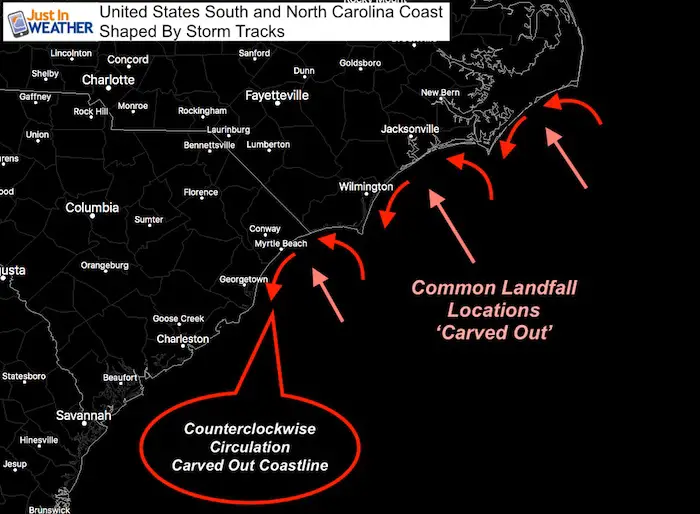 Maryland Trek Cycle Jerseys From Hill Killer
All proceeds will go to the Maryland Trek 6 total and Just In Power Kids programs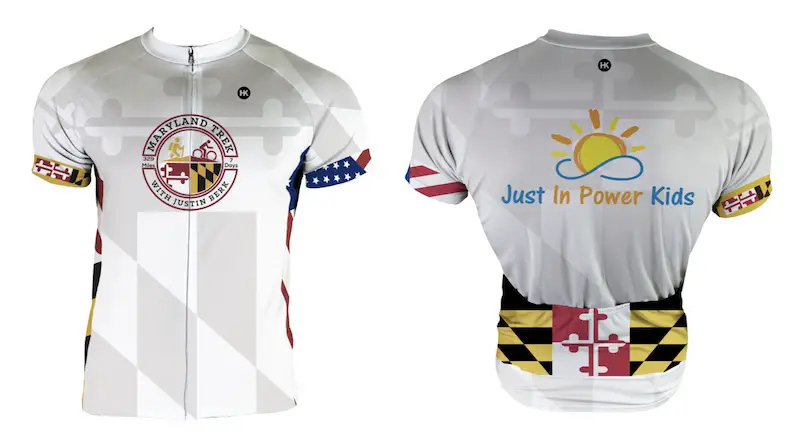 Thank you to our Title Sponsor for Maryland Trek 6
Shining on with Smyth and their contribution, our team has raised over $95,000 for Just In Power Kids to provide free programs for kids in and post cancer treatment.

Just In Power Kids:
Proceeds go to our programs Providing FREE holistic care for kids in cancer treatment and up to 5 years post treatment and caregivers.
Shine On
Proceeds from all sales go to Just In Power Kids. Click the image to shop and show your support.