Wednesday Evening January 29 2020
This quick update is about the potential storm to start the weekend on Saturday. For the past few days I have been tracking two systems to see how they will impact us at the start of the weekend. In this quiet winter, each potential wintry event is worth watching just to avoid surprises.
At this point it does not appear to be a major event though, and confined to Saturday.  Super Bowl Sunday travel plans still should be just fine!
Phasing?
Phasing is the process of two pieces of energy in the atmosphere joining together to enhance storm or develop a new storm.  There will be Low Pressure off of the Carolina coast Saturday morning. With no cold air to work with, it will be rain. But there is energy with cold air in the jet stream racing out of Canada.
'IF' they were to team up at the high time, then we could end up with a wintry mix in our region.
'Not' teaming up then keeps them separate and a non event for us.
Snow, No, Or Wintry Mix?
I have been showing the European ECMWF Model as a baseline. Last weekend this model displayed a solid snow event for us (for this weekend). I did not publish that considering the error in mid range modeling. That was a good move, because a day later the storm was gone!  However, the ingredients are still there and I anticipated the model was missing the timing.
Each day this week, the computer modeling has brought these a little closer together.  Now it appears the timing of the two pieces of energy will miss each other by 12 to 18 hours.  This is close enough to pull the coastal storm closer and spread showers across our area.
IF the cold part speeds up and arrives sooner, we still have a wintry mix to consider. I DO NOT see a major storm, but wanted to share some inside look to what I was tracking.
Storm Simulation —> slider
Here's the latest look at the ECWMF Model.  I will post the new model morning and night to show you the trend.
The trend is definitely closer and more showers. There is a hint of wintry mix on the edge of the coastal in eastern PA and NJ.  There is will some wiggle room on timing and expansion of the wintry mix.
The Jet Stream this weekend will bring the needed cold air aloft and trough to support a storm. But the timing is the key.
Here is a snapshot for Saturday night of the jet stream height anomaly at 500mb. That is around 18,000 Ft above the ground.  The Cold Core of the trough is projected to be just west of Cleveland, OH.  The coastal cold air is lagging behind the surface storm.
'IF' the Cold Core arrives sooner (and this type of pattern often does), then it will help to pull the coastal storm closer to the coast. That would allow some phasing, and introduce the wintry mix and snow into our region.
'IF' that does not time out, then there will be a mix with showers Saturday night as that cold core would arrive by itself.
Please share your thoughts, best weather pics/video, or just keep in touch via social media
WEATHER WIFE COLLECTION
Thanks to Shannon (weather wife) for hand picking items 'she' wants to wear
The Yoga Pants have side leg pocket for your phone
The Hoodie is extra soft and has the important 'thumb holes'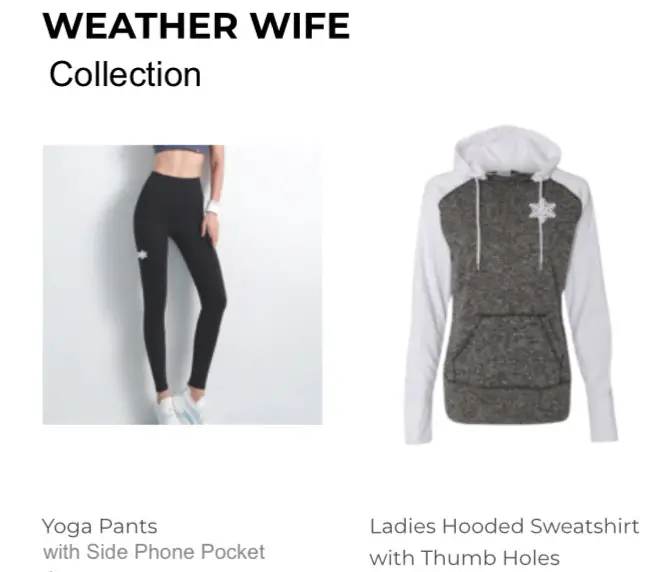 Winter Outlook Series:
My Call For Snowfall Winter 2019-2020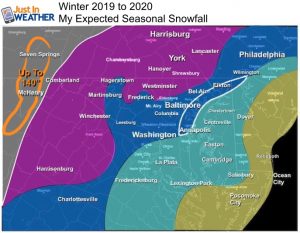 Snowy Winters Following A Hot and Dry September
NOAA Winter Outlook Leaves Room For More Snow With Mild 'Seasonal Average' Temperatures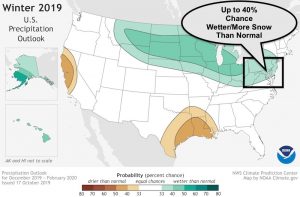 Other  Links:
See the maps for when we normally expect the first frost in this link.
Baltimore Weather At BWI May Not Be As Hot As Reported
Construction at the airport close to the weather station may be added artificial heat. Click here or the image for the details.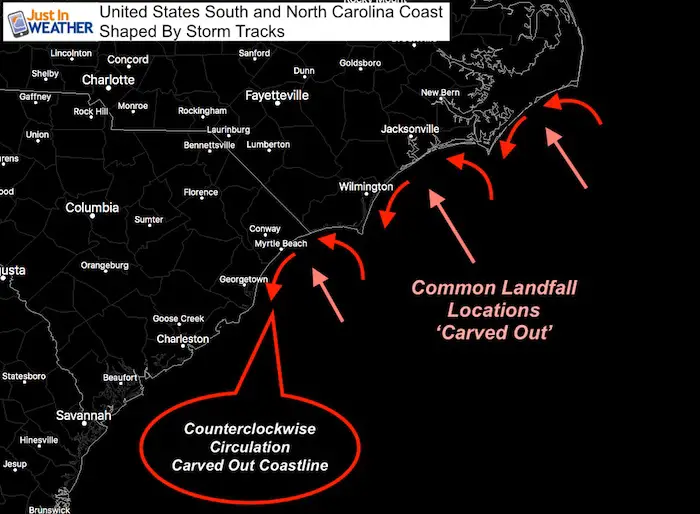 Maryland Trek Cycle Jerseys From Hill Killer
All proceeds will go to the Maryland Trek 6 total and Just In Power Kids programs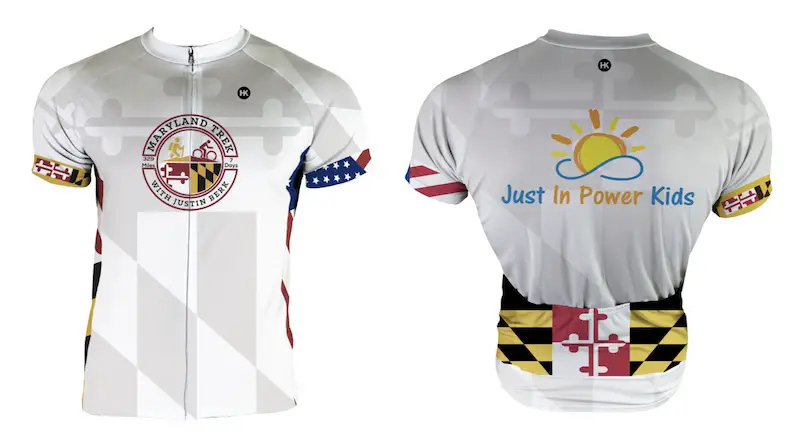 Thank you to our Title Sponsor for Maryland Trek 6
Shining on with Smyth and their contribution, our team has raised over $95,000 for Just In Power Kids to provide free programs for kids in and post cancer treatment.

Just In Power Kids:
Proceeds go to our programs Providing FREE holistic care for kids in cancer treatment and up to 5 years post treatment and caregivers.
Shine On
Proceeds from all sales go to Just In Power Kids. Click the image to shop and show your support.