UPDATE MONDAY MORNING
Good morning. The short range modeling lost support for the snow burst, but the radar is looking close to what the simulation showed last night (see below).
This is all about intensity. Heavier precipitation will drag down colder air, which could turn the rain to snow.  Please see my report below for what I was thinking and what the models showed last night.
Original report
Sunday Evening December 1 2019
As the holiday weekend ends with a chilly and soggy day, it may appear as if the ice and snow are moving out. It has been a problem in western Maryland where a police reported a 36 vehicle pileup on I-68 in Garrett County at 3:30 PM. This storm continues to be a problem in metro New York and New England. But there is another part of this event that will develop early Monday morning and could lead to a burst of snow that's worth some respect and extra attention.
Monday Morning Snow Burst
The two high resolution short range models NAM 3 Km and HRRR both agree with snow building from southern PA into central Maryland before sunrise on Monday. Will it be enough to affect roads and maybe schools?   That is the delicate question I am presenting only because I saw it happen in York last weekend.
There will be more snow showers in the afternoon and at night to expand east. The timelines are below.
The Bad News:
I do not want to alarm anyone but I don't want you surprised either. There are no official advisories at this time.  But, this set up looks way too familiar!
Did you see my live report on Facebook last Sunday? I was in York County where a burst of snow at 34ºF was able to accumulate 2 to 3 inches quickly. I showed how it covered the roads leading to accidents. It is possible to burst and bam with snow early in the season, even in central Maryland.
The Good News:
If we get that snow burst Monday morning, we should see the transition and impacts developing by 5 AM or 6 AM. Hopefully that's enough time if prepared to make any calls for schools and your commute. I just want you to be prepared. I will be up and reporting for you early.
Who is most at risk Monday Morning:
Southern PA: Likely in Adams, York, and Lancaster:(but most schools are closed there for the start of hunting season)
Maryland:
Likely in Frederick, Carroll, northern Baltimore Counties by sunirse.
Marginal in Northern Harford, NW Montgomery, and northern Howard County. Some snow may fall or mix in.
Not Really: Baltimore City, Annapolis, Washington, Eastern Shore Some flakes might fall, but no impact on roads.
Monday Evening:
Likely Snow on Delmarva may coat the grass.
The Set Up
The storm is large and has a few parts to it. The surface Low Pressure on the coast is what was responsible for our rain, plus the ice and snow in the Northeast states. The Large circulation in the Great Lakes is the cold core, upper level low. This is going to head our way by morning.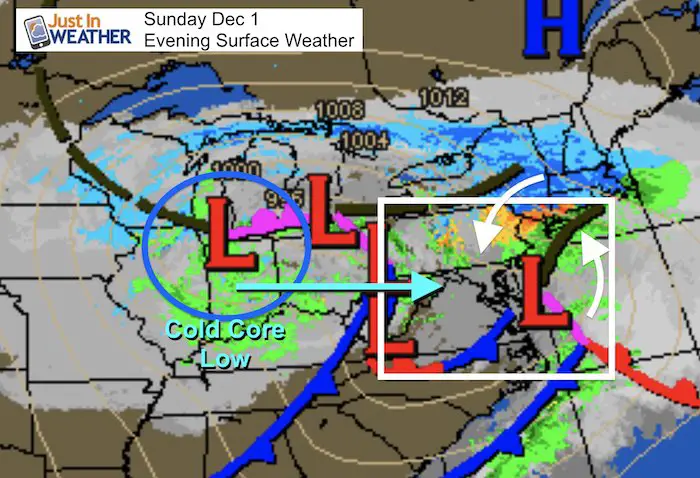 Snap Shot
The core of the cold air will arrive at cloud level early Monday morning. It is this pocket of energy that will help enhance a new surface storm with rapidly rising air. This is what will enhance the precipitation and drag the colder air down to the surface:
The net result will be snow developing as the precipitation gets heavy, and while surface temperatures are still above freezing.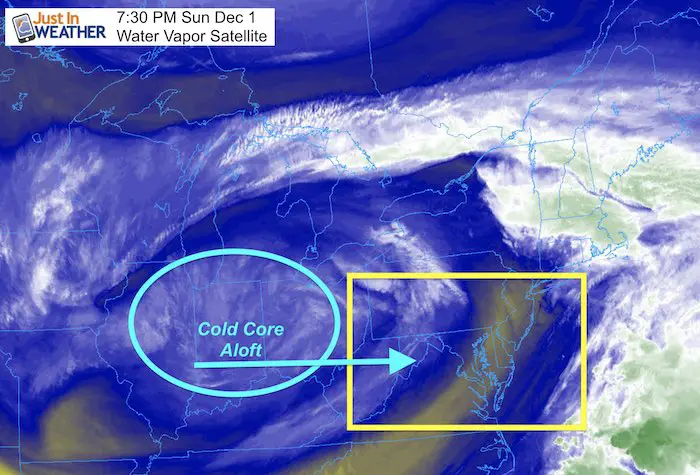 Water Vapor Satellite Loop
That large circulation is the cold core Low. This will head east overnight.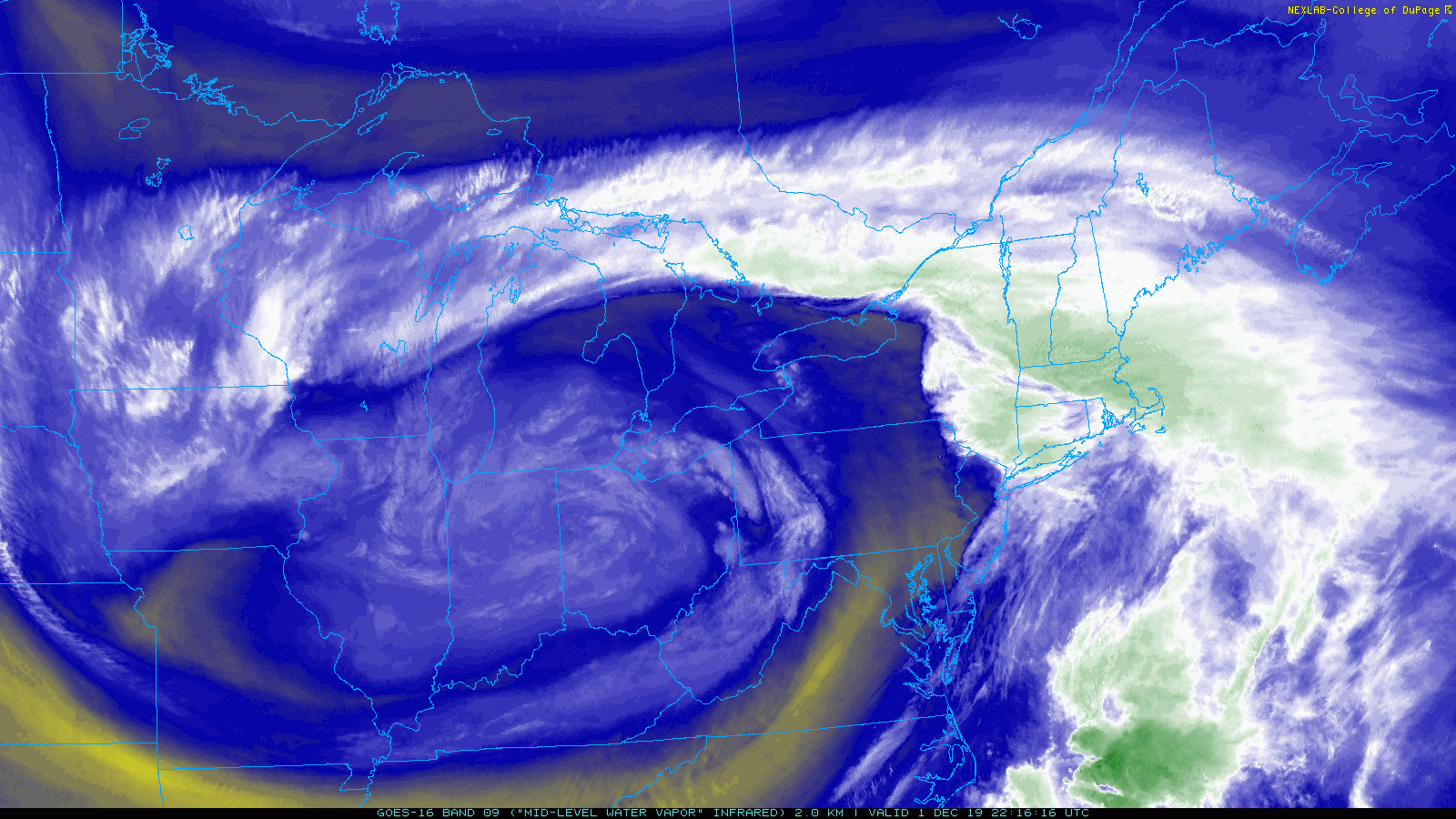 Monday Morning (forecast) Temperatures 
The view is zoomed in on central Maryland and southern PA.
No spots below freeing (32ºF), at 7 AM. This may not account for the cooling from any snow burst.  These are close enough for the ground to be colder, get stickage and accumulation. That would be if the snow is intense enough.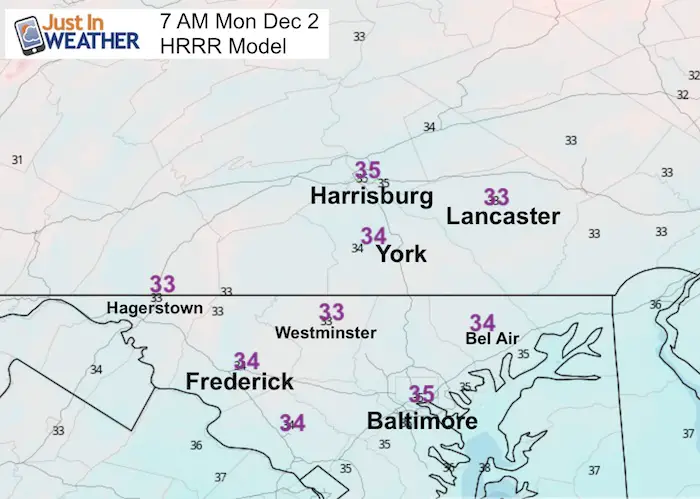 Radar Simulation
This HRRR Model was the first to see the snow surprise in PA last weekend. I believe it is on to something and I have seen it get colder with each run today.
That dark blue is heavy snow.  That could be enough to overtake the warm ground and start stickage,  even on the roads. Getting a burst of snow before sunrise allow the cold to work faster.
Monday Morning —> slider
This model has trended colder with each hourly update, but there are some hole.
I hesitate to lock on details based on this output. But the risk regions I identified above count for the buffer on the southern edge.
Snow (blue) and rain (green).
Monday Afternoon-Evening —> slider
This is the NAM 3 Km Model picking up the later time frames.
Watch the snow drop south from New Jersey across Delmarva. This could coat the grass after 6 PM
Why No Snow Map?
This is a unique situation being the first of the season with marginal temps. I have seen surprises before, even last weekend. So if we get this burst, some places could get a few quick inches where it sticks.  Where it melts, just a lot of chatter. I hate to say this, but it's a wait and see.  But a quick coating to a few  inches is possible in dynamic set ups like this.
I will start posting on social media around 5 AM an have a full report during the morning.
Please share your thoughts, best weather pics/video, or just keep in touch via social media
Get Forecasts By Email
Just in case you don't get all posts on your social media feed, stay up to date with the latest info…
Click here to sign up for email alerts…. Be the first to hear any new weather
20% OFF ALL Collections Through Cyber Monday
Click here and use the Code at checkout
Snowy Winters Following A Hot and Dry September
NOAA Winter Outlook Leaves Room For More Snow With Mild 'Seasonal Average' Temperatures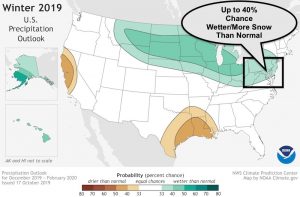 Other  Links:
See the maps for when we normally expect the first frost in this link.
Baltimore Weather At BWI May Not Be As Hot As Reported
Construction at the airport close to the weather station may be added artificial heat. Click here or the image for the details.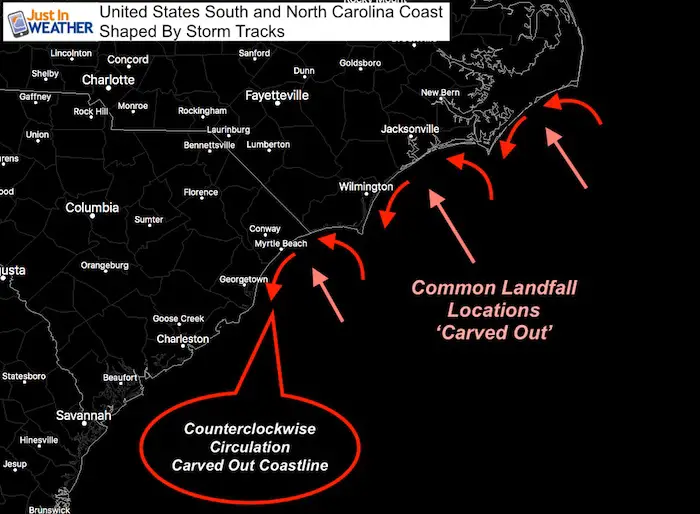 Maryland Trek Cycle Jerseys From Hill Killer
All proceeds will go to the Maryland Trek 6 total and Just In Power Kids programs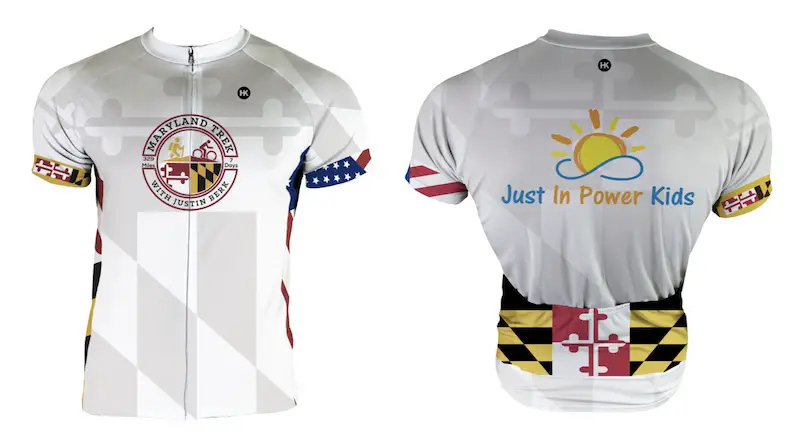 Just In Power Kids:
Proceeds go to our programs Providing FREE holistic care for kids in cancer treatment and up to 5 years post treatment and caregivers.
Thank you to our Title Sponsor for Maryland Trek 6
Shining on with Smyth and their contribution, our team has raised over $95,000 for Just In Power Kids to provide free programs for kids in and post cancer treatment.