November 26 2019
I have been working on my winter outlook and snowfall for the past two months. Over that time I have shared multiple posts on elements I consider, and hinted at what I was thinking. I had hoped my new website would be ready for you by now, but it won't be until next month. I can't wait any longer.  I've shared some of my thoughts with nearly 20 schools I have visited so far this school year. Now it's time to go public.
Perhaps this will be a topic of discussion at the Thanksgiving table for your family.  So here it is: I strongly believe we will have a few mentions of the Polar Vortex, a couple of ice events/storms, an above average snow season this winter! #FITF (Faith in the Flakes if you are new to our party)
Before I show how much, there is some housework to take care of.  First, I need to make clear that regardless of how much I love snow, I do NOT let that influence my outlook. I don't want to disappoint my kids, any kids or teachers I have visited, or myself.  Also, this is a seasonal outlook and not a single storm. Patterns can set up during the season to make or break what I see now.
Below is a look at my prior formal outlook record, primary elements I considered and already posted, and also my forecast. I have a focus on Baltimore because it is central to the region I forecast in, but I included a map with my expectations for all of Maryland, southern Pennsylvania, Delaware, and parts of Virginia and West Virginia.
Get Forecasts By Email
Just in case you don't get all posts on your social media feed, stay up to date with the latest info…
Click here to sign up for email alerts…. Be the first to hear any new weather
NEW FITF GEAR THIS YEAR
Thanks to my wife Shannon who wanted to bring these hats to life.
A new Weather Wife Collection with even more items will debut soon.
The Maryland Hoodie is high quality and a new way to show off our love of Snow and State.
FITF Store
Snow Stats, Charts, And Maps
Snowfall In Baltimore This Decade
We have the top winter with 77″ and two of the bottom five with " or less.  It's been a wild ride with the decade average higher than the long term average.
While 4 of the past 10 winters were above normal, we are due for another one.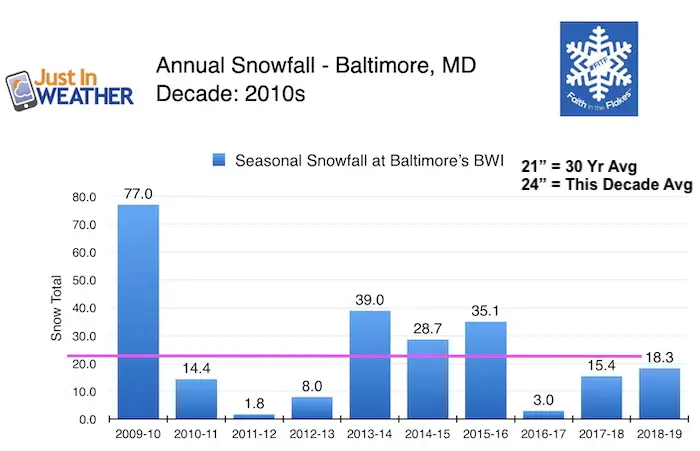 My Record: Past 6 Winter Snow Outlooks
When I started posting my outlooks online, I had three very good winter wins with snow verifying on the upper edge of my range.
The winter of 2015-2016 was mostly in one storm that was our all time biggest winter event ( see more below)
My last three winters I overbid and was wrong.  But the law of averages does play into my favor now 🙂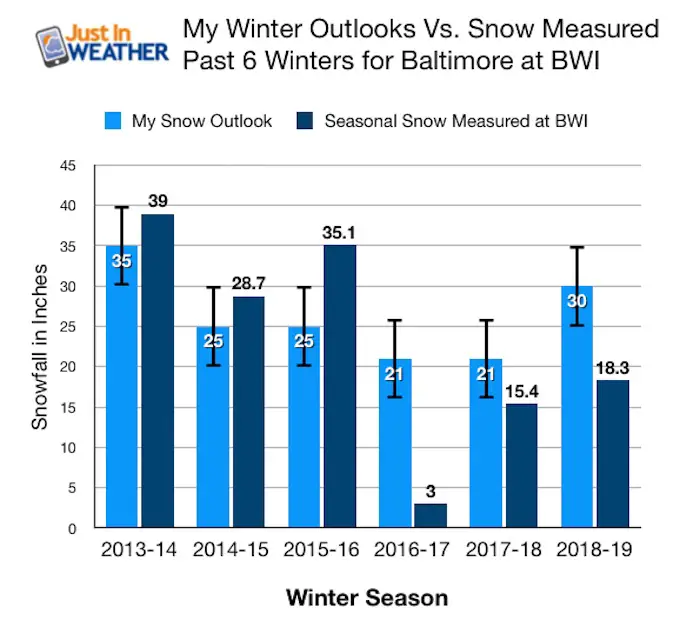 Factors I  Consider  
Disney's Frozen: While Disney may control media, controlling the weather is still up for debate. Frozen debuted in 2013 and that winter of 2014 we had multiple visits of the Polar Vortex.  Now that Frozen 2 is in theaters, maybe we can test if that really is a signal for Elsa to 'bring it on' again. I do have more scientific evidence to add to this.
This is the lost of many elements I considered. See my notes and related article links where applicable below.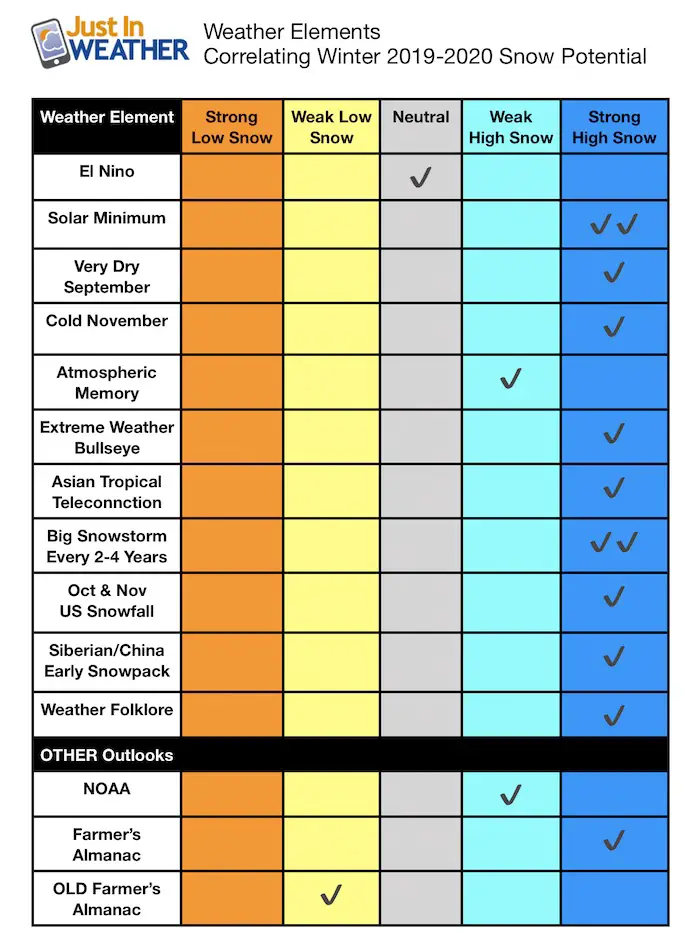 El Nino/La Nina: Neutral this year and not a factor.
Solar Minimum: As I wrote on Nov. 5th, we are in a Solar Minimum year. This often corresponds with cold and very snowy winters. To date, 75% of the year has shown no sunspots. This is LESS than the solar minimum leading up to our epic 2009-2010 winter.
Very Dry September: As I wrote on Oct. 1, we had the second driest September on record in Baltimore. With 13 years under 1 inch of rain in that month, the following winter averaged snow 20% a typical winter (21″). Five of those winters had over 30″ of snow or 150% above a typical season.
Cold November:
This is ongoing, but in the first 25 days, BWI was 3.2ºF BELOW AVERAGE Temperature for the month to date.  This mild trend took us out of the running for the coldest on record.  I looked back at the coldest Novembers and many times they signaled an early shot of cold air in December but warmth balanced out the rest of winter.
It turns out a very cold but not extreme cold November is a better signal for more cold to hold longer in winter.
Analog Winter: Comparing a similar temperature and solar minimum, the most recent and closest year to relate was 1995. That winter did also have a weak La Nina we don't have so it's not perfect. But that winter did result in 62.5″ snow! The second highest on record and a little more than 300% above a typical winter at BWI.
Atmospheric Memory/ Asian Tropical Storm Tracks:
As I wrote on Nov 19, there is a signal I noticed and continue to research around the globe. Combine that with closer tropical systems and autumn storms, there will be multiple strong storms passing by this winter. Not all will be snow makers for us, but some will. At least one or two will moderate to big storms.
Extreme Weather Bullseye
When I see a cluster of extreme events in the severe weather season prior, I believe this leaves a wake in the atmospheric memory a well.
Tornados, Supercells, Microbursts:
April 16: Laure, DE (EF2)
April 26 Baltimore County (Warren ES dismissal debate)
May 23: Columbia, MD
May 30: Frederick (EF0); Glenelg (EF1)
July 22: Finksburg Deadly microburst that tore through my wife's former property
These are just a few but they suggest there should  be a focus of snow burst or ice in a few storms this winter between Frederick, Howard, southern Carroll, and northern Baltimore Counties- I-70 to I-83 corridor.
Big Snowstorm Every 2 to 4 years!
This pattern of two to four years for a snowstorm at BWI over 10 inches of snow dates back to the late 70s.  I made this chart starting in 1993 to make it easier to read. It was the recored breaking storm in Jan 2016 that shortened the pattern to two years.
Since the last storm, this winter pushes the limit of the FOUR year span. If you believe in statistical patterns, then we are very due for at least one big snowstorm in metro Baltimore this winter.  Note that often more snow falls in the northern suburbs in a more frequent basis.
See this and more Baltimore stats in the post I wrote on Nov 4
October and November Snowfall 
A larger area OVER 1 Ft across the northern plains to date compared to the last few years. There will be more snow this holiday weekend to enhance to building snowpack. This will support and maybe enhance colder air masses to follow that head our way.
Past 3 years Snowfall to Nov 26—> slider

Siberia/China Snowpack: This has also been near epic proportions
Weather Folklore: You name it and there is support from fat squirrels, thick fur on horses and onion skins. Even the height of bee and wasp nests.  The caterpillars showing all black are a different breed than the ones with the orange stripe. But there have been many spotted.  See more folklore here and compare.
Other Outlooks
I am not a fan of the vagueness given in these:
NOAA: Read beneath the headline and they support the chance for snow even with their warm bias.
Farmers Almanacs: The two main and competing publications don't agree but I am sure when we get snow, they will be the first to get credit.
My Winter Thoughts
Given multiple elements, there is support for us to have an active winter with plenty of storms.
A high amplitude jet stream could bring arctic air often and even dislodge the Polar Vortex into the northern US a few times.
The various storm tracks I presented will not all give us snow. But at times the inland tracks with cold air in place will bring us a few ice events. One or two could be extensive.
I do believe the odds favor at least one big storm in Baltimore with 10″+ snow.  Given the pattern of severe weather in the spring and autumn, there will be a period with two strong events in a one week span.  The first chance will be in December, then again in January.
Model Errors:
I am cautions of any model showing a Strom 1 week away.  I see a continued error for events to arrive sooner, some will be stronger, and many will appear to shift east of forecast plots. I will do my best to include that in my forecasts.
Storm Tracks
A few storms will track along the southern coast and the trend models have missed will likely shift east. This could make for some misses for us, while Delmarva and coastal areas will get snow.
Timing
December will start very cold. By mid month we will know if the pattern will hold through January or fluctuate.  Unlike years past, spring should show itself on time rather than delay into April or May.
Wild Winter
Winter should average cooler than 'normal', but we will have some brief, very warm periods.  It is possible to have a cold winter with a daily record high or two sprinkled in the mix.  This is due to large ridges and troughs in the jet stream.  When we do have a warm surge, LOOK OUT for the bottom to crash quickly… and lead into one of those active patterns for a few weeks.
My Call For Snowfall
In this section I have posted:
My call for Baltimore
Map of AVERAGE winter snowfall
My Forecast Map for this winter
My Call For Snowfall In Baltimore
30 inches is my low end safe call, but the range is up to 40 inches. This would be similar to the winters of 2013-'14 and 2015-'16.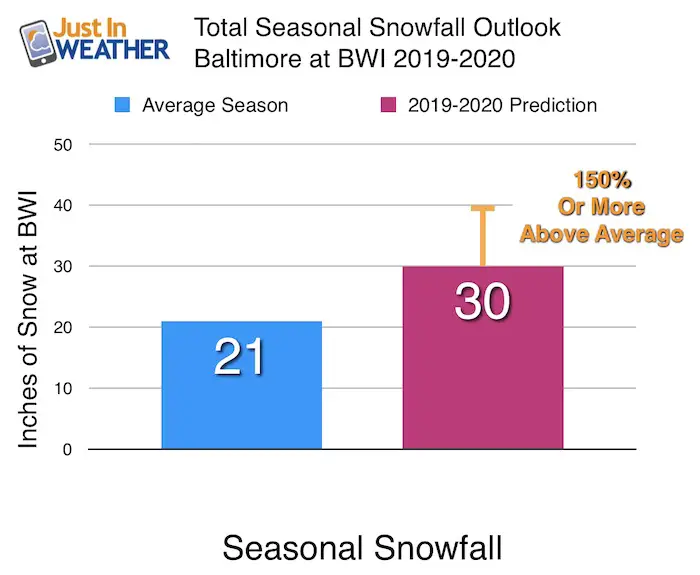 Map of AVERAGE winter snowfall
Before we look at my forecast for the rest of your region, here is the 30 year average snowfall from The National Weather Service.
Please compare this map to my snow map below.
Where is Pennsylvania? I am not posting the NWS PA snow map because it does not match up well. It undercuts what I believe is the real average in Adams, York, and Lancaster Counties. They show 25 to 30 inches, but it is closer to 40 inches from my documents in the past 15 years. I did include those areas in my forecast below.
My Call For Snowfall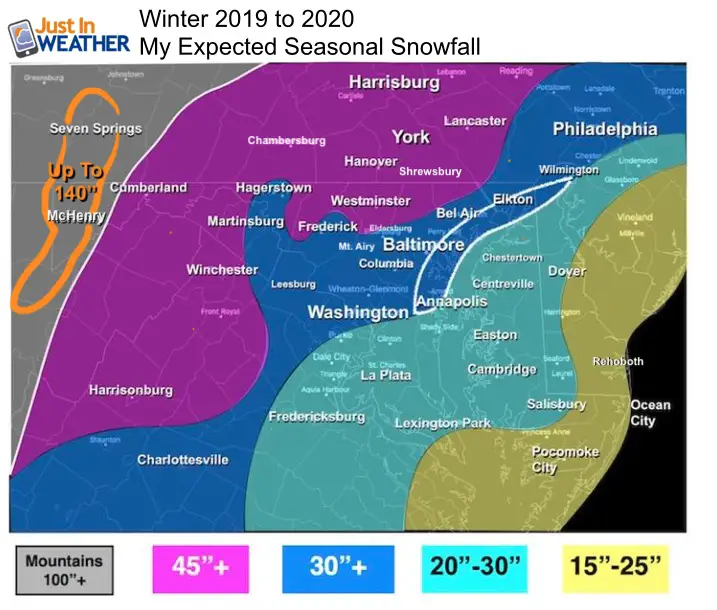 My call is for a regional average seasonal snowfall of 50% above a typical winter.
Mountains: There will be plenty of snow for the ski areas. McHenry averages 104″, but I have them and the ridge for 3,000 Ft and higher locations at 140 inches (almost 40% above normal)
The Chesapeake Bay is starting a little warm. That is my only hold back otherwise I would have gone higher A strong early December arctic blast might erase that impact. But until then, this will cause early season snow total issues in the area shaded in white on the north end of the Bay. This include Baltimore and north on I-95 to Harford and Cecil Counties.
Big cities and inland suburbs: Low End Confident Number With Upside Potential (30″+) ( 45″+)
Compare these areas to the average map above. It is not that far fetched. There is a lot of upside potential (+) if we get locked into a good pattern for a few weeks at a time but I did not want to go overboard.
Annapolis and Washington DC: I have them optimistically close to 30 inches. But realistically the range is 25″ to 35″.  Cooling the Bay temp in December will be critical for Anne Arundel County and the upper Eastern Shore to get there.
Southern MD, VA, and Delmarva: I used snow ranges here. There will be some coastal storms on the edge of very cold air that could miss the cities and normally snowy spots…. however hit these areas. Those are the events I described in the winter storm tracks that will be along the coast and trend farther east.
Forecast Zones
I will do my best to include all of our area in my forecasts all winter. But Watches and Warnings come from The National Weather Service (NWS). I can not make up my own, and no TV station can either. If your county is not included at times, it is based on where your NWS office is located.  This is why Cecil County often is delayed when the rest of central Maryland has advisories. Click the map for more.
New Web Site Shortly
I had hoped to have my entirely new web site active by Labor Day. We are in the final stretch and it will be operational in early December. This will allow faster and more frequent updates for you and a lot more real time information. Thank you for trusting my take on the weather. No one gets it right all the time, but I certainly will try.
Let's have a fun and safe winter
Faith in the Flakes
Please share your thoughts, best weather pics/video, or just keep in touch via social media
Farmers Almanacs: Compare the Two Most Popular Publications
Snowy Winters Following A Hot and Dry September
NOAA Winter Outlook Leaves Room For More Snow With Mild 'Seasonal Average' Temperatures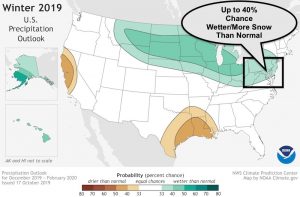 Other  Links:
See the maps for when we normally expect the first frost in this link.
Baltimore Weather At BWI May Not Be As Hot As Reported
Construction at the airport close to the weather station may be added artificial heat. Click here or the image for the details.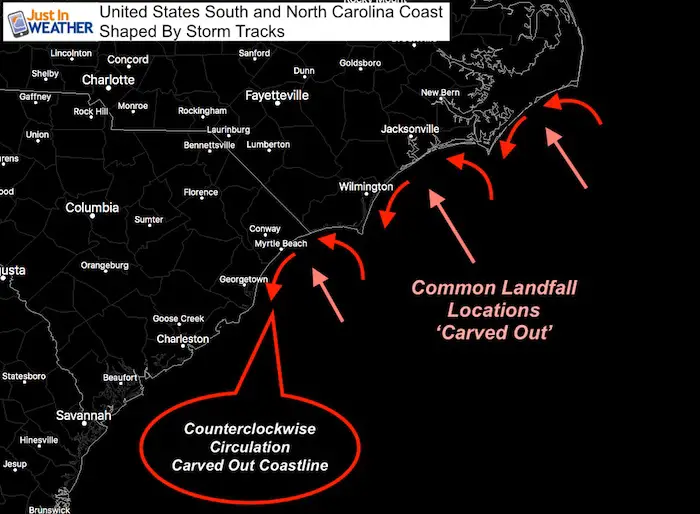 Maryland Trek Cycle Jerseys From Hill Killer
All proceeds will go to the Maryland Trek 6 total and Just In Power Kids programs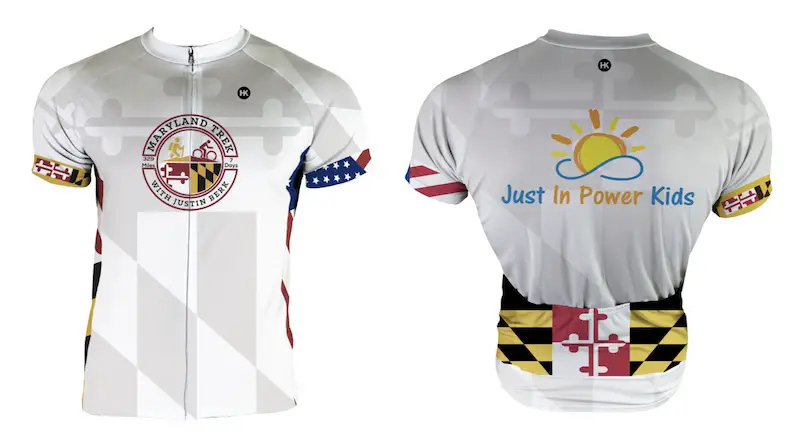 Just In Power Kids:
Proceeds go to our programs Providing FREE holistic care for kids in cancer treatment and up to 5 years post treatment and caregivers.
Shine On
Proceeds from all sales go to Just In Power Kids. Click the image to shop and show your support.
Thank you to our Title Sponsor for Maryland Trek 6
Shining on with Smyth and their contribution, our team has raised over $95,000 for Just In Power Kids to provide free programs for kids in and post cancer treatment.