Tuesday Afternoon May 28 2019
A Tornado Watch has been issued for much of Pennsylvania until 10 PM. This includes Adams, York, and Lancaster Counties boarding Maryland. But south of the Mason Dixon line the expectation for strum today is much lower.  This watch coincides with the Enhanced Severe Storm Risk posted this morning. It means the ingredients are present for storms to turn severe and rotate. But it is not a promise.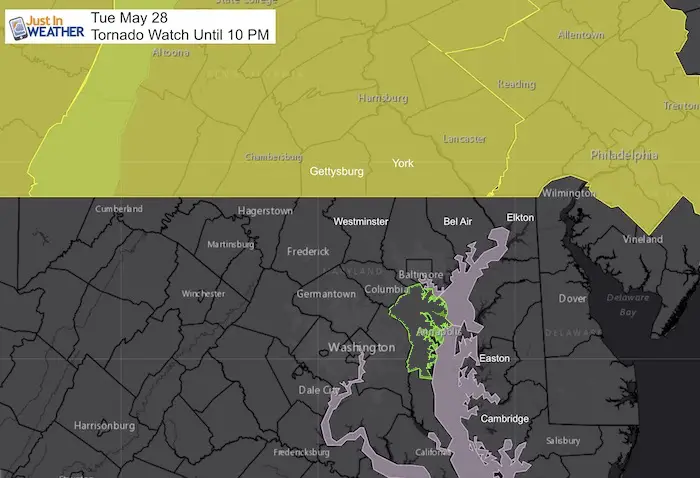 Severe Storm Risk issued earlier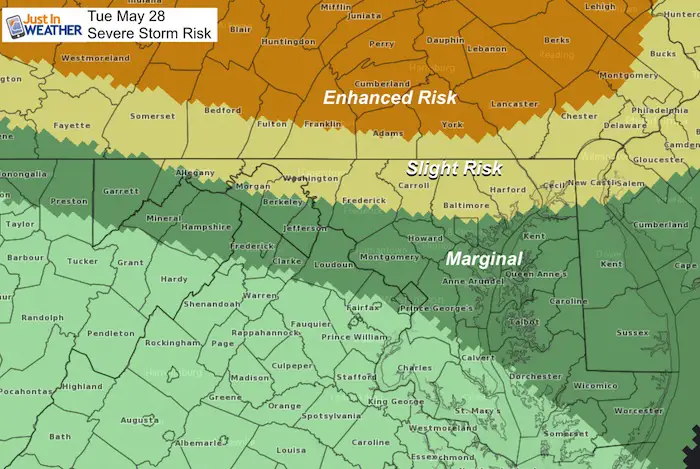 Any thunderstorm has the potential for:
Winds over 58 mph
Hail over 1 inch diameter
Tornados (isolated)
Lightning will be frequent
Flooding in local downpours
Please note that as we get closer, these are potential alerts to be issued.
Severe Thunderstorm Watch: A broad area and window with a 4 to 6 hour time frame. This means it MIGHT happen.
Severe Thunderstorm Warning: A focused area like a county usually with a 30 to 60 minute time frame. This means it IS HAPPENING NOW.
Tornado Warning: A focused area and time frame. This would list towns in a likely path within a 15 to 45 minute window.
Conditions at 2 PM
Temperatures
Ample heat in the mid 80s for most places west of the Bay.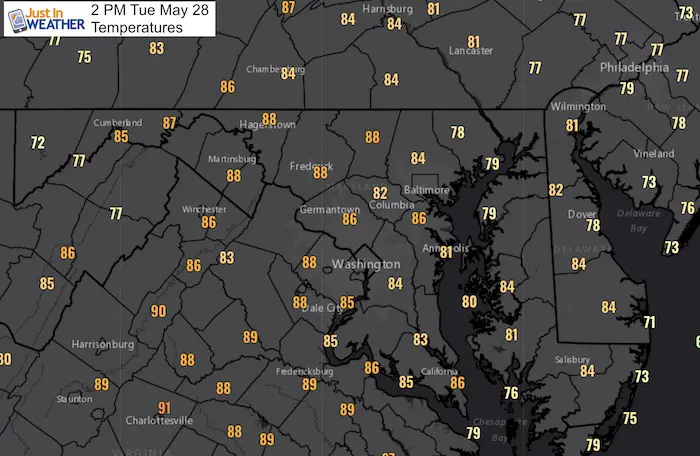 Dew Points
This is the true measure of moisture in the air. Most of our region is near or above 70ºF Dew Point. That is why it feels so humid, but is also fuel for strong storms that can produce heavy downpours.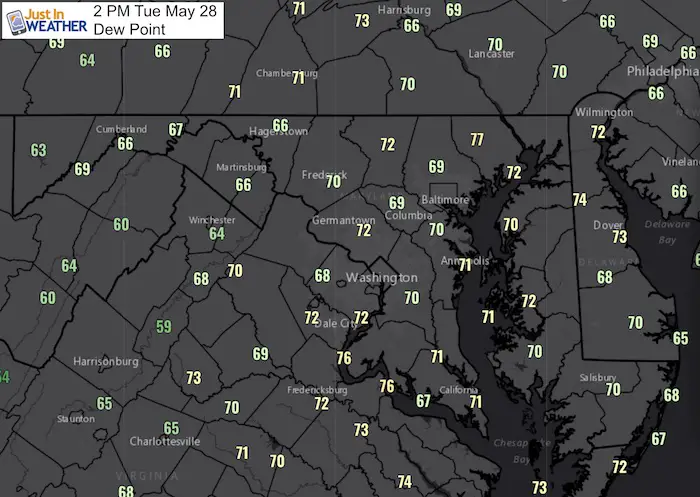 Winds
Most of our region has winds form the west and southwest.  That is not supportive of severe storms for central Maryland due to the downslope from the mountains. That is why there is a greater chance near and north of the PA line.  However, there is a Bay Breeze as shown in yellow with the Southeast wind. There is a small window for some showers or storms to form in northern Carroll to Baltimore and Hartford Counties this afternoon.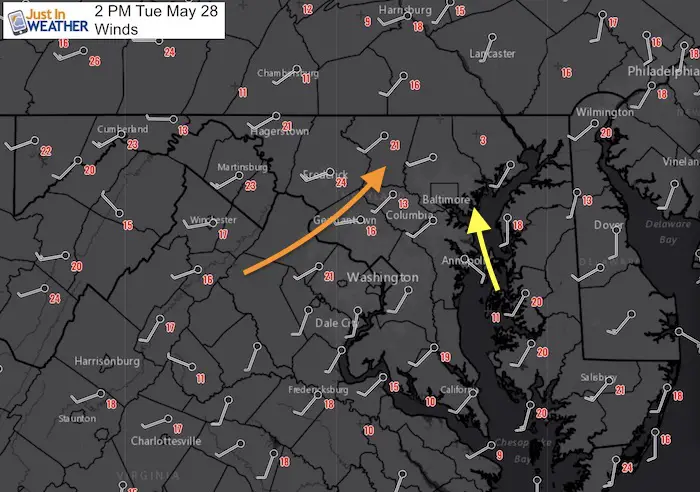 Satellite Loop (2 Hours ending 3 PM)
Not much action locally, but the next few hours is the time for the heat to do the building of storms.
Radar Loop (2 Hours ending 3 PM)
Again, not much locally. The action is in western PA. But some isolated showers along the Maryland border are what we need to pay attention to. Any of these forming through the evening can bubble up, meaning most of us won't see it.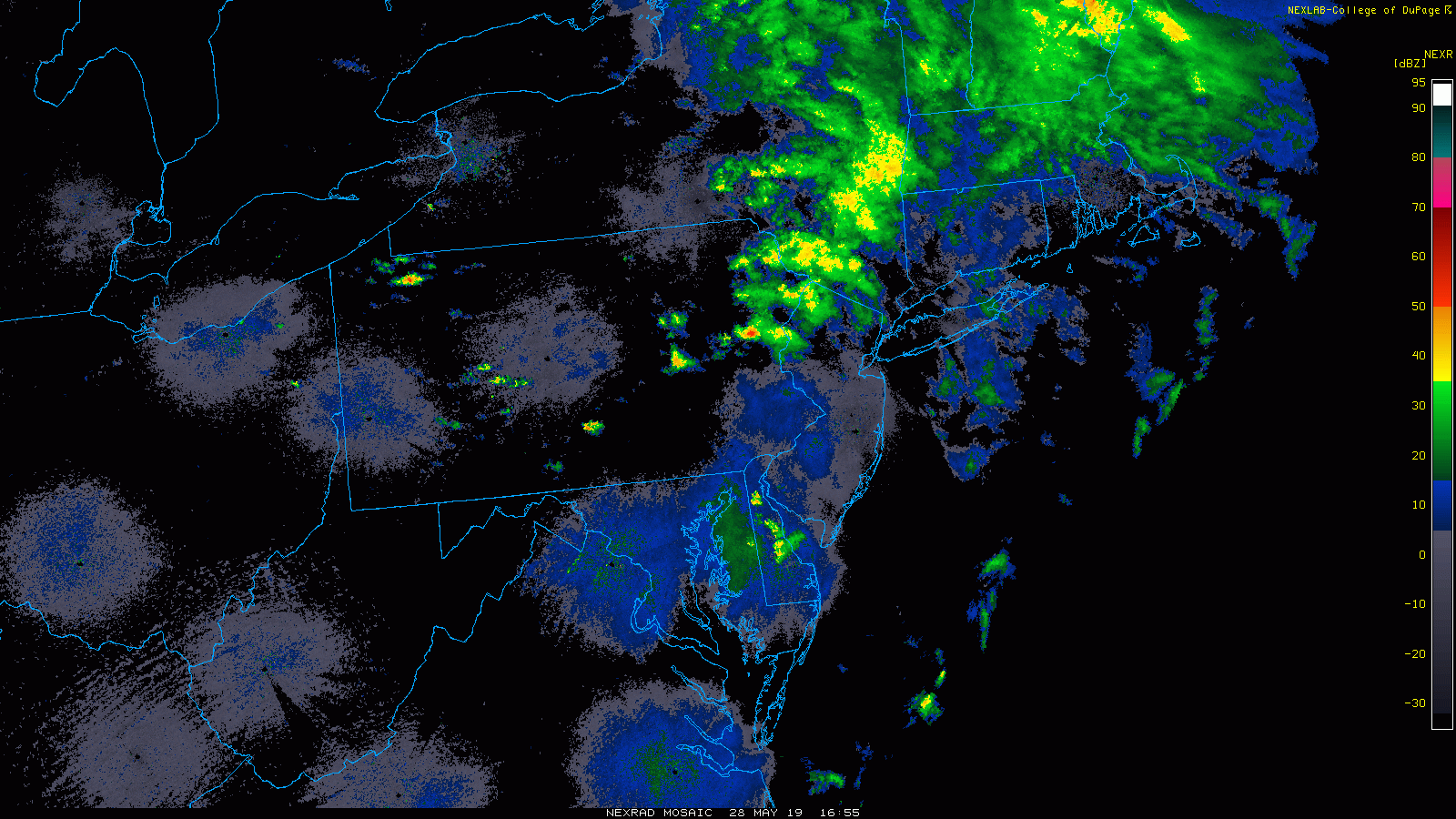 Radar Simulation Timeline –> slider
This model is the most aggressive. I am showing this for the worse case scenario. The HRRR Model is actually rather sparse with only an isolated storm mid afternoon. Then more dip south overnight.
We need to pay attention to isolated storms, meaning most of us won't see it. But any cell can become severe and likely will not be shown on this simulation. This is only for guidance of timing and general areas more prone.
[metaslider id=76972]
Keep In Touch Every Day
Just in case you don't get all posts on your social media feed, stay up to date with the latest info…
Click here to sign up for email alerts…. Be the first to hear any new weather.
Maryland Trek 6
Our look got an upgrade, but we have the same purpose. Please click the logo take a look at our new page.
Consider joining our team for the week, a single day, or even as a sponsor.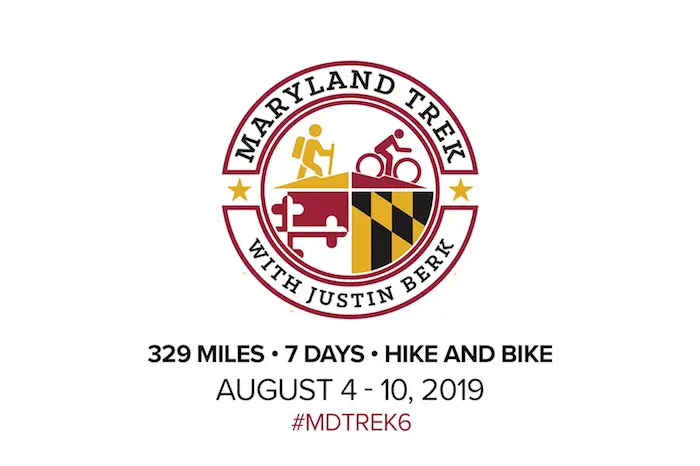 Support Our Nonprofit:
Proceeds go to our programs Providing FREE holistic care for kids in cancer treatment and up to 5 years post treatment and caregivers.
Shine On
Proceeds from all sales go to Just In Power Kids. Click the image to shop and show your support.
Love Maryland Shirts and Hoodies
This shirt was designed by my 'bonus' daughter Jaiden. The hoodie has been the biggest hit, so our promotion has been extended until the end of this week. 
Show your love for Maryland and make this 14 year old artist and her mom extra proud
Please share your thoughts, best weather pics/video, or just keep in touch via social media