April 26 2019
Have you notice the wind pick in the past few hours? Have you seen the sun peak out and push temperatures into the 70s? These are signals that there is more energy to feed into developing storms this afternoon. We still have a risk for storm to develop and some of those to turn severe. These include dangerous lightning, destructive winds, downpours, large hail, and isolated tornadoes. Some have already erupted on Delmarva. There will be more as we track a distinct line between 3 PM and 6 PM. Metro Baltimore to York and Annapolis can plan around 4 PM for the main event. I have included two model simulations to compare below.
Severe Storm Risk Friday
UPDATE:
TORNADO WATCH UNTIL 9 PM: Region Wide
That was updated after this post. Sorry I idon'thave time to generate a map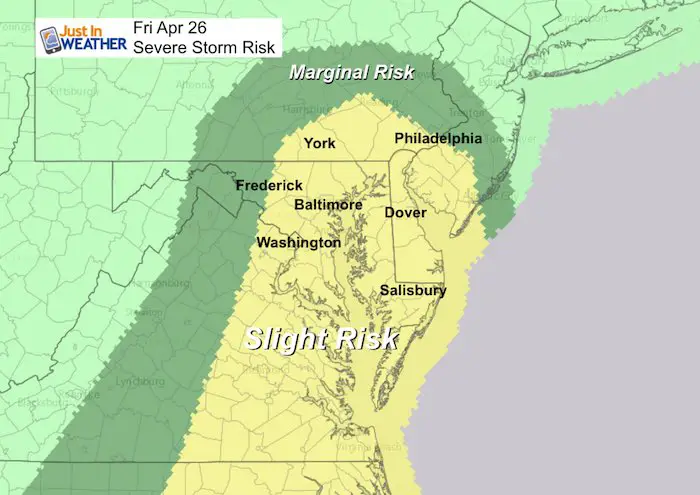 Severe Storm Risk
Winds reaching 60 mph
Large hail 1 inch in diameter (quarter size)
Isolated Tornadoes
Severe Alert Notes:
IF we get any severe weather alerts, this is what is most important to keep in mind:
A WATCH means it MIGHT happen
A WARNING means it IS HAPPENING NOW!  This can be tracked across counties and towns with more precision and need to seek strong shelter.
Afternoon Winds
As of 1 PM, winds have been between 20 to 30 mph and the direction from the southeast supports the line of storms expected in the next few hours.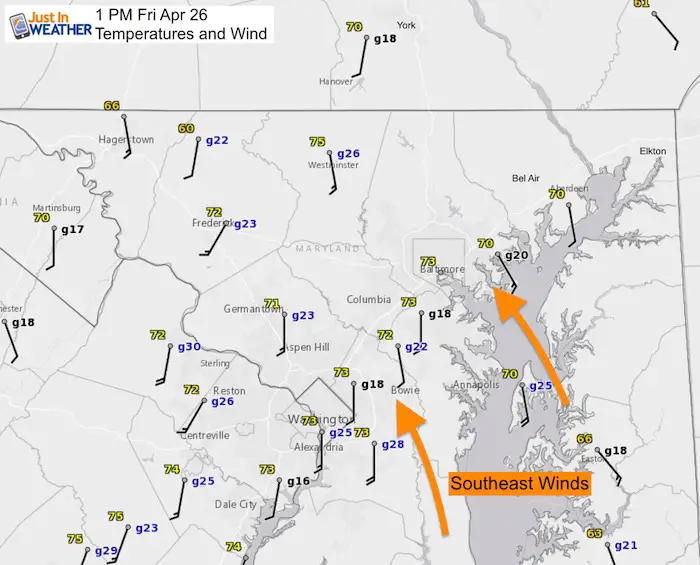 Radar Loop (2 Hours ending 1 PM)
Notice the large circulation centered over West Virginia. That is the cold core Low.
The line of storms on Delmarva is just one spoke in the wheel around that circulation. There is more energy that will feed into the next line as it crosses our region over the next few hours.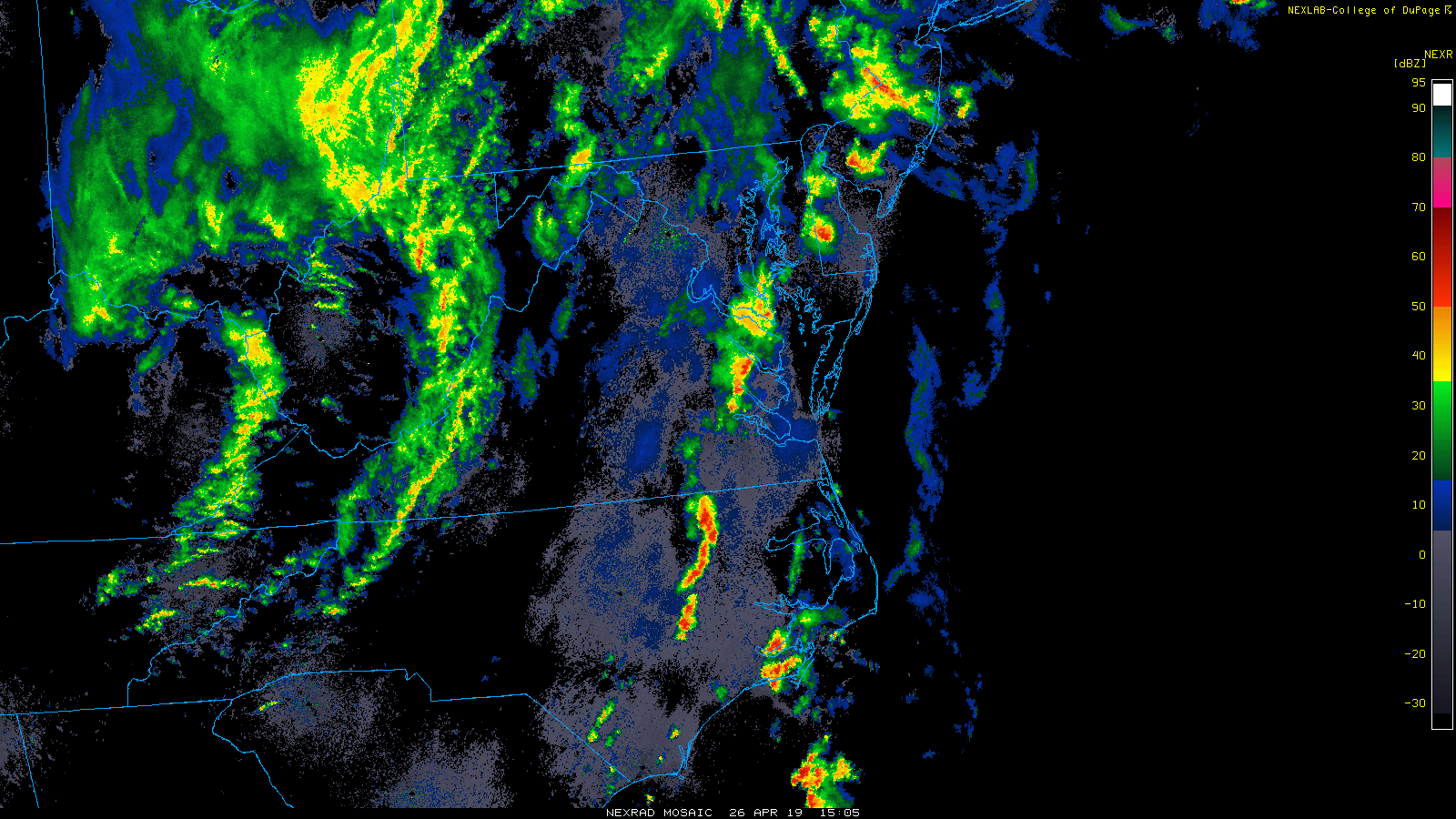 Radar Simulations
Here is a comparison of the HRRR and NAM 3 Km Models.
The main line of storms will be between 3 PM and 6 PM.
Metro areas get it around 4 PM.
I see a mesoscale spin rotating through our region with the line of strong storms.
NAM 3 Km brings it through metro DC and south of Baltimore.
HRRR is a little north with a path between Frederick across I-70 and Baltimore with a tilt to the north side in Carroll and Baltimore to Harford Counties.
This is something to watch closely…
NAM 3 Km Model —> slider
[metaslider id=76112]
HRRR Model —> slider
[metaslider id=76099]
Note:
After the main line passes, there may be left over showers for a few hours. But the rain will be ending tonight.
Keep In Touch Every Day
Just in case you don't get all posts on your social media feed, stay up to date with the latest info…
Click here to sign up for email alerts…. Be the first to hear any new weather.
Maryland Trek 6
Our look got an upgrade, but we have the same purpose. Please click the logo take a look at our new page.
Consider joining our team for the week, a single day, or even as a sponsor.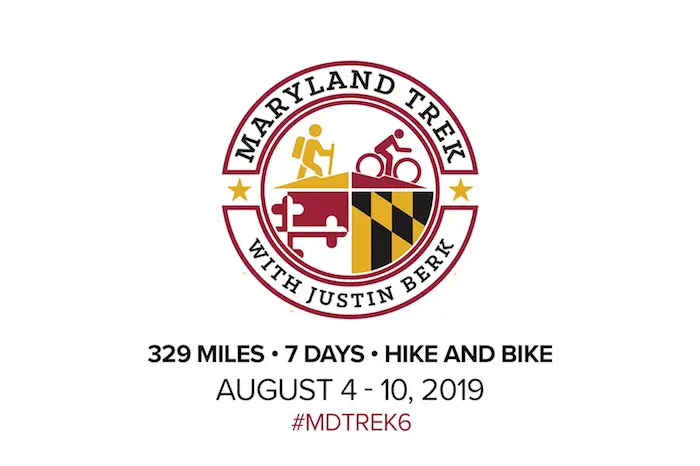 ---
New Partner
Buchanan Kia of Westminster is a supporter of Just In Power Kids and Maryland Trek 6 in August 2019.
---
Please share your thoughts, best weather pics/video, or just keep in touch via social media
Related Links:
Was Your County Not Included?
Click this map for more on the regional forecast zones