Tuesday March 5 2019
Is March the new winter? In 2014, we set the coldest March temperature on record in Baltimore with s low of 4ºF on March 4.  That was the year The Polar Vortex became a household name.  The last three years we have had our largest winter storms of the season. On this date in 2015 we set the daily snowfall record in Baltimore with 6.2″.  These events brought between 1 and 2 feet of snow to the northern counties.
This morning we start in the teens and twenties. I have seen a few reports of single digits in York County, even though not showing on this map.  It will be colder tomorrow.
Here we are in a bitterly cold air mass that will last all week. Not many records expected, it it will feel like it.  This will improv e by Friday as a weak system will mark the shift in upper level winds. There is a chance for snow, but timing in March makes a big deal and I don't think it will be a travel issue.  However it will be followed by a lot of rain to close out the weekend. As my mother would say, pick your poison.
Local Weather Stats For March 5, 2019 in Baltimore
Average High:  50ºF
Record High: 83ºF in 1976
Average  Low: 30ºF
Record Low:  10ºF in 1873
                         *Record Snow:  = 6.2″ in 2015
Sunrise: 6:33 AM
Sunset 6:02 PM 
*Daylight = 2:33 longer than yesterday 
*Bay Water Temperature = 39ºF at Thomas Pt. Light House 
Keep In Touch Every Day
Just in case you don't get all posts on your social media feed, stay up to date with the latest info…
Click here to sign up for email alerts…. Be the first to hear any new weather.
---
New Partner
Buchanan Kia of Westminster is a supporter of Just In Power Kids and Maryland Trek 6 in August 2019.
---
This Afternoon 
Colder By Wednesday Morning
Wednesday Afternoon 
Looking Ahead:
The chance of snow Friday will be light, but also the timing likely to limit any impact on roads. If you want snow, you would want this to speed up and arrive before sunrise. Then a larger rain storm will soak us on Sunday.
Closer Look at Friday:
The GFS Model has the chance for some snow in the mountains early… but when it spreads into metro areas during the day.. it will compete with warming temperatures and stronger sun angle.
The European Model is slower…
This brings the snow in later in the day… which allows the cold air to retreat even more.
Either solution does not portray much of a snow impact. But it will be watched all week. Then we can shift our focus on the thaw.
Temperature Outlook 
After multiple nights in the deep freeze, the warming over the weekend will come with the rain… and peak Sunday or Monday. Then followed by cooling, but not nearly as cold.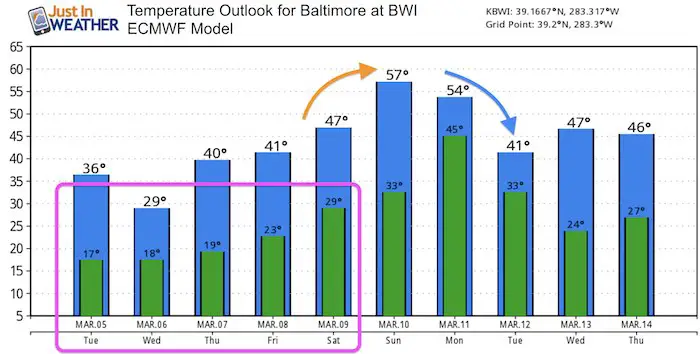 ALL FITF  Apparel 
Please share your thoughts, best weather pics/video, or just keep in touch via social media
Related Links:
Winter Outlook
My Winter Outlook 2018-19: Multiple Nor'Easters and more snow
Was Your County Not Included?
Click this map for more on the regional forecast zones
Interactive Snow Report
November 15 Snow Reports- Interactive Map Compared To My Forecast
Winter Snow And Top 5 Wet Years 
Snowfall Seasons at Beginning and End of Top 5 Wet Years In Baltimore
Related Winter Outlooks
Solar Cycle: When Sun Spots Are Low We Get More Snow
El Nino Modoki May Enhance Snow Chances
Sweet Spot: Hitting 70ºF on Halloween is followed by more winter snow
Will A Wet Summer Bring A Snowy Winter?
NOAA Winter 2018-2019 Outlook Explained: This Actually Supports Snow
Winter Outlook From Two Different Farmers Almanacs
Maryland Winters: Snowfall Maps and Baltimore Snow History