Tuesday February 26 Evening Update
The winds have settled done and the cold air has settled in. The next weather event of interest for the week will be on Friday morning. It will be a light event with possible minor impact. But that has been enough to raise the concern and fill my inbox with questions about plans.
The afternoon model package may have looked unimpressive. Initially this looked like a snow event with the potential for a dusting to 2 inches. Not all models see this the same, and that is still the case. But before losing interest,  and definitely before blowing things out of proportion, I wanted to show the latest look. 
Weather Animation: 
Friday Morning: Light snow
Saturday: Rain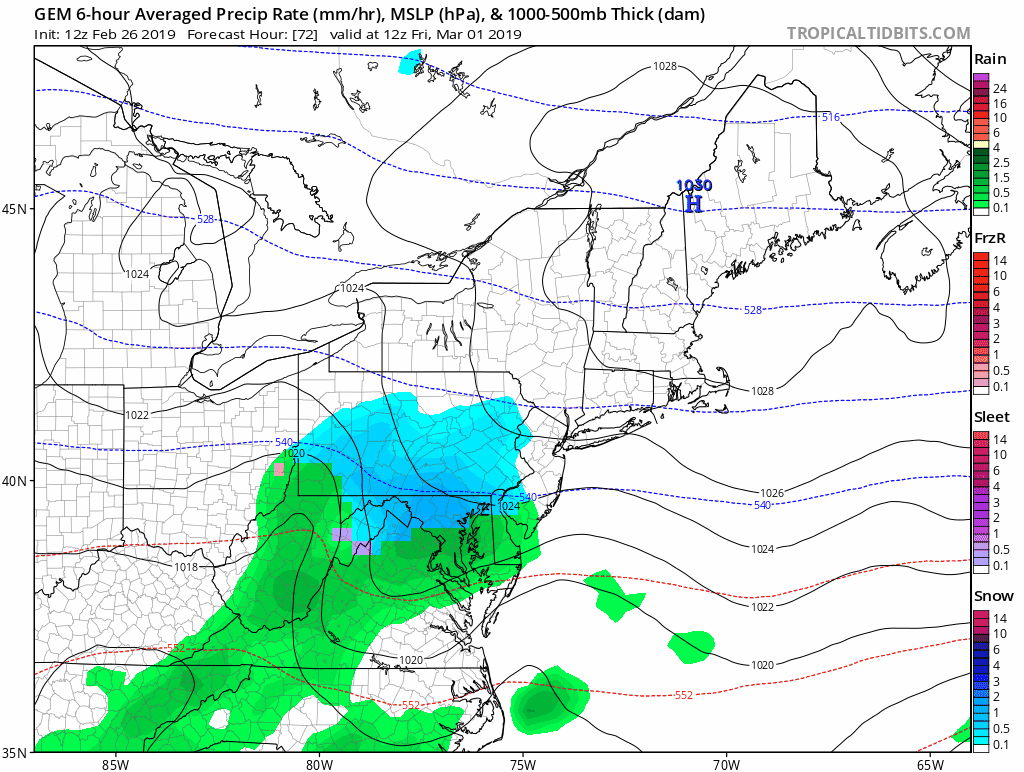 There will be some light snow Friday morning and likely done by noon. Comparing a few models, there was still a spread of how this may behave. The range is from just a little to just enough to possibly impact the roads for a few hours.
The GFS model showed no accumulation and the European (ECMWF) looked less impressive. But the NAM 12 Km still has a decent event. 
Friday Morning 7 AM Model Snapshots
American GFS Model
European Model
The spotty snow is much less than the previous model (shown below). This model does not often abruptly change like this… So I really think we need to see how the overnight projection looks.
Earlier European Model Run
NAM 12 Km Model
This model does have a tendency to overdo some events.
Notes
I don't like to abruptly change my outlook with one model run. We need to see how these behave tonight to see if there is a trend to less or we are back to earlier thoughts.

 

I need to point out that the earlier thoughts were for between a dusting to 2 inches. Still not a big event, but potential for some impact.

 

I will have the next model run in my morning report.

 Then we can compare and look for trends one way or the other…
FITF 
The first half of March looks colder than average and more chances for snow to revisit is well with reason. 
Temperature Outlook
Keep In Touch Every Day
Just in case you don't get all posts on your social media feed, stay up to date with the latest info…
Click here to sign up for email alerts…. Be the first to hear any new weather.
---
New Partner
Buchanan Kia of Westminster is a supporter of Just In Power Kids and Maryland Trek 6 in August 2019.
---
ALL FITF  Apparel 
Please share your thoughts, best weather pics/video, or just keep in touch via social media
Related Links:
Winter Outlook
My Winter Outlook 2018-19: Multiple Nor'Easters and more snow
Was Your County Not Included?
Click this map for more on the regional forecast zones
Interactive Snow Report
November 15 Snow Reports- Interactive Map Compared To My Forecast
Winter Snow And Top 5 Wet Years 
Snowfall Seasons at Beginning and End of Top 5 Wet Years In Baltimore
Related Winter Outlooks
Solar Cycle: When Sun Spots Are Low We Get More Snow
El Nino Modoki May Enhance Snow Chances
Sweet Spot: Hitting 70ºF on Halloween is followed by more winter snow
Will A Wet Summer Bring A Snowy Winter?
NOAA Winter 2018-2019 Outlook Explained: This Actually Supports Snow
Winter Outlook From Two Different Farmers Almanacs
Maryland Winters: Snowfall Maps and Baltimore Snow History