Wednesday February 20 2019
Today will be our wintry weather day and soon will justify all of the schools that made early calls to cancel. The Winter Storm Warning and Winter Weather Advisory in place today includes a few parts. I will try to simplify how we break them down and hope to the two model simulation sliders help explain the when you will get snow and ice in your area.
Storm Parts:
First Flakes after Virga: The radar has shown snow for a few hours, but the atmosphere is dry. The past few hours has been spent saturating the atmosphere as the flakes sublimate.  This also helps to cool the air, which could play a role in the extended ice later.
How Much Snow: The range of snow accounts for the heavy burst, but also most areas getting snow 4 to 6 hours before mixing and changing to sleet and freezing rain.
Icy Mix: This will develop by noon and spread north. The cold will hold through this evening and tonight for places inland from the Bay.
Sleet = ice pellets
Freezing Rain = Rain falls then turns to ice when it touches the ground, trees, power lines, signs, and cars.
Winter Storm Warning and Winter Weather Advisory
How Much Snow?
I still see 1 to 2 inches southern MD, 3″ to 6″ central, and 5″ or 6″ + in the normally colder inland spots of northern MD and PA
Ice
Even if the snow is a little lower where you are, the ice will be a big part that should be taken seriously mid day through tonight.
Morning Temperatures
Closer Look/More Stations
Baltimore Weather Conditions at BWI 6 AM
Temperature = 33ºF

Dew Point = 14ºF

Relative Humidity = 45%

Wind: E at 7 mph
The air is very dry!
That means the initial moisture on radar will dry (sublimate) before reaching the ground. That is called virga, and it shows up extensively on the radar simulation.
As the snow begins, the temperatures should drop between 1 to 4 degrees.  The entire column of air will chill, and as warmer air moves up at cloud level, the lower levels will remain cold. That is the ice part we expect mid day and afternoon.
Morning Surface Weather
This snow is developing over us as much as it is pumping moisture from the south. The warm tropical air (Florida was close to 90ºF yesterday) is bumping into the edge of the arctic air in place.
Morning Radar
It was fascinating to watch the Virga this morning… This mode on Doppler Radar showed a distinct hole over Baltimore where the snow was not reaching the ground. As the air saturated, watch it close in.  If you don't see flakes yet, you will shortly. This is what I mentioned in my post last night… All is on schedule. #FITF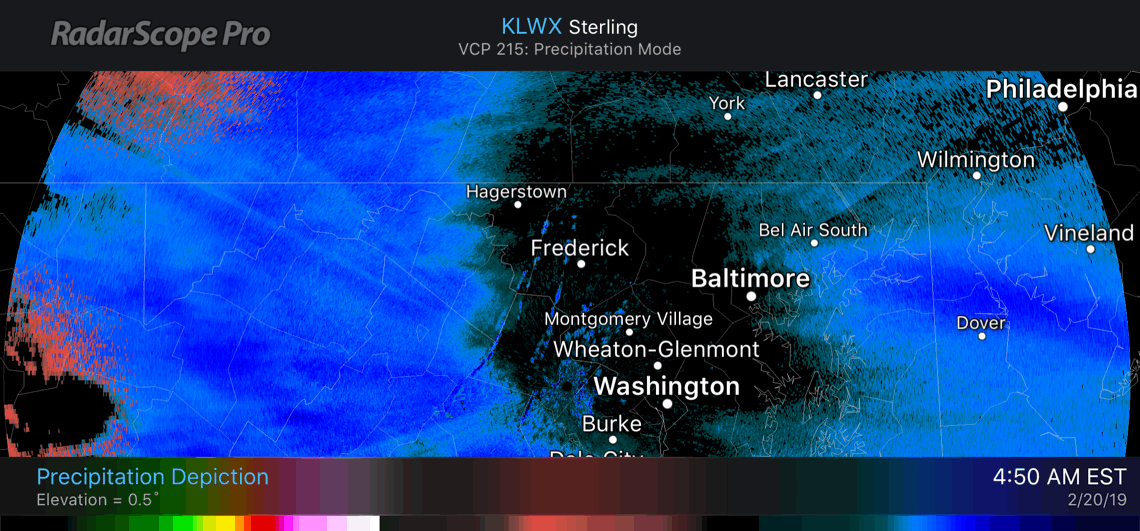 Radar Simulations: Compare 2 Models For Timing
The best we can do now is compare this late models and nowcast. That is when we watch local conditions… You can help by sharing your updates on social media to help plot where the snow and ice are falling.
Snow and Ice Timelines
HRRR Model —> slider
[metaslider id=73647]
NAM 3 Km —> slider
[metaslider id=73668]
Storm Notes:
Wednesday morning most of the area will see snow.  This includes Southern MD and Delmarva.
A burst of moderate to heavy snow could bring 1″/Hr at times.
Wednesday Afternoon: Snow will change to sleet and freezing rain from south to north. That change over will be around lunchtime between Washington and Baltimore.
Wednesday afternoon and evening: There will be icing across central Maryland
Wednesday night: The normally colder zones will have heavy icing
Thursday morning: It is possible that leftover ice has not fully melted or fallen off of trees in some areas even with warming and rain
Zone A:
5″ to 8″ of snow. The white circled region can get up to 12″.
The highest snow may be where it begins earlier allowing for more stickage before late morning.
This Zone will have the most snow and heaviest icing Wednesday night
Zone B:
3″ to 6″ of snow. It will fall heavy at times in the morning.
Change over will be around lunchtime (between 11 AM and 3 PM).
I expanded this zone to include Kent, Queen Annes, and Caroline Countes.
Moderate icing in sleet and freeing rain
Should change to rain from south to north between 3 PM and 8 PM Wednesday.
Zone C
1″ to 3″ of snow.
Faster change over to icing and then rain during the day.
Temperature Outlook
This will all melt by the end of the week!
There is a chance for more snow next Tuesday and Wednesday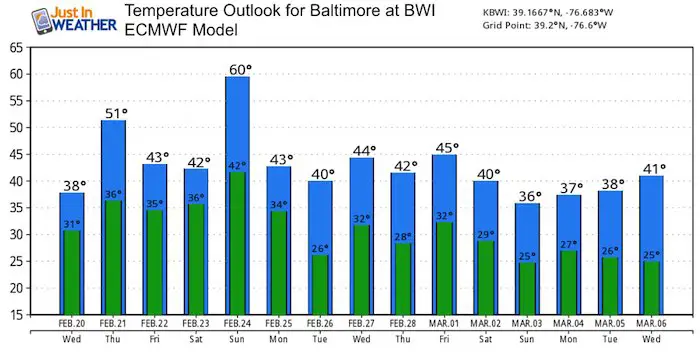 ALL FITF  Apparel 
Please share your thoughts, best weather pics/video, or just keep in touch via social media
Keep In Touch Every Day
Just in case you don't get all posts on your social media feed, stay up to date with the latest info…
Click here to sign up for email alerts…. Be the first to hear any new weather.
---
New Partner
Buchanan Kia of Westminster is a supporter of Just In Power Kids and Maryland Trek 6 in August 2019.
---
Related Links:
Winter Outlook
My Winter Outlook 2018-19: Multiple Nor'Easters and more snow
Interactive Snow Report
November 15 Snow Reports- Interactive Map Compared To My Forecast
Winter Snow And Top 5 Wet Years 
Snowfall Seasons at Beginning and End of Top 5 Wet Years In Baltimore
Related Winter Outlooks
Solar Cycle: When Sun Spots Are Low We Get More Snow
El Nino Modoki May Enhance Snow Chances
Sweet Spot: Hitting 70ºF on Halloween is followed by more winter snow
Will A Wet Summer Bring A Snowy Winter?
NOAA Winter 2018-2019 Outlook Explained: This Actually Supports Snow
Winter Outlook From Two Different Farmers Almanacs
Maryland Winters: Snowfall Maps and Baltimore Snow History