Monday February 11 2019
It is an icy morning. Even if roads were treated, your car or sidewalk might be icy.  That can take a while to thaw even if you have rain.  The Winter Weather Advisory remains in place this morning to consider what is falling but also slow melting.
New Update Monday Afternoon
Round Two Winter Weather Advisory- New Maps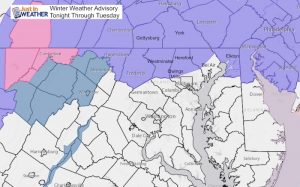 As of 6 AM Maryland schools closed include Cecil, Harford, and Carroll Counties. Many others are delayed and I expect the reevaluation may be worth paying attention to closely. We have a mix of freezing rain, sleet, and snow. The radar is having trouble identifying the transition zones properly, so I have included many area temperature maps. There will be a slow thaw today, but the wintry mix will continue. Then, snow and ice will redevelop tonight and a Winter Storm Watch goes into effect for many areas after 4 PM.
There is a lot of info to share, so I have many sliders in this post. They include temperatures at 6 AM and a timeline forecast through today. I have the MDOT interactive mapping of where the plows are located. I also added multiple radar simulations to compare where the snow and ice will extend later today and tonight. This will not be perfect as a few miles can make a big difference. So you reports on social media will help everyone.
Winter Weather Advisory This Morning
Winter Storm Watch 4 PM through Tuesday morning: Northern Maryland (Northern Harford and Baltimore, Carroll, Carroll, Frederick, Washington, Allegany) and southern PA (including York and Lancaster).
Keep In Touch Every Day
Just in case you don't get all posts on your social media feed, stay up to date with the latest info…
Click here to sign up for email alerts…. Be the first to hear any new weather.
Morning Radar
I annotated where I saw the transition zones. Your reports on social media will help everyone continue to track.
Morning Area Temperatures —> slider
[metaslider id=72942]
Interactive Map Of Salt/Plow Trucks
MDOT SHA S.T.O.R.M.
*If viewing on a phone:
From Facebook on iPhone you may need to open in Safari.
TURN SIDEWAY FOR BEST VIEWING
Forecast Maps
Temperature Forecast Today —> slider
The thaw may vary within just a few miles. Most roads should be wet After 10 AM until 4 PM, then back to refreezing this evening.
[metaslider id=72953]
Radar Simulation HRRR —> slider
[metaslider id=72968]
Radar Simulation NAM TODAY—> slider
[metaslider id=72983]
Radar Simulation NAM TUESDAY—> slider
[metaslider id=73000]
My Call Again
Storm Notes:
The snow will be a minor impact on Monday morning.
The transition zone will be between Washington and Baltimore. This region will be within one to two degrees of freezing. That will make or break if there is impact on the roads.
The biggest impact will be snow and icing Monday night into Tuesday morning!
Faster change to rain along and south of I-95
Longer snow and ice impact northwest of the big cities.
Nearby NW suburbs likely 2″ to 4″ snow is expected. That would be up to 1″ to 2″ of snow from each each round.
Farther northwest encircled in white could get 5″+. That is potential, not a promise. That would be up to 2″ from round 1 AND 3″+ from round 2 before mixing to ice.
In Maryland: Northern Harford, northern Baltimore, Carroll, western Howard, Frederick, and Washington Counties
Southern Pennsylvania: including Adams, York, and Lancaster Counties.
FITF and SnowStix 
Please share your thoughts, best weather pics/video, or just keep in touch via social media

New Colors
We are giving 10% of each sale to Just In Power Kids: Providing FREE holistic care for pediatric oncology patients.
---
New Partner
Buchanan Kia of Westminster is a supporter of Just In Power Kids and Maryland Trek 6 in August 2019.
---
Related Links:
Winter Outlook
My Winter Outlook 2018-19: Multiple Nor'Easters and more snow
Interactive Snow Report
November 15 Snow Reports- Interactive Map Compared To My Forecast
Winter Snow And Top 5 Wet Years 
Snowfall Seasons at Beginning and End of Top 5 Wet Years In Baltimore
Related Winter Outlooks
Solar Cycle: When Sun Spots Are Low We Get More Snow
El Nino Modoki May Enhance Snow Chances
Sweet Spot: Hitting 70ºF on Halloween is followed by more winter snow
Will A Wet Summer Bring A Snowy Winter?
NOAA Winter 2018-2019 Outlook Explained: This Actually Supports Snow
Winter Outlook From Two Different Farmers Almanacs
Maryland Winters: Snowfall Maps and Baltimore Snow History