Thursday November 15 2018
The first storm of the season is knocking on our door just before sunrise. We have Winter Weather Advisories and Winter Storm Warnings in place. What we don't have is freezing air for most, yet. This has been the dilemma for the forecast and schools this morning. But the storm will generate its own cold air as it gets heavier this morning. While many metro areas will remain near or above freezing, it is too big a risk for many school systems to take. So many area schools have closed. I hope you got the call or text from you district to confirm.
Here is the main points of concern, please see the latest snow and temperature timelines below:
Light rain, snow, sleet mix as this begins.
As it gets heavier between 8 and 10 AM, it will turn to moderate and heavy snow.
Heavy snow can fall while ground temps are near or above freezing.
Stickage: At times snow can lay and stay faster than it melts. When and where will this happen…? It is too close a call for schools to bet on busses having kids in place. Not many would want to risk their kids getting stuck or in an accident.
Some roads may be tough to travel at times in metro areas this morning. Bridges and overpasses will get slick first. Also sidewalks under trees and north side of buildings.  Rain and thaw spread mid day and this afternoon.
Normally colder inland areas will have more road problems and more snow. I upped the snow totals for some shown in my map below.
More snow will lay and stay on the grass.
We all should thaw this afternoon. The coldest parts of northern Maryland and southern PA should thaw 4-6 PM
Western MD may stay all snow and ice
Brief snow possible in colder spots early Friday morning as this ends.
Local Weather Stats For November 15 in Baltimore
Average High:  57ºF
Record High: 79ºF in 1993
Average  Low: 37ºF
Record Low:  19ºF in 1986
                         *Record Snow: 1.2″ in 1908 (storm total = 4.8″)
Sunrise: 6:49 AM
Sunset 4:51 PM 
*Daylight = 1:54 shorter than yesterday 
*Bay Water Temperature = 50ºF at Thomas Pt. Light House 
---
Keep In Touch Every Day
Click here to sign up for email alerts…. Just in case you don't get the post on your social media feed
The FITF Store Is Open With Gear And SnowStix
---
Rainfall 2018 Total: Rank 3rd Wettest Year
This storm will put us on the top spot for wettest year on record.
Morning Snapshot
Look familia? This is more complex that recent storms, but we have yet another storm along that Michael path from Florida to the coast. That will take over today. Cold air in place and colder air to follow tonight.
Temperatures
Not many freezing temps… yet. This storm will generate its own cold air. First, the falling precipitation will help to cool the air. Also the intensity will pull down colder air from aloft.
Initial snow and sleet: Sticking on cars and grass, but not roads.
Radar Simulaiton —> slider
[metaslider id=68463]
Temperature Timeline—> slider
Notice the freezing line… Many areas will stay near freezing but could have some road stickage when the snow is heaviest between 8 AM and noon.  More snow will lay and stay on the grass.  But where it gets to freezing, roads will get covered and slick.
[metaslider id=68450]
My Updated Snow Forecast
There is still a chance to overachieve on the northern zones.
I increased 3″ to 6″ of snow in the the purple zone just north of Frederick to Westminster, Hereford Zone and souther PA. It all depends on how much can stick.
2″ to 4″ of snow in the blue shade in the immediate northern suburbs in blue. This area is also on the fence with rads staying wet or turning white.
Up to 1″ in areas that should stay near or above freezing. This is along and south of I-95.
FITF and SnowStix Stores are now OPEN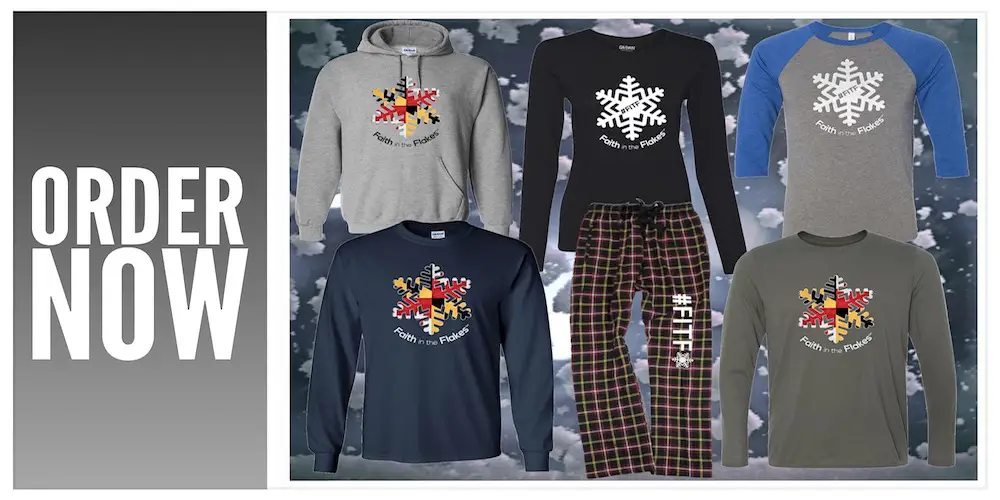 Winter Weather Advisory and Winter Storm Warnings
Ending As Snow Friday Morning?
Northern areas could pick up another 1 inch as this ends before sunrise Friday…
I will have updates all day on social media and another report this afternoon.
Please share your thoughts, best weather pics/video, or just keep in touch via social media
Keep In Touch Every Day
Click here to sign up for email alerts…. Just in case you don't get the post on your social media feed
Winter Outlook
My Winter Outlook 2018-19: Multiple Nor'Easters and more snow
Related Winter Outlooks
Solar Cycle: When Sun Spots Are Low We Get More Snow
El Nino Modoki May Enhance Snow Chances
Sweet Spot: Hitting 70ºF on Halloween is followed by more winter snow
Will A Wet Summer Bring A Snowy Winter?
NOAA Winter 2018-2019 Outlook Explained: This Actually Supports Snow
Winter Outlook From Two Different Farmers Almanacs
Maryland Winters: Snowfall Maps and Baltimore Snow History 
Snowstix- We Need You To Measure Snow Too
We are giving 10% of each sale to Just In Power Kids: Providing FREE holistic care for pediatric oncology patients.