August 30 2018
Look at the date at the top of this article. It is still August! Labor Day Weekend is just about to begin, so why would I write a post about snow? Well, because the two most famous Farmers Almanacs just posted their winter outlooks and I wanted to compare them.  By they way, there are more than two 'almanacs', so check before someone quotes one in their personal weather presentation at the water cooler or online.
I encourage ingesting info from many sources and I will be contributing my take on the snow shortly. In addition to the stormy start and mostly cool summer, the late heat for us and low hurricane activity in the Atlantic play some role.  Their is also a weak to moderate El Nino developing in the Pacific that can play a role in our wider range of winter storms. That does seem to be something you will hear about almost every year, which is why I have added some additional El Nino info at the bottom of the post.
The purpose of this post is to show you what is already available online and break it down.
Here are the Farmers Almanac and Old Farmers Almanac. Much like the last two year, they are split on how they view the upcoming winter for our region. I encourage you to see the prior two years outlooks linked below and see how they mad out.  The 2017 winter was one of the 5 lowest snow seasons on record. Last winter was pretty lame too, but a late surge in March helped Baltimore's BWI finish the season with 15.4 inches of snow. Average is just over 20 inches.
Below the almanacs here are two other 'suggestions' for  this 2018 to 2019 winter. I will continue to share info as it is revealed. My preliminary outlook will be in October.
Again- This is NOT my forecast. 
Snowstix are available now
FITF store will open with new winter items in October. Even I know it's a little too early for this. But we still have items now that benefit Just In Power Kids.
Important Dates
Meteorological Fall: September 1
Fall Equinox is at 9:54 PM Sat Sep 22
Meteorological Winter: December 1
Winter Solstice at 5:23 PM Fri Dec 21
Farmers Almanac
Suggestion: Chilly, Wintry Mix
"The Almanac forecasts an unusually snowy and/or wet winter across the Mid-Atlantic States; in this regions, the thermometer will be hovering just above or just below the freezing mark, which means some of the precipitation may fall as either ice or rain/freezing rain"
"Mid-March could be stormy virtually coast to coast, bringing snow, sleet, and/or rain as well as strong and gusty winds to many areas. In particular, we are red-flagging March 20–23 for a potent East Coast storm that could deliver a wide variety of wintry precipitation just as we are making the transition from winter to spring. So, no matter what the groundhog says in February, you'll know winter isn't going anywhere anytime soon"
Old Farmers Almanac
Suggestion: Warm and Wet
"Our milder-than-normal forecast is due to a decrease in solar activity and the expected arrival of a weak El Niño, which will prevent cold air masses from lingering in the North"
See the Old Farmer's Almanac
These almanacs have a history of splitting their call for winter, and not necessarily being correct.
El Nino- Typical Storm Track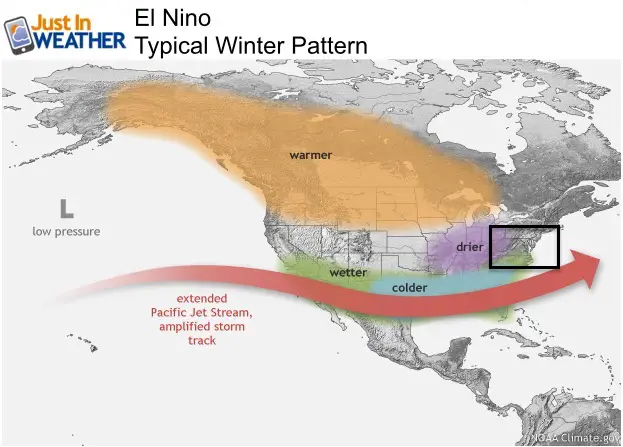 I have highlighted the Mid Atlantic on this map. We are on the edge of the drier and wetter pattern. Yes, it can be a sharp line with winter storm tracks. The intensity and location of the El Nino focused warm water is the important factor for how it will affect us.
Understanding El Nino
Also see:
Maryland Winters: Snowfall History And By Region
Please share your thoughts, best weather pics/video, or just keep in touch via social media
Keep In Touch Every Day
Click here to sign up for email alerts…. Just in case you don't get the post on your social media feed
Still Time To Support Just In Power Kids
We are still taking donations for our best Maryland Trek yet. Every penny goes to Just In Power Kids programs to provide FREE holistic care for kids in cancer treatment and up to 5 years post treatment.
Partner With Us. My Fiancee Shannon and I started this non profit Just In Power Kids. We are building a network of Integrated Wellness Practitioners plus funds for kids in and post cancer treatment to get free sessions.
Get the award winning Kid Weather App I made with my oldest son and support our love for science, weather, and technology. Our 3 year anniversary of the release and our contribution to STEM education is this November. It has been downloaded in 60 countries, and works in both temperature scales. With your support we can expand on the fun introduction to science and real weather.