June 27 2018
There are three reasons the hurricane season in the Atlantic is likely to be less active. Not just less than the crazy major hurricane active of last season, but below average. That might not be hard to imagine here in the Mid Atlantic after our weather has been cool and wet. In fact the soggy spring and slow start to summer for us have nothing to do with the topical outlook. It may play a role in how the storms that do form relate to us.  But the development has three road blocks this year.
I just want to put the info out for you to see, so this will be quick and to the point.
1) El Nino Watch for the Pacific
The tropical water in the Pacific Ocean is running warmer than average. This is a signal of a developing El Nino, which will increase hurricanes/cyclones in the Pacific. But that increases upper level winds and limits development in the Atlantic.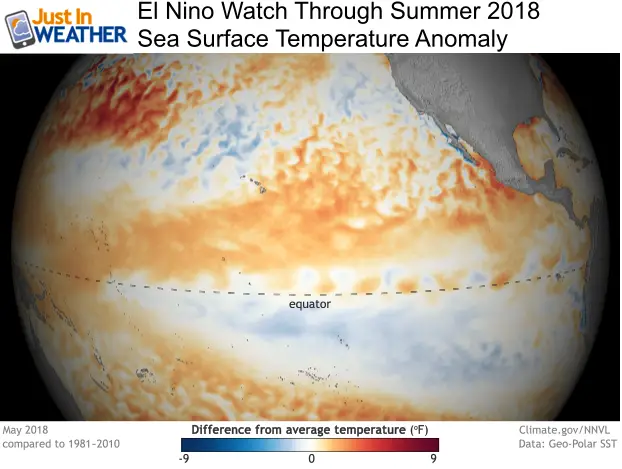 2) Cool Sea Surface Temperatures in the Atlantic
The tropical zone of the central Atlantic has surface water temperatures running 1ºC to 3ºC below average. That is a hinderance to tropical development that feeds off of warm water.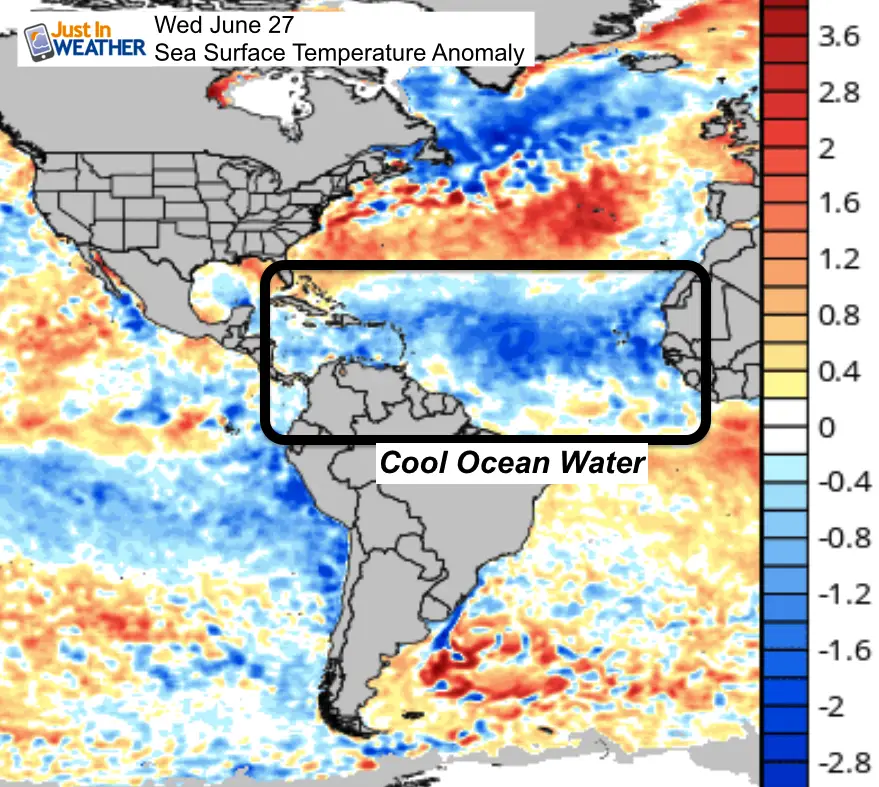 I need to point out that sea surface temperatures are warmer than average in the eastern Gulf of Mexico and along the Atlantic in the Gulf Stream.  While the overall Atlantic will be slow, where the action is, it is likely to be focused on the southeast US.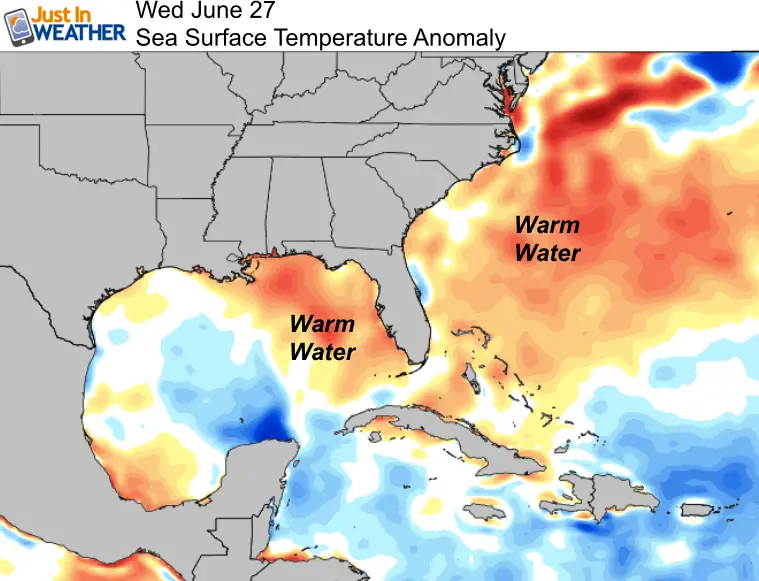 3) Sahara Dust
This photo from the GOES East taken this morning had a large smudge of brown across the Atlantic. One reason the water temperatures has been cool is the large supply of dust from the Sahara. This is tracked every year and called SAL or Saharan Air Layer. This can provide a thin film on the ocean surface plus dry the air to limit storm development.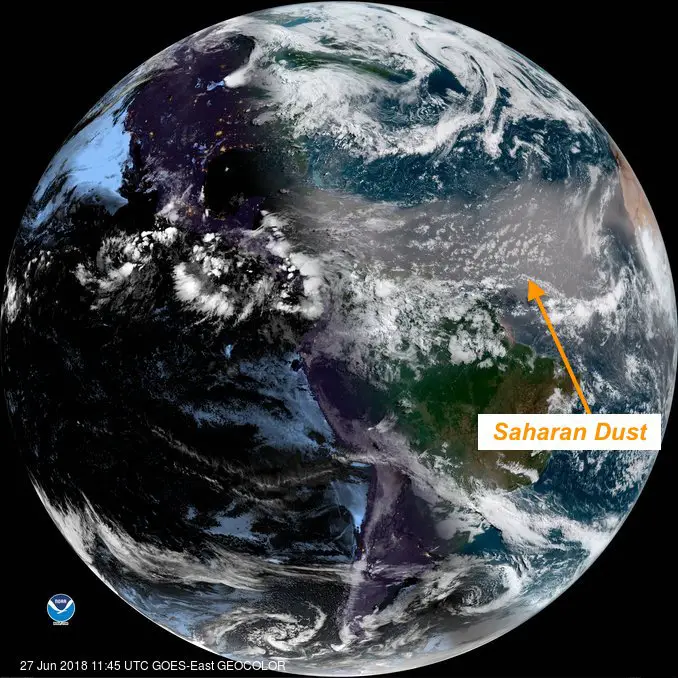 Stay tuned…
Hurricane Season in the Atlantic is June 1 to November 30.  Peak activity is in the middle of September when water temperatures are at their warmest. Low overall activity does not mean we have no concerns. There can always be one strong storm that hits a populated area in slow seasons.  But we can bet on the overall action being much less than last year.
Please Support Maryland Trek 5 
329 miles hiking and biking in 7 days
To provide free integrated wellness programs for kids in and post cancer treatment
If you help my team get to $10,000 this week, you are eligible to win 1 of 10 Shine On Shirts
*If you want to join my team for a day, a few days, or the whole week, please ask me for more info.
Please share your thoughts, best weather pics/video, or just keep in touch via social media
Keep In Touch Every Day
Click here to sign up for email alerts…. Just in case you don't get the post on your social media feed
Shine On
Proceeds from all sales go to Just In Power Kids. Click the image to shop and show your support.
Partner With Us. My Fiancee Shannon and I started this non profit Just In Power Kids. We are building a network of Integrated Wellness Practitioners plus funds for kids in and post cancer treatment to get free sessions.
Get the award winning Kid Weather App I made with my oldest son and support our love for science, weather, and technology. Our 3 year anniversary of the release and our contribution to STEM education is this November. It has been downloaded in 60 countries, and works in both temperature scales. With your support we can expand on the fun introduction to science and real weather.