May 11 2018
When is the latest date for snow in Baltimore? That is the question I have been asked every year since I started work at WBAL in 1997. The answer is May 11, when a trace of snow fell in 1951. In fact, it snowed twice in May that year, with the other on May 6.  That might be hard to imagine, as the average high temperature is 73ºF with a low temperature of 50ºF.  The thing is, that has been my answer each year, and I was ready to share the same today to mark the anniversary. It is hard to find much Faith in the Flakes in May, but some might want to celebrate.
The thing is, the records have a flaw. The Climate Data for Baltimore as shown on the National Weather Service website, is in this image below. I have highlighted both May snow dates with a trace recorded in Baltimore, which used to the Friendship Airport.  Look at the bottom of the screen shot…. It now shows May 31, 2017 as the latest snow date.  That was last year, and I was sure I would remember it. It was actually a thunderstorm with hail that must have tricked the system. The data here is intended to correct the records.
May Weather Records
May 2017 Weather Data
Upon closer inspection of the monthly weather reports for May 2017, we can see that snow was impossible. 
The high temperature on May 31, 2017 was 83ºF with a low of 62ºF.  There was a storm that brought 0.38″ of rain and a wind gust of 32 mph and some hail.
Note:
I should add the data page does show this statement:
"These data are preliminary and have not undergone final quality control by the National Climatic Data Center (NCDC). Therefore, these data are subject to revision. Final and certified climate data can be accessed at the NCDC – http://www.ncdc.noaa.gov. "
But I figured it would be correct on this public display a year later.
Doppler Radar Shows A Severe Thunderstorm
I found this Doppler Radar snapshot of that storm I posted last May 31 and there was hail with that cell. There was a Severe Thunderstorm Warning for northern Anne Arundel County and southern Baltimore at that time.  The hail was in the are that is shaded in pink here.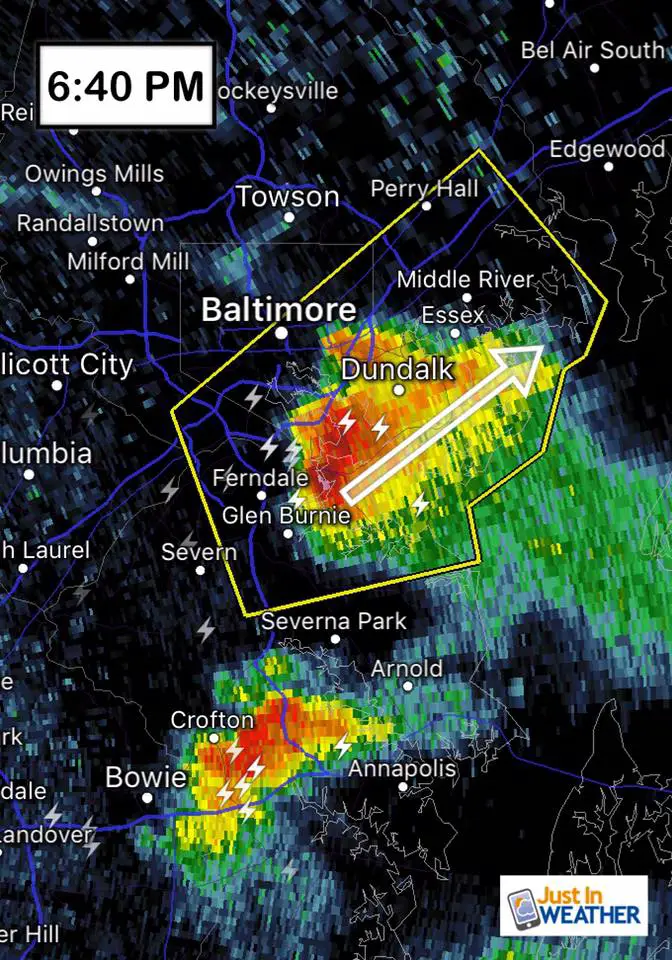 My purpose for this post is the clarify the weather on May 31, 2017 in Baltimore. It has been almost a full year since that event and the error of snow is still showing up on the records. I just want it to be corrected before too much time passes and we forget. May 1951 deserves its full respect and if that late snow day is ever broken, it should be celebrated properly.
Please share your thoughts, best weather pics/video, or just keep in touch via social media
Keep In Touch Every Day
Click here to sign up for email alerts…. Just in case you don't get the post on your social media feed
Shine On
Proceeds from all sales go to Just In Power Kids. Click the image to shop and show your support.
Partner With Us. My Fiancee Shannon and I started this non profit Just In Power Kids. We are building a network of Integrated Wellness Practitioners plus funds for kids in and post cancer treatment to get free sessions.
Get the award winning Kid Weather App I made with my oldest son and support our love for science, weather, and technology. Our 3 year anniversary of the release and our contribution to STEM education is this November. It has been downloaded in 60 countries, and works in both temperature scales. With your support we can expand on the fun introduction to science and real weather.