Saturday April 21 2018
The Lyrid Meteor Shower will reach its peak viewing into early Sunday morning with up to 20 per hour. A clear sky is beneficial to viewing, but being away from city lights is a big plus as well.  Ig you plan to wake up the kids early or just try to capture the show, here is all you need to know.
A Little History
This is one of the oldest known meteor showers. Records date back 2,700 years. Ancient Chinese records marked 687 BC with meteors falling like rain.  There have been years with up to 100 per hour as recent as 1982 here in the US. But the norm is much less.
The reason for this shower is dust or debris left from the path of Comet Thatcher. This has a long orbit around the sun of 415 years. It's last pass was in 1861 and the next one will be in 2276.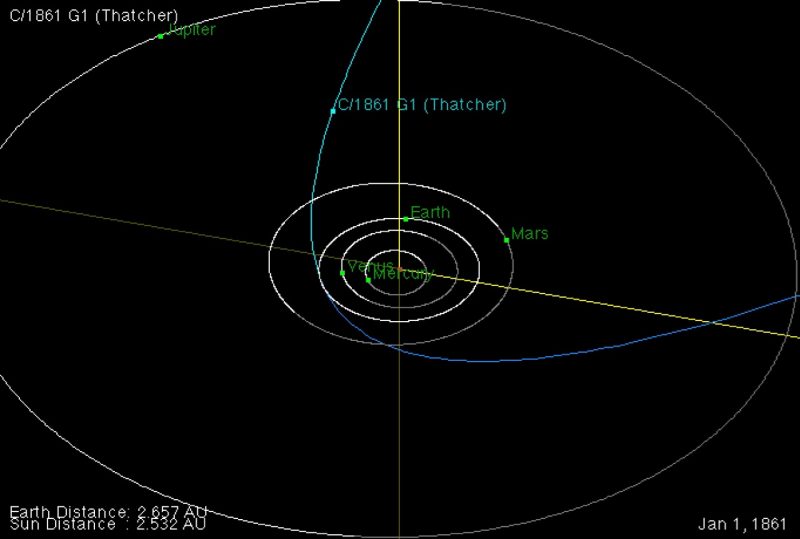 What To Expect
This sky show should produce 20 meteors per hour. There is a history of long streaks of light lasting a few seconds allowing you to see some even after the pass by (if you miss it).
Best Time
After midnight, but the top show will be between 1:30 AM and 5 AM.
If you are truly adventurous, you will need to bundle up and allow up to 30 minutes for your eyes to truly adjust to the dark. This way you will be better equipped to view the faint streaks.
Lay down on your back with your feet facing east. Then prop your head on a pillow or bag, and you should be able to enjoy the show.
Where To Look
Face east! The general direction where the sun rises.The constellation Lyra is where this gets it's name, which comes from Ancient Greece and the string instrument lyre.  The top point is the bright star Vega. The origin of the meteors should be just to the right of that.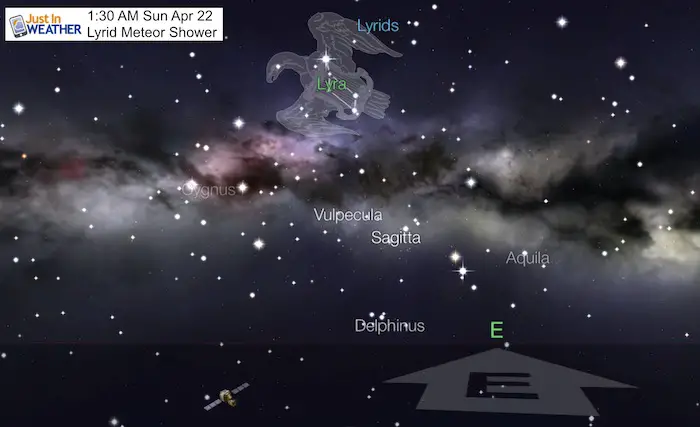 Keep In Touch Every Day
Click here to sign up for email alerts…. Just in case you don't get the post on your social media feed
Shine On
Proceeds from all sales go to Just In Power Kids. Click the image to shop and show your support.
Partner With Us. My Fiancee Shannon and I started this non profit Just In Power Kids. We are building a network of Integrated Wellness Practitioners plus funds for kids in and post cancer treatment to get free sessions.
Get the award winning Kid Weather App I made with my oldest son and support our love for science, weather, and technology. Our 3 year anniversary of the release and our contribution to STEM education is this November. It has been downloaded in 60 countries, and works in both temperature scales. With your support we can expand on the fun introduction to science and real weather.
Also See:
My Winter Outlook 2017-2018 for more snow
La Nina Formed: What it could mean to our winter
NOAA Winter Outlook: Not The Best But Not The Worst For Snow
Two Farmers Almanacs Winter 2018 Outlooks
Winter Weather Folkore: Suggestions from Animals and Crops
First Frost and Freeze Dates For Maryland (southern PA and northern VA)
My Preliminary Winter Outlook Notes
Low Snow Winters In Baltimore: To Repeat Or Not Repeat
NOAA Ranks Blizzard 2016 4th Worst Snowstorm On Record
Blizzard 2016 Record Top Snowstorm: Area Totals