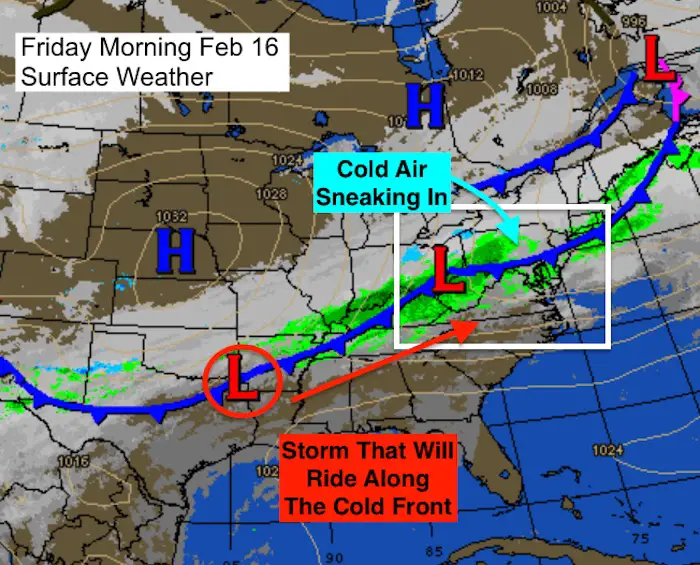 Friday February 16 2018
The rain today is part of a cold front that will eventually drop our temperatures and set the stage for a moderate snow event Saturday.  The basic idea here is that we are heading from the upper 60s and lower 70s yesterday to an afternoon and evening snow tomorrow while the freezing line will not complete cross our region. In short, the ground is warm and the air will be warm cutting back on how much snow can lay and stay. Thus stickage and accumulation are not going to match all the flakes that actually fall.
The other part of the set up is that the snow timing keeps arriving and ending earlier with each model run. That is an indication that the cold front will not pass as far south as first thought, thus staying closer. This also limits the reach of freezing temperatures. That is my focus for this post and my first call for snowfall.
Below are forecast maps that point out the snow and freezing line. That plays into my forecast which you can compare to the computer model projections and the National Weather Service regional snow maps below.
Snow Impact: Where will it stick and accumulate?
This is the map I have shown in may prior two posts. I still stand by this as it lines up with where the freezing line will reach and climatologically favored colder places are.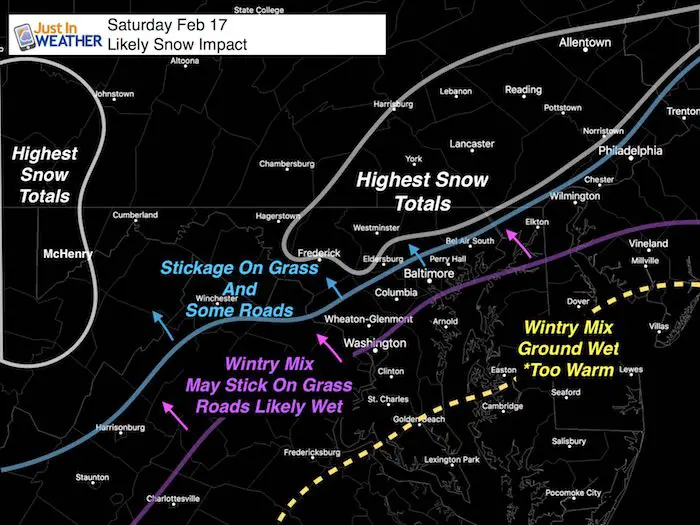 Saturday Afternoon and Evening Snow
This may be a situation where it starts as rain or a light mix mid afternoon. It appears the dynamics of the Low Pressure will determine the snow by increasing the intensity. Thus, lighter precipitation will be rain, but heavier will drag down colder air from aloft.
I am showing the NAM 3 Km Model because this had the best accuracy for timing and tracking all winter. Follow the freezing line, but I still question the higher snow accumulation below.
By 6 PM we should be under a wide area of wet snow (blue), but notice the freezing line to the west and north of Baltimore and Washington.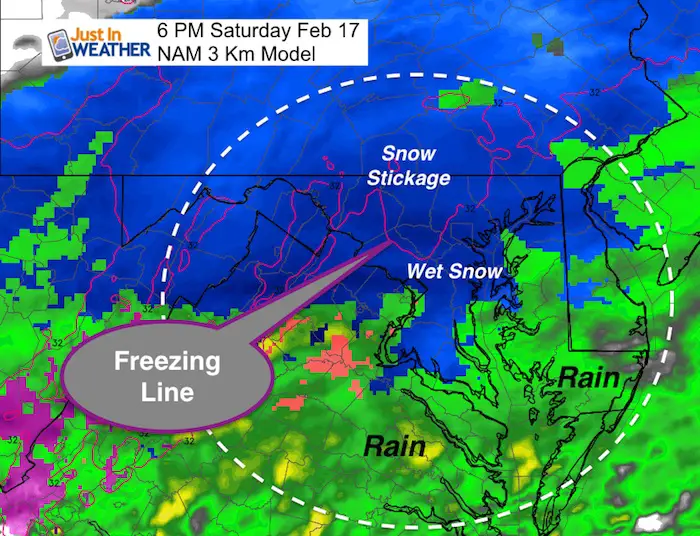 Temperatures at the same time frame of 6 PM
Snow can fall from colder clouds while it is warmer on the ground. This will keep most roads in the warmer areas wet. I do see potential travel issues for:
Western Howard and Montgomery Counties. Most of Frederick, Carroll, northern Baltimore, Harford and parts of Cecil in Maryland… and much of Southern Pennsylvania.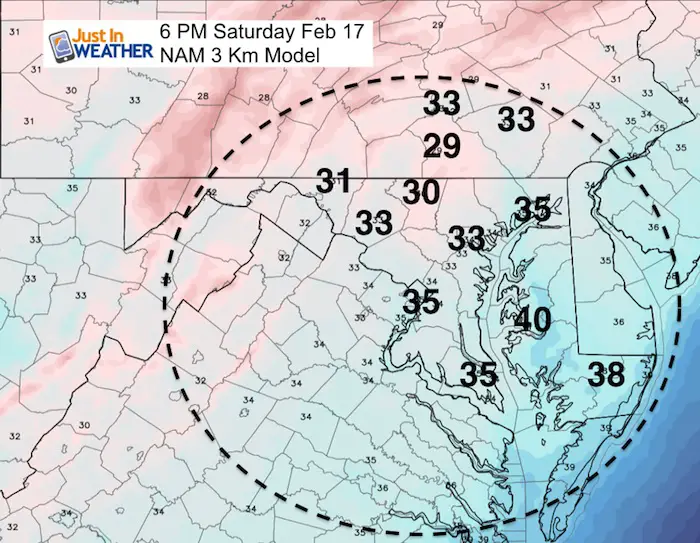 The snow that starts sooner, may begin to move away by midnight
Notice the freezing line, still north and west of the cities. That means the snow in urban areas and along I-95 is more likely to stick on the colder grass but not the roads.
Sunday Morning Freeze?
The colder air at sunrise on Sunday will barely reach urban areas, so there could be some icy spots. But the main issues will continue to be in the areas listed above.
My First Call for Snowfall
Far northern suburbs 3 to 5 inches. This is near and north of the Pennsylvania line into York and Lancaster.  The best area for stickage and icy roads Sunday morning.

2 to 4 inches much of Frederick (north of the city), Carroll, Baltimore, Hartford (north of Bel Air)

1 to 2 inches in metro areas near ad west of I-95 (away from the Bay), but most roads stay wet! Might get icy Sunday morning.

Mixed snow and sleet south, but the ground is too warm for stickage
Compare to the computer models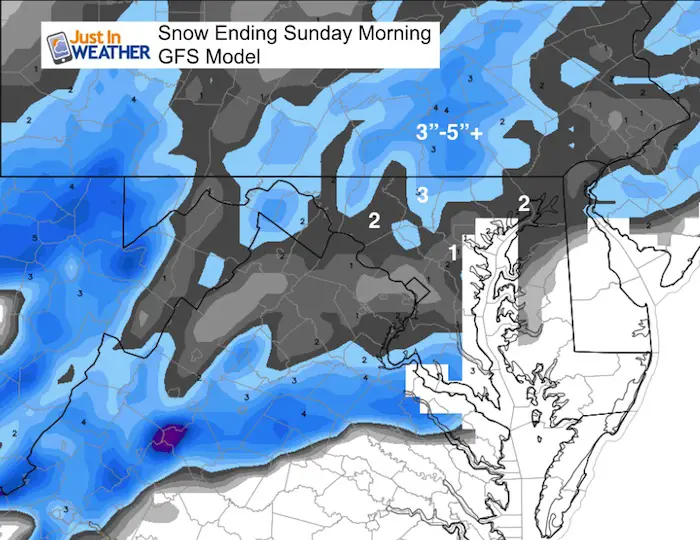 The Canadian squashes the snow band farther south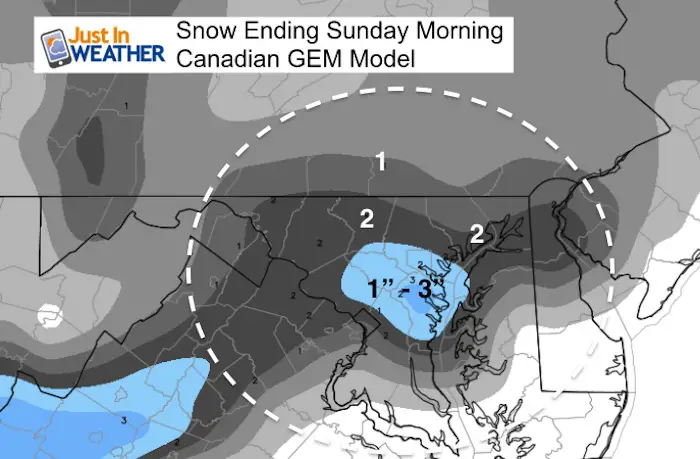 The NAM 3 Km is still too high in my opinion.
I trust the timeline and freezing line. Not the total accumulation
National Weather Service Snow Maps Below
L❄️VE Snow ❤️
Over $5,000 has already been raised. THANK YOU!  This campaign is still going on…
My Fiancée Shannon is showing off her design for our L❄️VE Shirt.  Proceeds help the start-up of our new wellness program for Pediatric Oncology Patients. The big announcement is just two weeks away.  Click here or on the photo to see more…
Multiple Styles: Ladies Performance, Unisex, Kids, and two types of Hoodies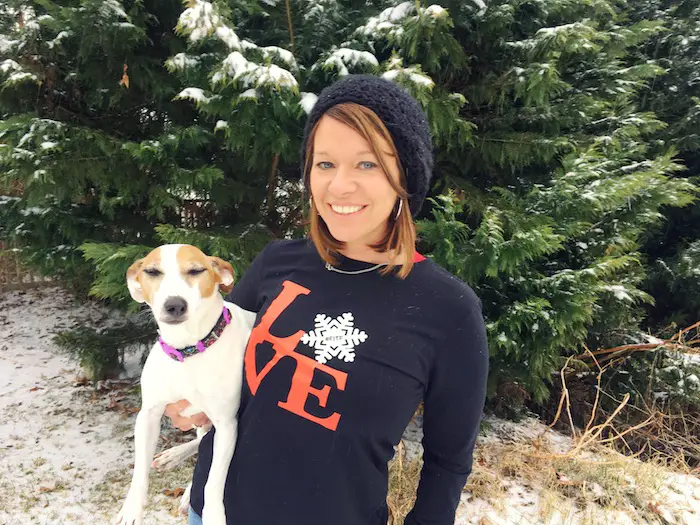 Snowfall Forecast Maps
National Weather Service Regional Zone Maps
Notes:
Northern suburbs 2 to 4 inches- The best area for stickage and icy roads Sunday morning.

General 1 to 2 inches in metro areas, but most roads stay wet!

Mixed snow and sleet south, but the ground is too war for stickage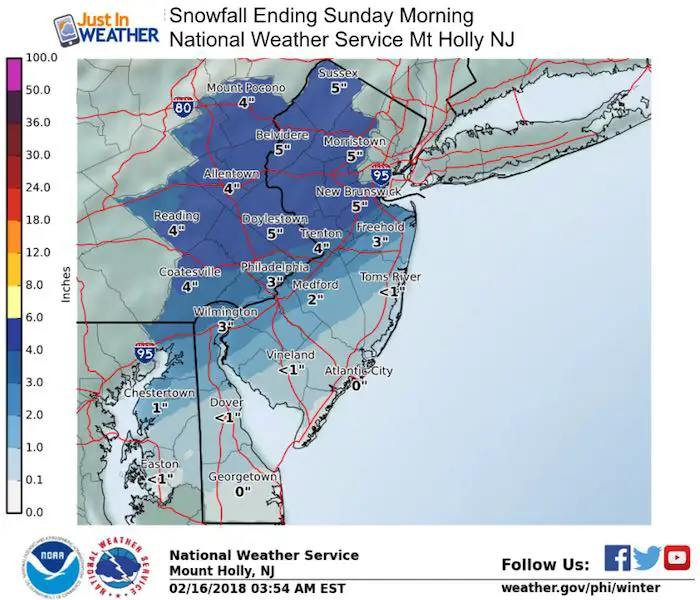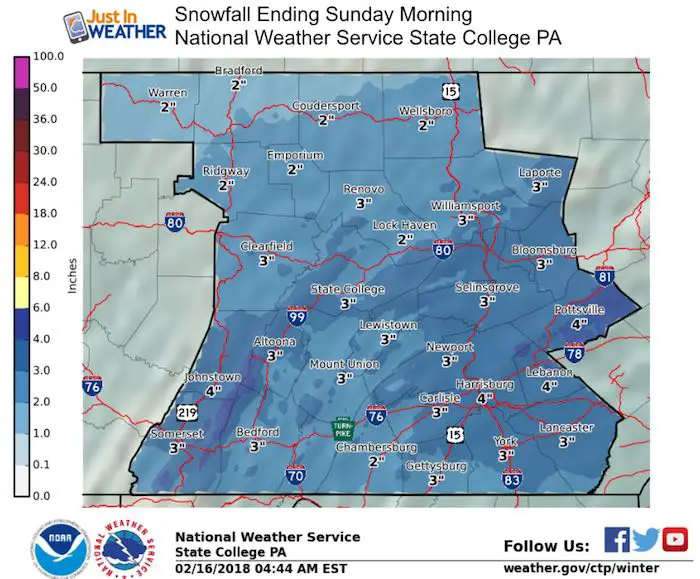 Please share your thoughts, best weather pics/video, or just keep in touch via social media
Keep In Touch All Winter
Click here to sign up for email alerts…. Just in case you don't get the post on your social media feed
Snowstix- We Need You To Measure Snow Too
We are giving 10% of each sale to programs that benefit pediatric oncology patients.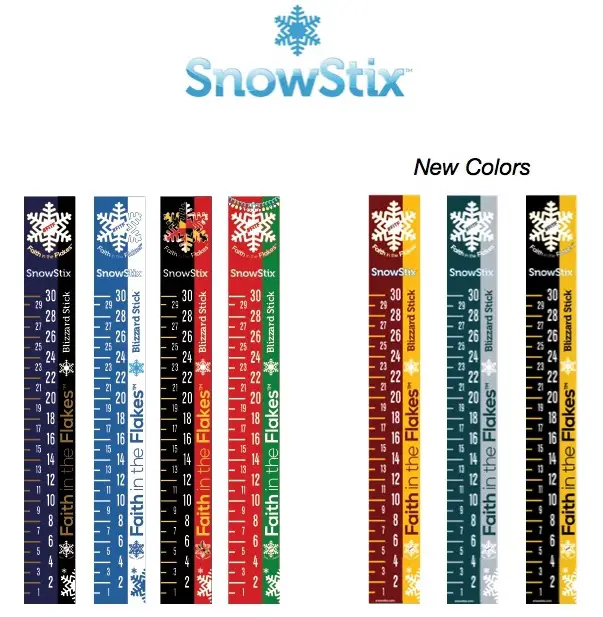 FITF Gear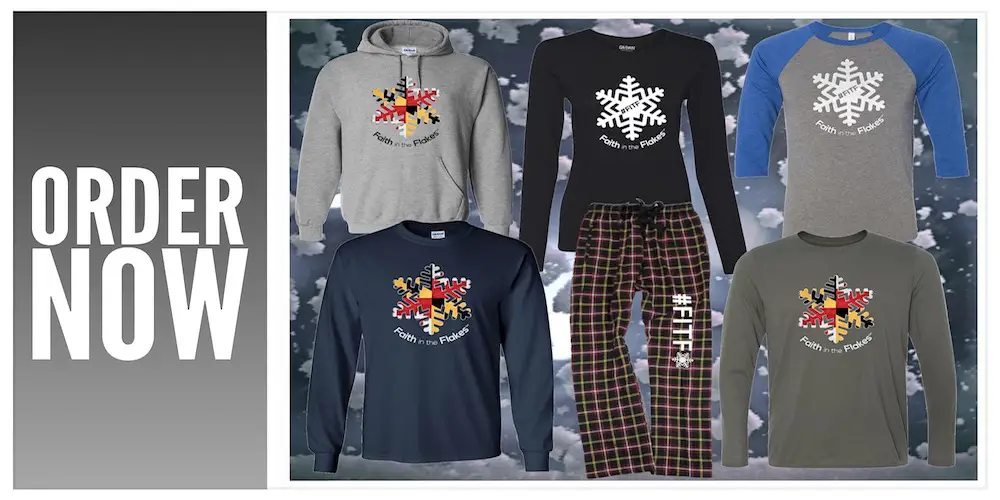 Get the award winning Kid Weather App I made with my oldest son and support our love for science, weather, and technology. Our 3 year anniversary of the release and our contribution to STEM education is this November. It has been downloaded in 60 countries, and works in both temperature scales. With your support we can expand on the fun introduction to science and real weather.
Keep In Touch All Winter
Click here to sign up for email alerts…. Just in case you don't get the post on your social media feed
Also See:
My Winter Outlook 2017-2018 for more snow
La Nina Formed: What it could mean to our winter
NOAA Winter Outlook: Not The Best But Not The Worst For Snow
Two Farmers Almanacs Winter 2018 Outlooks
Winter Weather Folkore: Suggestions from Animals and Crops
First Frost and Freeze Dates For Maryland (southern PA and northern VA)
My Preliminary Winter Outlook Notes
Low Snow Winters In Baltimore: To Repeat Or Not Repeat
NOAA Ranks Blizzard 2016 4th Worst Snowstorm On Record
Blizzard 2016 Record Top Snowstorm: Area Totals
Extreme Weather of 2015 balanced out on both ends