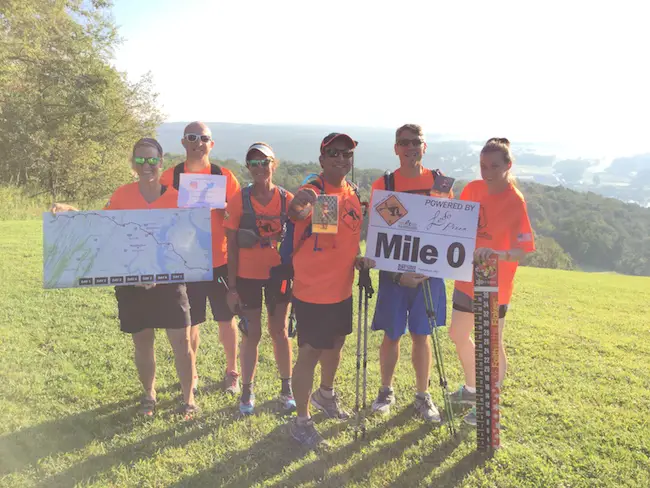 Sunday August 13 2017
We start the 4th annual Maryland Trek from the 3000 Ft above sea level on the summit of Wisp Ski Resort. This is one of two major playgrounds for our state and that is how we want to treat the 329 miles ahead over the next 7 days… We are doing this by choice and for fun. We want the children we honor with the Cool Kids Campaign to and play again cancer free.   The programs CKC provides serves that purpose. Remind the kids they are not pin cushions while they are going through treatment. We have an incredible start to this trek, already racing over $25,000. Our goal is $35,000 snd below is how you can help us.
Day 1: Garrett County to Frostburg and Cumberland
Today is an extra special day because at mile 24, I will clock my 1,000th mile of trekking. Our team will hike 27 miles through Garrett County and then switch to our bikes at the Route 40 School. Then we will ride on to Cumberland. I am joined by Margie Phipps, Matt Titus, and Carole Williamson on the left.  Ross Sober and Becca Cirner are with me for the entire week and are on the right.
See the interactive map and live tracking of our team here: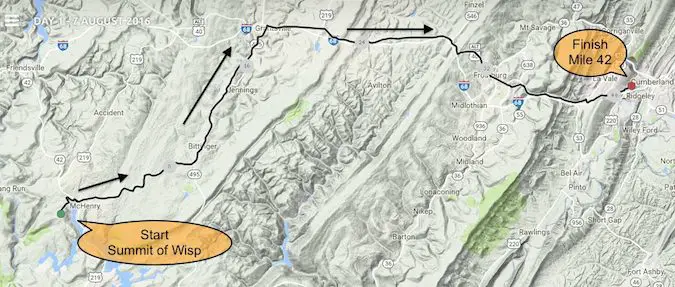 You can track us live on our trek page. Pics and video will be shared on Twitter and Instagram (@justinweather).  Also see Mid Atlantic Aerial for drone video from my crew chief Larry Rogers.  More on my team below Ariella's story.
Ariella Stein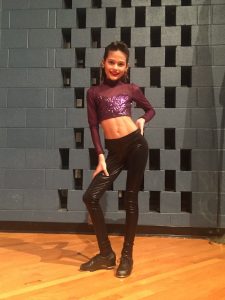 Ariella is 9 and will be entering the 5th grade this fall. Just a year younger than my oldest son.  She is a spunky, feisty, creative girl who enjoys spending time with her friends, doing craft projects, and reading.  Ariella especially loves to dance and has been on a competitive dance team for 4 years, though this year was cut short due to Ariella's diagnosis.  She dances all styles of dance with her favorite being tap.
Ariella began complaining of leg pain that wasn't getting better with rest so we took her for an MRI. Very quickly other scans and tests were ordered and in February 2017 Ariella was diagnosed with Ewing Sarcoma on her right tibia.  Since then she has completed 6 rounds of chemo through inpatient hospital stays every other week, with each round lasting either 2 days or 5 days.  In June 2017 she had surgery to remove the tumor and 4.5″ of her tibia.  She is currently in an external fixator to lengthen the tibia bone, which will eventually fuse to form a whole new bone.  She will likely have the fixator for at least 6 months with the goal being that Ariella will have full use of her leg.  At the end of June Ariella began inpatient chemo for 11 more rounds.  She's had some rough patches and complications but has not lost her spunk.  She continues to socialize with her friends and participate in various activities, not letting her illness, or the fact that she currently needs crutches or a wheelchair for mobility, to limit her.
My illness was in my left leg when I was 14 years old. Ariella's story really touches me because I can really relate to her. Please help me show her encouragement and support. Like and share the post where you saw this. Then please donate via the link below.

Also see:
Video: My come from behind track victory 3 years after almost losing my leg
Thanks to our title sponsor Ledo Pizza for being a big supporter of Cool Kids Campaign and feeding our team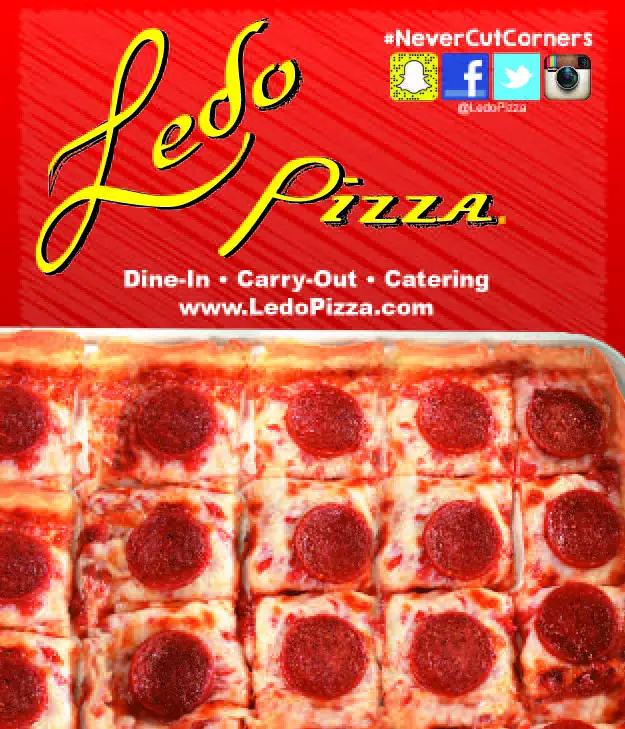 Please share your thoughts, best weather pics/video, or just keep in touch via social media
Get the award winning Kid Weather App I made with my oldest son and support our love for science, weather, and technology. Our 3 year anniversary of the release and our contribution to STEM education is this November. It has been downloaded in 60 countries, and works in both temperature scales. With your support we can expand on the fun introduction to science and real weather.