August 10 2017
To say someone's life was cut short may sound cliche, but that fits Karen Shollenberger as well as anyone. To know her was to know a strong person trapped in a weakening body, and she didn't want you to know that.  She seemed to always find a way to 'beat it back'.  So hearing that she lost her battle this morning is a shock to say the least. This young woman has battled cancer five times, and yet did so with a smile on her face. Many years ago she became part of Cool Kids Campaign. As she got older, she gave back as a volunteer. Last year it was my honor to honor her as our team met with Governor Larry Hogan.  She was determined and went back to Drexel to graduate. She did!
I only have a few moments to share below. Please take some time to read and then go back to the social media post you saw this and share your thoughts….
In 2016, Karen was going through yet another treatment. We decided it was time to honor her during our Maryland Trek… on our Day 5 we pass through Annapolis and meet with Governor Hogan at the State House. The anniversary of that moment is tomorrow.   I spoke with Karen about it at a Cool Kids Campaign event that June. She was about to head back to Johns Hopkins for her treatment. This young woman was preparing to spend much of her summer in the hospital and yet her attitude was incredible. She actually said (with a smile on her face), "There is a great view of the Harbor from my room, so I will be able to see all of the fireworks on the 4th."
At our team gathering with Gov Hogan on August 11, she looked strong.
Kicking It For Cool Kids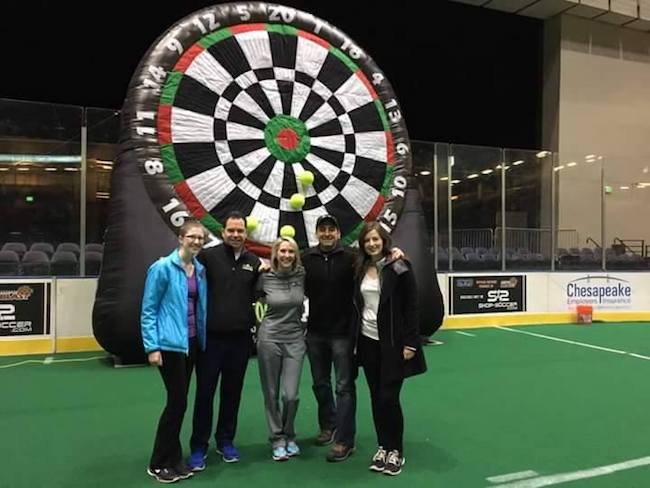 During the winter,  Karen joined at an event with The Baltimore Blast to show off our giant soccer dart board fundraiser. I joked with Karen, asking, "Why did they let you out?" She replied by telling me she just helped her friends move furniture. She really did. Noting would stop her. Check out the video below which is from a live broadcast I did on Facebook. In it Karen joined me for a little as we watched Baltimore Blast Coach Danny Kelly kick a Bulls Eye!  Danny will be joining my trek team on Day 4 of this year's Maryland Trek.
She Seemed Good Just Weeks Ago
The last time I saw Karen was back in June at Ken Singleton's Golf Tournament Pairings party. She loved wearing red. When I hugged her, any hint look of frailty was quickly erased by warmth and the feeling of her strong heart. You just know it in her presence. Many people have to experience pain to appreciate the best of what life has. Karen had more than her she of pain and loves life as much as anyone. If there is a person who could beat cancer, it would be her. We all thought it would be her.
West Friendship, MD
Type of Cancer: Acute Lymphoblastic B cell Leukemia
Karen went to Tridelphia Ridge ES and Glenelg HS.
On July 11 she turned 23 years old.
She worked at Johns Hopkins University Applied Physics Lab
She was cool and a Cool Kid Camping volunteer/ambassador
On June 18th, she got her degree from Drexel University
Love Being Outdoors
Any chance she had Karen would be outside on a hike or somewhere. She wrote about it in her blog (among many other things). Int was her way to get as far away from a hospital and treatment to just enjoy life.  So it is even more profound that we start this 4th Maryland Trek in just a few days. It was last year that I became friends with Donna Larkin, owner of Tri Sport Junction. She is a friend of Karen's and stepped up last year to play a major role and to build up our team.  One blessing in this tragedy is that I made a new friend in Donna and our family has grown larger thanks to Karen.
Governor Larry Hogan really was a friend to Karen and her family. This was their visit to the opening game for the Redskins. They had pretty good seats.
The only salvation is that we have each other in this time to be outside crossing the state of Maryland next week, where she wanted to be. To walk and talk. To bike and believe that somehow there is a reason for all of this. The only purpose I can see now is to take that strong heart and smile Karen gave us, and make that part of what we do every day. That is how we carry on her spirit and any lost one's spirit.  The friendships we have made thanks to Karen, now bind us as family. I know she is happy about that.
Much love to her family: Chris, Steve, Matt and Susie
Links:
See our post for Karen last year on Trek 3 Day 5
Karen's Blog: theworstbestthing
"Dream as you will live forever. Live as if you'll will die today"
Donate to this year's trek. Every penny goes to Cool Kids Campaign and programs that Karen was part of.  Follow our team this year and see the kids we honor between August 13 and 19. See the map below.
Please share your thoughts, best weather pics/video, or just keep in touch via social media
Sign up for email updates on new posts
Since you may miss some posts via social media, click here for email alerts as a way to make sure you don't miss any.  *You may have to refresh that page once for your browser to clear out the images.