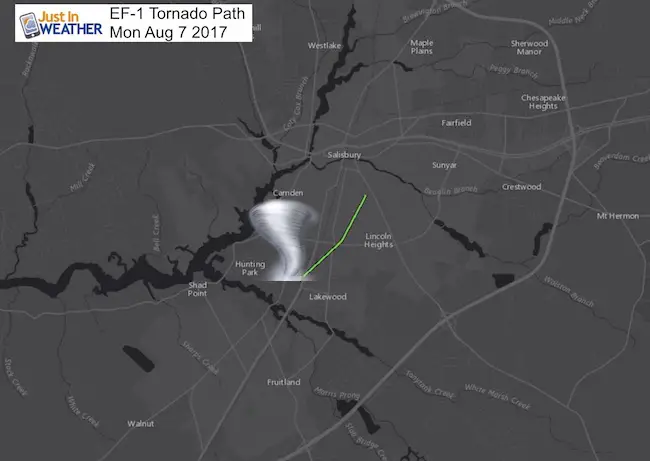 The National Weather Service had conducted their survey of the storm that hit Salisbury on Monday August 7 2017. The Lower Eastern Shore of Maryland was under the risk for severe storms and there was a warning for this particular cell that struck at 1:40 PM. Winds were recorded at 105 mph, making this in the upper level of an EF-1. Here is the official report with close up map below.
...Tornado Confirmed Near Salisbury in Wicomico County MD...

Location...Salisbury in Wicomico County MD
Date...August 7, 2017
Estimated Time...140 PM EDT
Maximum EF- Scale Rating...EF1
Estimated Maximum Wind Speed...105 mph
Maximum Path Width...100 - 150 yards
Path Length...1.5 mile
* Fatalities...0
* Injuries...0

* The information in this statement is preliminary and subject to
change pending final review of the event(s) and publication in
NWS Storm Data.

...Summary...
The National Weather Service in Wakefield VA has confirmed a
tornado near Salisbury in Wicomico County MD on August 7, 2017.

The EF1 tornado tracked quickly across the south side of Salisbury,
MD around 140 pm August 7, 2017. The tornado initially touched down
near Salisbury University along Highway 13 and Dogwood Dr damaging
several businesses. The tornado struck a strip mall along highway 13
tossing vehicles around in the parking lot and causing minor damage
nearby buildings. A concrete building in the area collapsed due two
bay doors on the building being open. Wind entered the structure
causing it to collapse. It was in this area near the University
where the tornado was most intense, at the time of initial
touchdown.

The tornado tracked northeast across East Salisbury University
crossing Bateman St and E. College Dr before damaging a home on
Rogers St. The tornado lifted off the ground before it could cross
Highway 12 (Snow Hill Rd) near the Elks Club Golf Course. The total
path length was one and a half mile with a path width of 100 to 150
yards.



For reference...the Enhanced Fujita Scale classifies tornadoes
into the following categories:

EF0...wind speeds 65 to 85 mph.
EF1...wind speeds 86 to 110 mph.
EF2...wind speeds 111 to 135 mph.
EF3...wind speeds 136 to 165 mph.
EF4...wind speeds 166 to 200 mph.
EF5...wind speeds greater than 200 mph.
A Few Recent Tornado (and waterspout) Local Reports
Tornados for 2017 Near Average
Baltimore County August 3 Storm was NOT a tornado:
Washington DC: Tornado was confirmed April 6
June 2015 Severe Weather Month Related Posts:
27 Flood Photos From June 27 Storm
Flooding makes manhole cover dance in Baltimore (video)
4 Inch hail In Baltimore County
Tropical Depression Bill Passing Overhead
Record Wettest June in Baltimore- More on the way
Also See:  2015 Had A Balance Of Extreme Weather From Heat To Cold And More
Please share your thoughts, best weather pics/video, or just keep in touch via social media
Get the award winning Kid Weather App I made with my oldest son and support our love for science, weather, and technology. Our 3 year anniversary of the release and our contribution to STEM education is this November. It has been downloaded in 60 countries, and works in both temperature scales. With your support we can expand on the fun introduction to science and real weather.
Maryland Trek 2017
Donations now being accepted. Please select "Cool Kids Campaign" in the options to add to our entire team's total.
Milestones this year:
I will do my 1000th mile on Day 1 in Garrett County
We aim to reach $100,000 for Cool Kids Campaign for the entire event.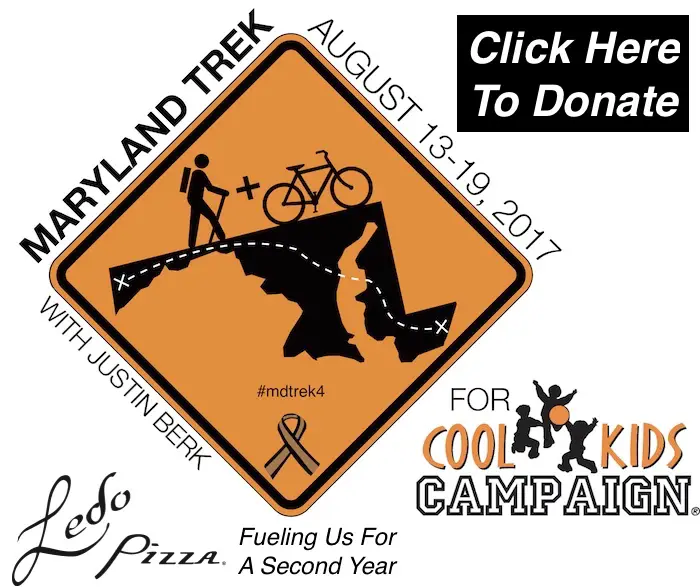 Faith in the Flakes
The store is closing for the season. Next week we wil be shifting back to spring mode. This will include a severe weather STEM assembly program.
Sign up for email updates on new posts

Since you may miss some posts via social media, click here for email alerts as a way to make sure you don't miss any.  *You may have to refresh that page once for your browser to clear out the images.

 Also See: