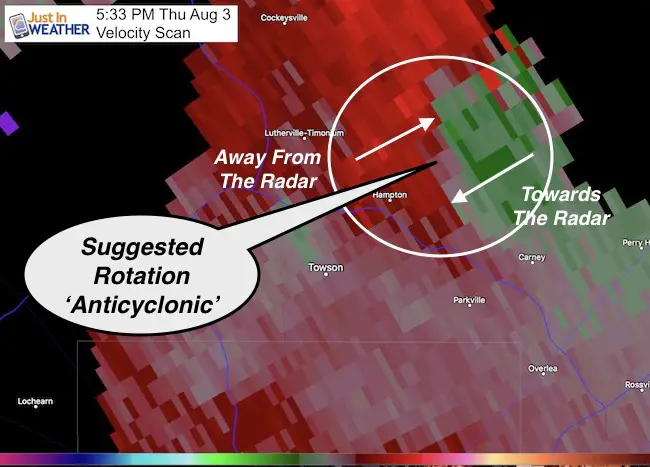 Friday August 4
Much of this week has featured severe weather across central Maryland, but Thursday August 3 it was centered on Baltimore County. The storm that moved through between 5 and 6 PM started in Anne Arundel County and grew in a hurry. It is my belief that the development and enhancement came from a Bay Breeze Boundary as high het and humidity got some extra spin from winds off of the Chesapeake Bay to allow for the severe flare up and possible tornado.
Official Tornado Reports come from The National Weather Service. They will send an investigative team to survey the damage. This will result in a path and intensity. That is important for insurance purposes as much as historical reporting. I will share their information and confirmation as soon as I see it.
The purpose of this post is to share the Doppler Radar images that support rotation in this storm. I will follow up with damage photos and add that link here later.  My heart goes out to all that were impacted by the damage. Sadly there was 14 year old killed and three people injured when a tree fell on a car in Lutherville MD, while pulled over to wait the storm out.
Timeline: Warnings
These first 3 images are what I shared on Facebook and Twitter to track the storm and Severe Thunderstorm Warnings. I know some mentioned online they did not know this was on the way, but there was plenty of alert time tracking this on the move. It just overachieved.
This cell began in Anne Arundel County around 4 PM and then moved north. The warning posts were at 5 PM and 5:30 PM. *I added this simple note to the Baltimore Warning:
Severe Storms continue…
Hail in Baltimore on Doppler
Flooding possible
Dangerous lightning
Moving north-northeast in the the county (warning until 6 PM)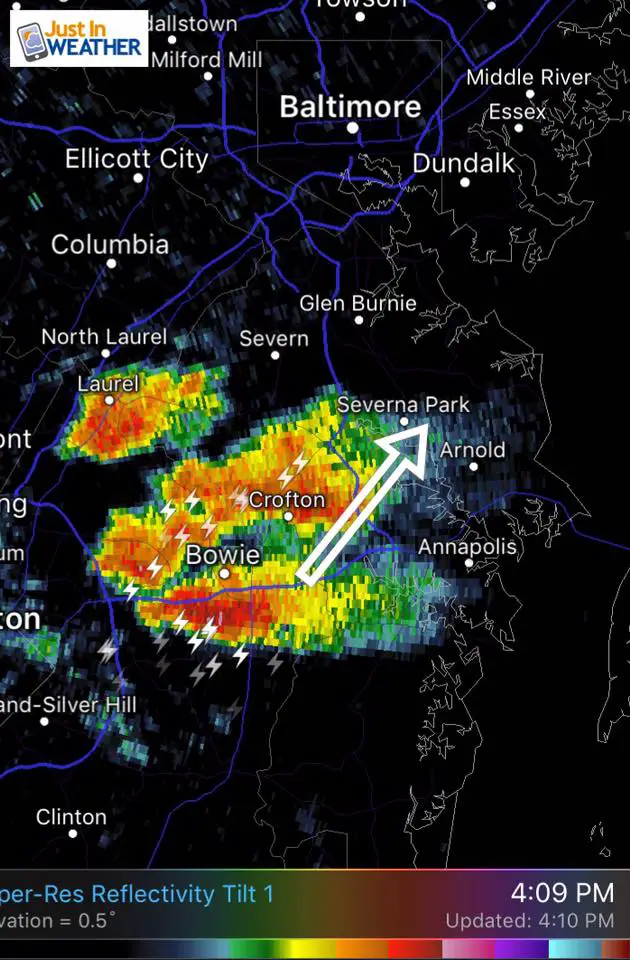 Closer Look 5:33 PM
In addition to widespread tree damage and power outages from the winds, many had reported hail between the size of peas, quarters, and briefly golf ball size. This coincides with a rotating supercell storm.I will post photos of the damage in my next report.

—> Slider
The wind speed on the velocity scan underestimated the actual speed in the Kent Island tornado… So I hesitate to suggest the intensity of this event.
*Update: I adjusted the image to properly represent the rotation of the winds on the velocity scan according to Doppler Radar. This suggests anticyclonic winds or clockwise. If this were a confirmed tornado, only 2% rotate in that direction. Counter-clockwise or cyclonic is most common.
Doppler Radar Velocity Scan Animation
Wider View Tracks From Lutherville to Jacksonville
This pulse lasted about 1o to 15 minutes and faded just west of Fallston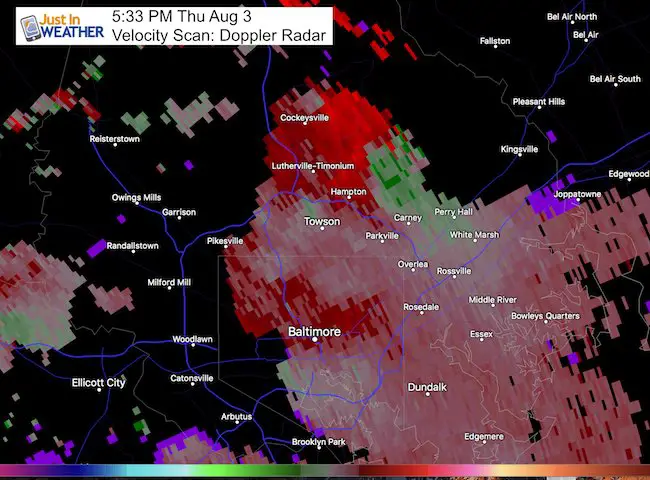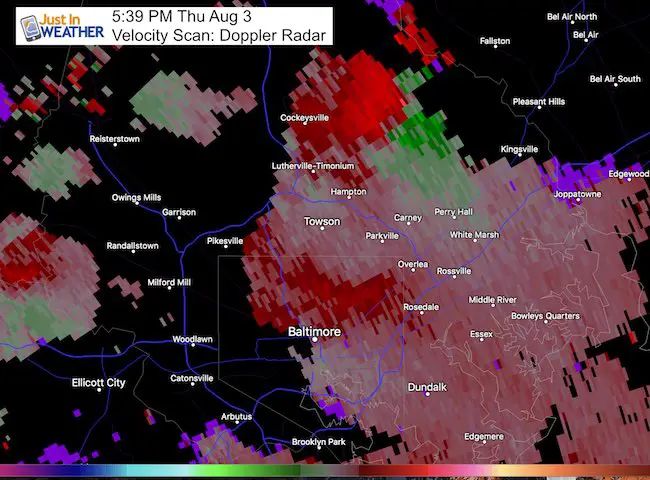 Also see  the Kent Island Tornado Reports
Doppler Radar Loop: Likely Tornado On Kent Island July 24
Tornado Damage Photos On Kent Island: July 24 2017
Waterspout Video and Photos July 15 2017
Waterspouts photos August 21 2016
Please share your thoughts, best weather pics/video, or just keep in touch via social media
Get the award winning Kid Weather App I made with my oldest son and support our love for science, weather, and technology. Our 3 year anniversary of the release and our contribution to STEM education is this November. It has been downloaded in 60 countries, and works in both temperature scales. With your support we can expand on the fun introduction to science and real weather.
Maryland Trek 2017
Donations now being accepted. Please select "Cool Kids Campaign" in the options to add to our entire team's total.
Milestones this year:
I will do my 1000th mile on Day 1 in Garrett County
We aim to reach $100,000 for Cool Kids Campaign for the entire event.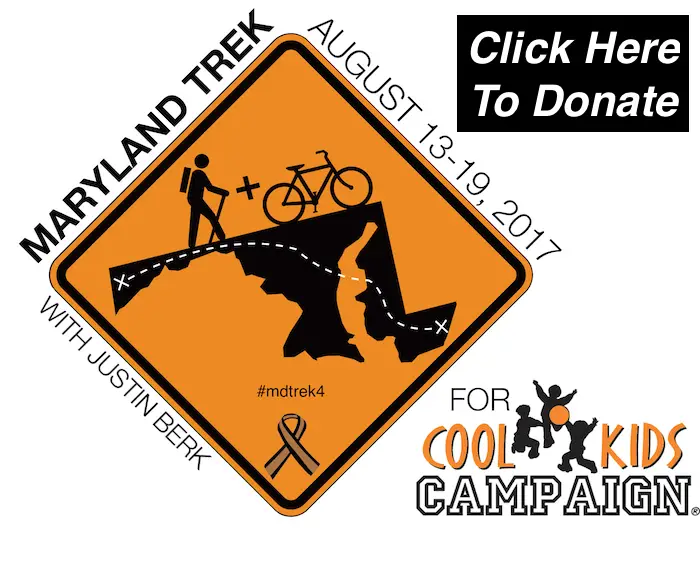 Faith in the Flakes
The store is closing for the season. Next week we wil be shifting back to spring mode. This will include a severe weather STEM assembly program.
Sign up for email updates on new posts

Since you may miss some posts via social media, click here for email alerts as a way to make sure you don't miss any.  *You may have to refresh that page once for your browser to clear out the images.

 Also See: