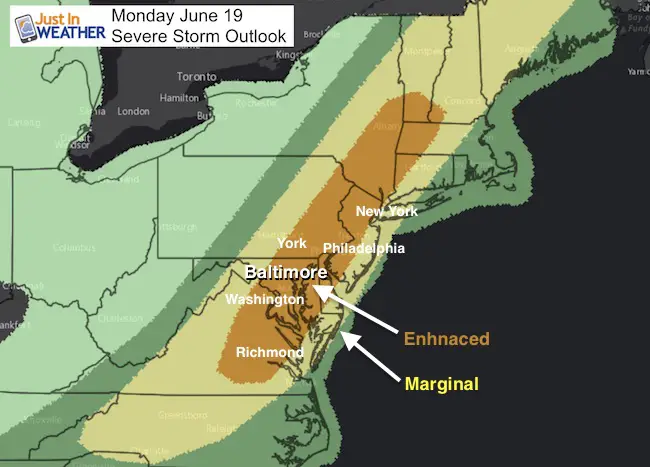 Monday June 19
Buckle up for a bumpy ride. The day is starting off feeling like afternoon heat and humidity. The atmosphere is unstable and a strong cold front will trigger a round of severe storms this afternoon with the target on our region. These storms have the potential for large hail over 1 inch diameter, winds over 60 mph, and isolated tornadoes. We also have a Flash Flood Watch due to heavy rain. The time frame will be between 2 and 9 PM for most of us, then shifting to Maryland's Eastern Shore in the evening. The storms should weaken before reaching the beaches by midnight.
If this isn't enough, we may have two named Tropical Storms in the Caribbean to track in the next day or two. I will have more on Bret and Cindy in my next report.
Alerts To Be Aware Of
Watch – Means it MAY happen. Usually issued for a window of 4 to 6 hours
Warning – Means it IS HAPPENING and being tracked by county for the next 30 to 60 minutes 
Simulated Radar
This guide does tend to perform better than on air mass thunderstorm days. The time frame for the metro areas is 4 to 8 PM. The storms will hit the mountains first, and weaken a little crossing the Chesapeake Bay. The severe weather elements will be fading by the time it reaches the beaches at midnight.
[metaslider id=48954]
Flash Flood Watch
The potential for a quick 1 inch or more of rain in any storm could lead to local flooding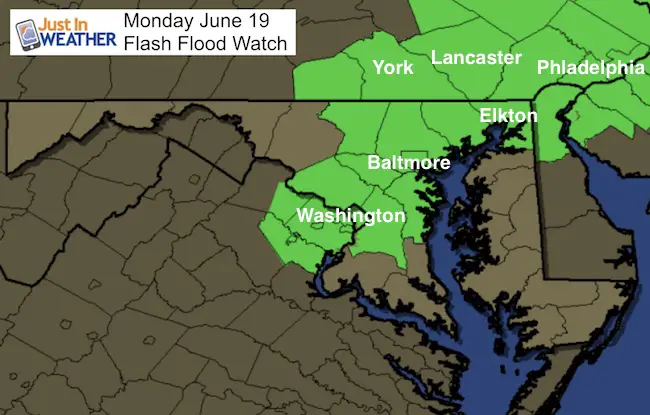 High Temperatures
Large View Tracking
[metaslider id=48980]
Temperature Outlook
Temperatures should stay in the 80s but the humidity will drop tomorrow after the front passes. We need to watch the developing tropical system for potential impact for us later in the time frame.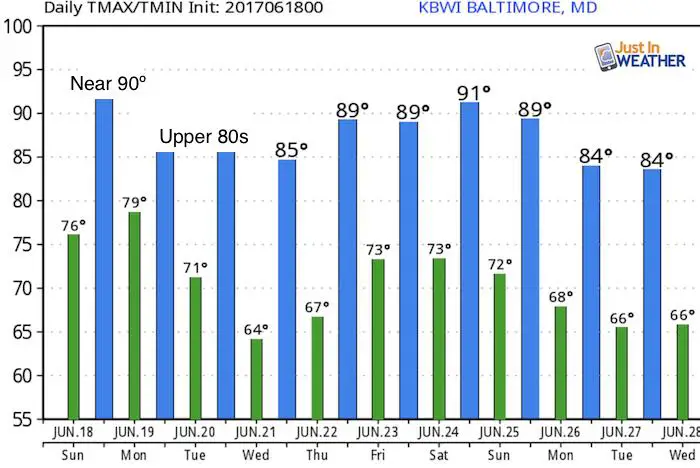 Get the award winning Kid Weather App I made with my oldest son and support our love for science, weather, and technology. Our 3 year anniversary of the release and our contribution to STEM education is this November. It has been downloaded in 60 countries, and works in both temperature scales. With your support we can expand on the fun introduction to science and real weather.
Get $1000 Off LASIK
Plus enter to win free sunglasses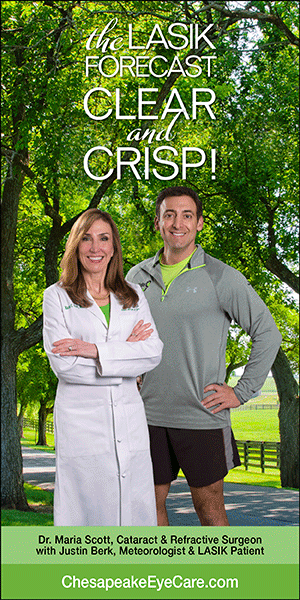 Maryland Trek 2017
Be part of my 4th annual hike and bike across Maryland this August. See my trek page and sign up for information to do one day, the whole week, or even sponsor this great event.
Milestones this year:
I will do my 1000th mile
We aim to reach $100,000 for Cool Kids Campaign
Please share your thoughts, best weather pics/video, or just keep in touch via social media
Faith in the Flakes
The store is closing for the season. Next week we wil be shifting back to spring mode. This will include a severe weather STEM assembly program.
Sign up for email updates on new posts

Since you may miss some posts via social media, click here for email alerts as a way to make sure you don't miss any.  *You may have to refresh that page once for your browser to clear out the images.

 Also See: