April 27 – It might seem like we have not seen the sun for almost a week and still a little soggy. But the latest report from the US Drought Monitor has be released, and it showed that parts of central Maryland and south central PA are still in a drought. This might come as a surprise, given the 1 to 3 inches of rainfall we received recently, but we must also consider that there is more than just what falls. Water needs to be absorbed by the soil as well as eventually seep into the ground wells (which can take many months). So there is a long way to go.
Rainfall in the past 2 Weeks
Generally between 1 (green) and 3 (yellow/orange) inches of rain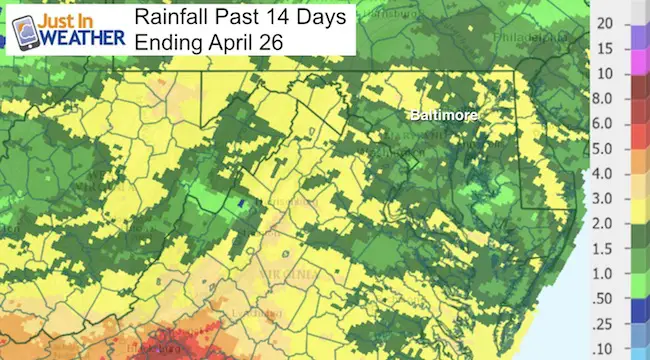 Reversing the trend
The last month with above normal rainfall at Baltimore's BWI was September. So after 6 months in a row below normal (March was close to average)… April will be for first month in half a year wetter than normal.
Improvement
There has been an improvement in the past week. The moderate drought region in Maryland as lowered from 15% to 13%
Pennsylvania
The region of Pennsylvania in a moderate drought is along the Susquehanna River north of York. This includes the capital city of Harrisburg. Note, that this is important to monitor for health of the Chesapeake Bay.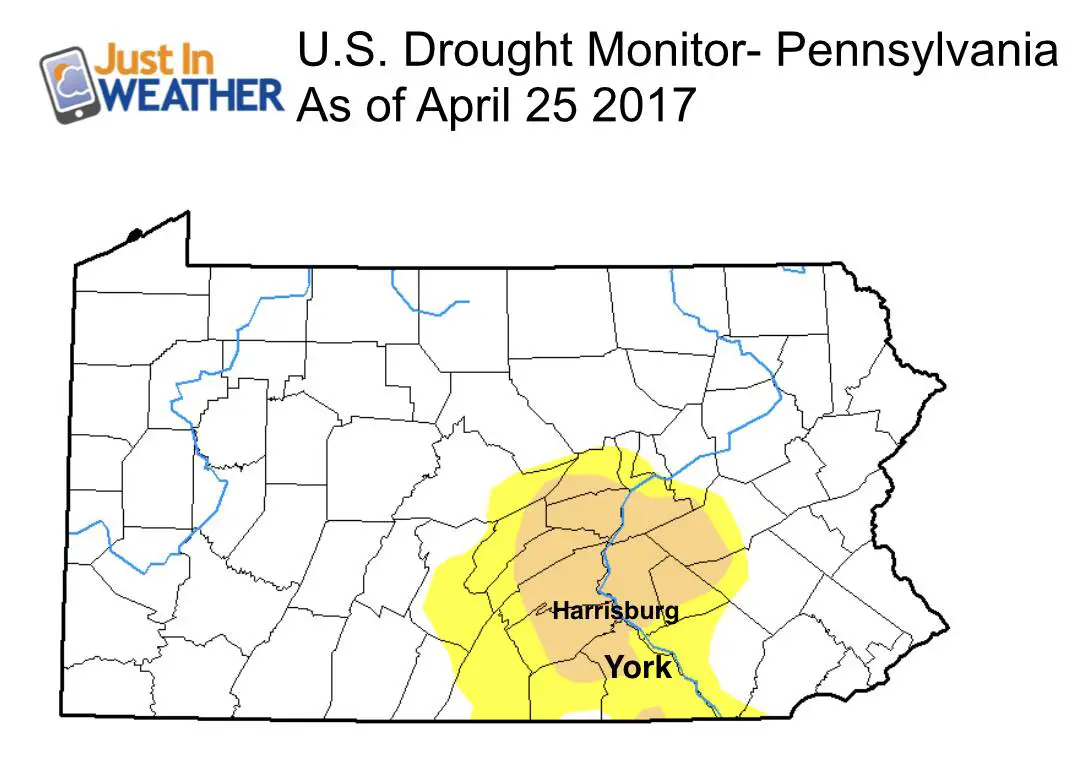 Storm Smart: My STEM Assembly Program
Click here to see the details and how this educational program is also a fundraiser for schools. We can start scheduling for May now.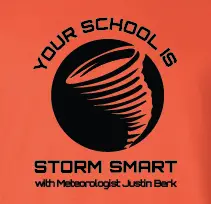 Get the award winning Kid Weather App I made with my oldest son and support our love for science, weather, and technology. Our 3 year anniversary of the release and our contribution to STEM education is this November. It has been downloaded in 60 countries, and works in both temperature scales. With your support we can expand on the fun introduction to science and real weather.
Please share your thoughts, best weather pics/video, or just keep in touch via social media
Faith in the Flakes
The store is closing for the season. Next week we wil be shifting back to spring mode. This will include a severe weather STEM assembly program.
Sign up for email updates on new posts

Since you may miss some posts via social media, click here for email alerts as a way to make sure you don't miss any.  *You may have to refresh that page once for your browser to clear out the images.

 Also See: