Technically the spring season begins today, but there are a few definitions of the season. Meteorological Spring begin on March 1, as the seasons are grouped in blocks of three full months. But today at 6:28 AM EDT the direct rays of the sun crossed the equator and for the next 6 months will be focused in the northern hemisphere. This makes our daylight time longer than night, and the temperatures gradually get warmer as well.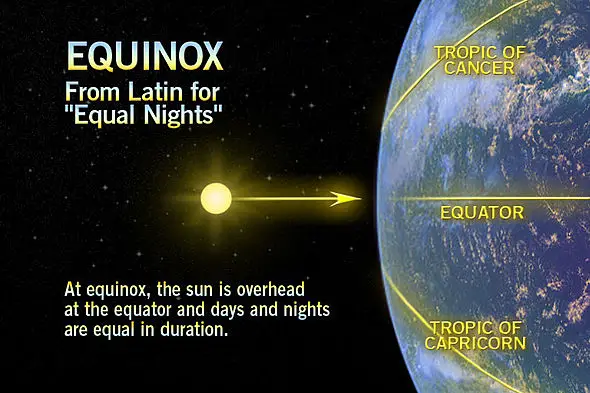 What is the Equinox?
There are a few ways of looking at this day.  First, it is the halfway point between the summer solstice and winter solstice.  Those are the days when the sun reaches its northern and southern most points in our sky each year. For the northern hemisphere, today marks the first day of spring, and a significant change drop in temperature.
Daylight
Today's daylight is NOT equal with darkness. Actually, we already have more daylight than darkness. Today we have 12 hours and 9 minutes of daylight. That is due to the bending of light in our atmosphere. When the sun actually sets based on a straight line and curvature of our planet, the light actually bends around that curve. So we get a few extra minutes on the front and back end (sunrise and sunset).
March 17th: Our first day with over 12 hours of sunlight
+2:34 The amount of additional daylight we get each day this week.
Compare Daylight:
March 20 = 12 hrs 09 min
March 31 = 12 hrs 37 min
*28 minutes more of daylight by the end of this month.
If we plot the angle of the sun (as seen here), the Vernal Equinox is a day that has the angle halfway between the lowest point during the winter solstice (December 21) and highest point during the summer solstice (June 21).  
Temperatures Warming
The temperature begins a warm of about one degree every two days. Check out this list of average high temps on the almanac. We gain 4 degrees by the end of the month.
Balancing an Egg?
The word equinox sounds a lot like 'equal', and that is how it is often introduced in an earth science class. My physics teaching in High School tried to convince the lass that the equal force of the sun's gravitational pull on the equator would allow an egg to stand on it's end. Sadly, that is not true! It's a demonstration I continue to see in both autumn and spring.
Last week during my visit to St Peter's Christian School, Vivian Rumberger asked me about this. She said she does it every year, and can balance the eggs for a day. But when the day ends, they fall over. This is her photo and she swears by it. For fun, I will try this with my kids.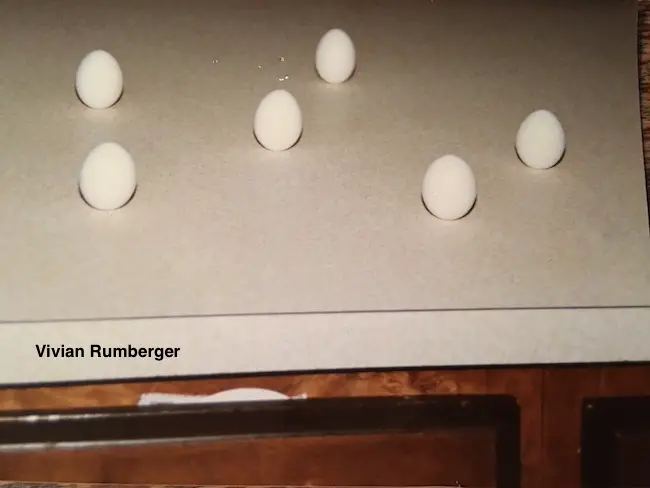 A friend of mine actually tried this many years ago on TV. Since he could not duplicate it, he used double sided tape.
Video From National Geographic
Spring Snow?
Yes, we can still get some snow in Baltimore, but I think many people are ready for that to end after a poor showing this winter.  However, Baltimore did get more than the average this month, the only above average snowfall month this seasons. The latest date on the calendar with snow in Balimore:
April 11 = 2 inches in 1894
April 28 = 0.1 inch in 1898
May 11 = Trace in 1951
Get the award winning Kid Weather App I made with my oldest son and support our love for science, weather, and technology. Our 3 year anniversary of the release and our contribution to STEM education is this November. It has been downloaded in 60 countries, and works in both temperature scales. With your support we can expand on the fun introduction to science and real weather.
Please share your thoughts, best weather pics/video, or just keep in touch via social media
Faith in the Flakes
The store is closing for the season. Next week we wil be shifting back to spring mode. This will include a severe weather STEM assembly program.