Thursday March 9 – I am down with more snow sticking on the ground, at least in the normally colder zones. I know this may seem odd as temperatures have reached the 70s today. I need to be clear that it will snow tomorrow AND many roads will be wet. BUT, the intensity and timing, along with a stronger push of colder air… will allow for more stickage north and west of the city. So if there are travel and school issues tomorrow, that may be in southern PA, and in northern Maryland counties of Frederick, Carroll, northern Baltimore, northern Harford, and western Howard and Montgomery. The typically colder spots. There will be snow falling during the morning and mid day farther south and east across Delmarva. At that time the higher sun angle and warmer temps should limit stockage to grassy areas and lower amounts.
Deja Vous?
I know this sounds familiar. We did this drill on February 8 to 9 with a warm day followed by a brief snowfall the next morning. I show maps from that storm in many of my school assemblies. The difference this time is a stronger event and a longer duration of moderate snow in the morning… The ground is warm,  but the last event has only an hour or two of snow in many places. This time we may have a half a day of snow.  But the issues of any stickage diminish after 9 or 10 AM with a higher sun angle.  Here are the maps…. including my adjusted snowfall map and the outlook to a coastal storm next Tuesday
Friday Snow —> slider GFS Model
[metaslider id=44117]
Morning Temperatures: Freezing Line North Of Baltimore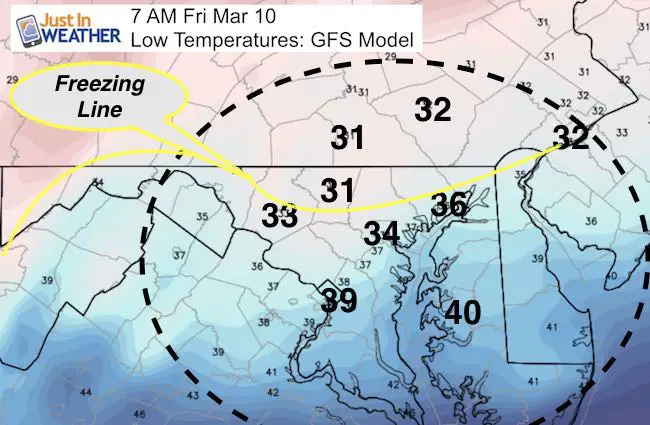 Snow Total GFS Model
My Updated Map…
Accounting for melting. Note many wet roads in central Maryland Vs northern/colder roads where it may be slick.
Northern Maryland and Southern Pennsylvania = 1 to 3 inches. Areas will have temps below freezing and have snow before sunrise. Some roads could be a problem in the morning.
Metro Baltimore and I-95 zone = Rain will change to snow between 6 and 8 AM. Snow will continue through afternoon. Dusting to 1 inch and most roads should be wet.
Southern Maryland = Snow will eventually fall but little will stick. Roads should be wet.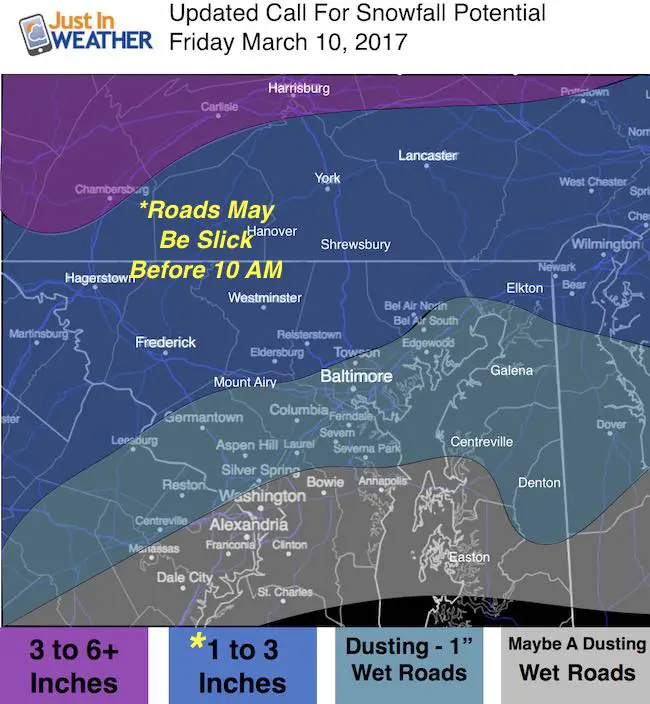 Outlook
Saturday Cold May Be Enhanced By Snow Snowpack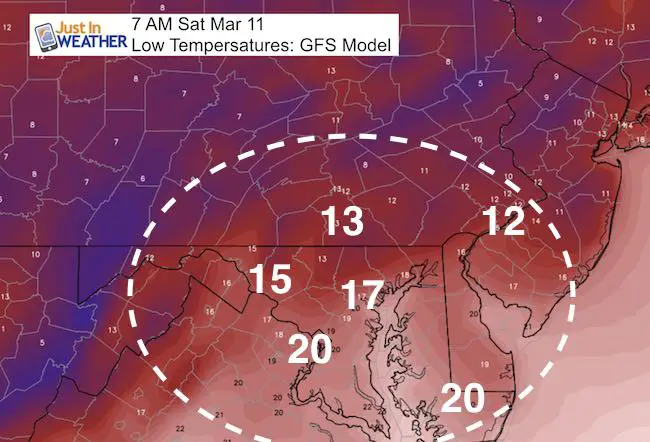 Due to fresh snow AND the arctic airmass from Canada… This is the reason the Sunday storm is getting that southern push. Since the Canadian Model was the first to point this out… I am sticking with this for the outlook beyond with a developing coastal storm and significant  snowfall on Monday night through Tuesday.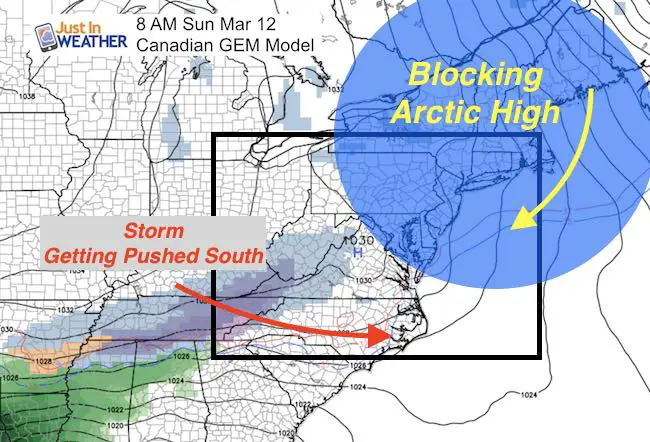 Coastal Storm Tuesday
I do not guarantee anything 5 days away. I also will NEVER show a snowfall map for an event more than 48 hours away because too many variables can change…. It would be easy for clickbait, but irresponsible. Please do not ask me how much can snow from this. Just plan for a potential impacting event.
Canadian Model—> slider
[metaslider id=44133]
GFS Model –> slider
Yes, there is support with s slightly different solution about the development of this coastal storm with moderate to heavy snow.
[metaslider id=44125]
Get the award winning Kid Weather App I made with my oldest son and support our love for science, weather, and technology. Our 3 year anniversary of the release and our contribution to STEM education is this November. It has been downloaded in 60 countries, and works in both temperature scales. With your support we can expand on the fun introduction to science and real weather.
Please share your thoughts, best weather pics/video, or just keep in touch via social media
Faith in the Flakes Online- Flannel PJs Printed Inside Out
Store Now Open
Faith in the Flowers
In a few weeks my friend Lexi Hack and I  will be bringing back these shirts and the fundraiser for Save a Limb Fund at Sinai Hospital. Also stay tuned for my new Storm Smart Assembly program. A STEM based assembly on severe weather for elementary and middle schools.