June 28 – I just saw the new Independence Day movie and now most storm clouds keep reminding me of that. It's not just shelf clouds, but that explosive roll that suggest it might have some fire and perhaps a spacecraft behind it. What hit Maryland today was spectacular in its own right, in many ways. My earlier post suggested the strong line would be enhanced by the winds off of the Bay, and they were indeed! Severe Thunderstorm Warnings followed the progression of this line from 4 PM through sunset. The display across the sky covered everything from incredible storm clouds, vivid lightning, and vivid rainbows. The video below of lightning in front of an Owings Mills home is just ridiculously close!
I am honored to have received so many amazing images capturing the storm, and it was tough to sort out what to share. But I had to and below they are in three categories: Clouds, lightning, and rainbows. But there is overlap. Thank you to all that shared. Credit attributed in each image. Please let me know what you like best.
Als0- Order your These Flakes Don't Melt shirts by Wednesday morning to get delivered by July 4th.
Storm Clouds
Lightning
First the video… This video in front of the home of Tanzi Leary is a little too close for comfort. Her daughter captured this from the top floor after minutes of lightning striking all around. Notice there are two double strikes. One directly in front of the home and the other beyond the house in view: Bullock Farm near Greenspring Ave in Owings Mills. Often there are multiple flashes of lightning on video, and sometimes there can be false images from reflection on the lens. But if you look closely, the shape of the bolts are unique and they are beyond lucky.
Close up still frames
Other Bolts
This should be an ad for Baltimore Towing. Kenny Sigal took this pic and his friends were excited to share. I think he should get a cut of any additional business this generates for the company 🙂
Lightning AND a Rainbow!
Another close call in Parkville
If you have storm damage such as dents from hail, RPS can help
Rainbows And Doubles
Note: The colors are always in the same order with red on the outside an following ROY-G-BIV to violet on the inside. A double rainbow will have the secondary arch dimmer and with the colors in reverse order. Here are the 6 most vivid pics of the day
Final 24 Hours To Get Your Shirts Before July 4
Limited Edition Flag Inspired Shirts: These Flakes Don't Melt
Click here for our web store to get in on the special. Stars are flakes, and rulers measuring the piles make up the stripes display a few metaphors that might connect with you.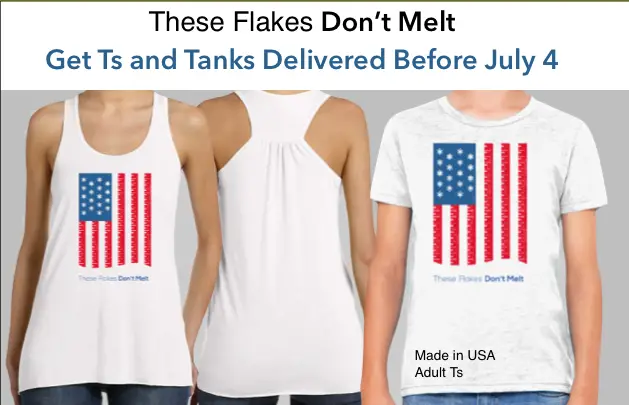 Personal design of our flag with a snow theme to keep you cool in the summer heat. These are available for two weeks, so we can promise delivery by July 4.
I am one flake that will not melt this summer as I train for my Trek Across Maryland Aug 7-13. Proceeds will support the preparation for this event and I thank you ahead of time.
Click on our web store to order yours before June 29. My entire family will be sporting these for the fireworks. Will you join us?
This was posted as 'All clear over Baltimore' on Twitter.
Also see:
Video of a funnel cloud over Preston MD
Tornado Video over Howard County June 21
Tornado Damage Photos From June 21
Top 10 Shelf Cloud Photos June 21
Top 10 Strawberry Full Moon Photos
Please share your thoughts, best weather pics/video, or just keep in touch via social media
Get the award winning Kid Weather App I made with my oldest son and support our love for science, weather, and technology. Our 3 year anniversary of the release and our contribution to STEM education is this November. It has been downloaded in 60 countries, and works in both temperature scales. With your support we can expand on the fun introduction to science and real weather.