June 22 – The moderate risk of severe storms in the Midwest can be clearly tracked to the southeast around a large upper level ridge. The trajectory overnight and radar simulation showing the intensity holding together into Thursday morning. The one guarantee is that it will be raining at daybreak. But, how bad will it be? The two model simulations below show a different story. The HRRR Model has the thunderstorms south of Baltimore. But the NAM model shows the action mixed between central Maryland and southern Pennsylvania in the morning, then dropping south in the afternoon.
The hype across weather boards today has stirred the interest of naming the system. I don't ever want to use a term that may scare people, and that is what 'derecho' does. The system we had on June 29, 2012 was the last and most prolific in our region, but I do not believe that is what is on the way. Here is a brief list of definitions with the forecast sliders below.
A Derecho is defined by fast winds at the surface in excess of 58 mph along most of a 250 miles or longer. But also contains pulsing with winds exceeding 75 mph at spots along the path. This length is due to fast movement aloft. Here is the article I wrote recapping the June 29th 2012 derecho defining along with many visuals.
Note: A storm is considered 'severe' when it contains winds over 58 mph, or hail 1 inch in diameter. This can be in a storm that pulses with that intensity briefly, but may not be sustained for more than a few minutes.
A Mesoscale Convective System (MCS) is a large complex of thunderstorms that rotates on a large scale and can survive for many hours without the need for heat from the sun. This can produce large hail and tornadoes. This will produce damage but not the long, sustained path as defined above.
A Mesoscale Convective Complex (MCC) is also a large cluster of thunderstorms, which often develops overnight. On the edge of a hot ridge or heat dome, the heat from the day can rise to mid levels and give additional boost for this development long after the daylight has ended. This will produce damage but not the long, sustained path as defined above.
Sometimes there is just a large group of thunderstorms that will ride along a cold front, or boundary of warm and cold air. These can also survive overnight and also produce severe weather.
What can we expect?
The upper level winds support the path of the core of the storms to travel from Ohio across central Maryland. But the subtle adjustment of track has the HRRR Model bring the most intense action well south, but rain will be here in the morning. The NAM Model looks much more impressive, but has a tendency to overdo convective events. Needless to say it shows the energy hitting most of us throughout the morning and early afternoon.
–> Sliders To Compare
HRRR Model
[metaslider id=38088]
NAM Model
[metaslider id=38095]
We do have a slight risk for severe storms both in the morning and possible redevelopment in the afternoon
If you have storm damage such as dents from hail, RPS can help
Limited Edition Flag Inspired Shirts: These Flakes Don't Melt
Click here for our web store to get in on the special. Stars are flakes, and rulers measuring the piles make up the stripes display a few metaphors that might connect with you.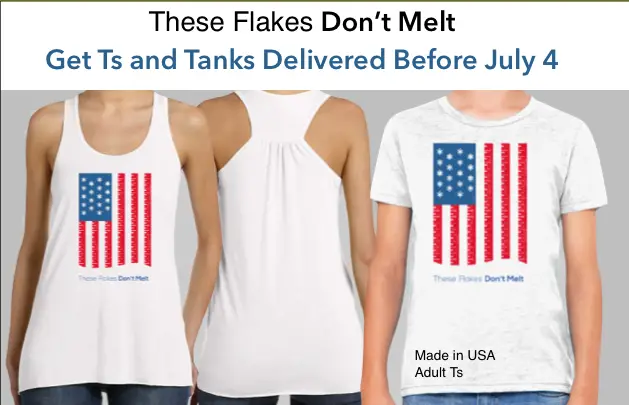 Personal design of our flag with a snow theme to keep you cool in the summer heat. These are available for two weeks, so we can promise delivery by July 4.
I am one flake that will not melt this summer as I train for my Trek Across Maryland Aug 7-13. Proceeds will support the preparation for this event and I thank you ahead of time.
Click on our web store to order yours before June 29. My entire family will be sporting these for the fireworks. Will you join us?
Please share your thoughts, best weather pics/video, or just keep in touch via social media
Get the award winning Kid Weather App I made with my oldest son and support our love for science, weather, and technology. Our 3 year anniversary of the release and our contribution to STEM education is this November. It has been downloaded in 60 countries, and works in both temperature scales. With your support we can expand on the fun introduction to science and real weather.