This 2015 El Nino has already been compared to 1997 and discussed as one of the strongest on record. According to NASA, it continues to grow and has reached the point of no return. There have been occasions when this pattern of shifting and expanding warm water in the Pacific Ocean fails to fully materialize. So long range outlooks can be premature. But now, it is as sure as a sure thing can be.  Just see the 10 week animation at the bottom of this post.
"There's no longer a possibility that El Niño wimps out at this point. It's too big to fail," said Bill Patzert, climatologist for NASA's Jet Propulsion Laboratory in La Cañada Flintridge. The most immediate connection in the US is adjacent to California, and they are desperate. The National Weather Service has declared that southern California has at least a 60% chance of a wetter than normal winter. Only 7% chance it will remain dry.
What About Us? Mid Atlantic Region?
"And the winter over North America is definitely not going to be normal,"Patzert said.
This statement does not guarantee snow, just that we are in for a bumpy ride.  Just looking at the bands on NOAA's map, there is a clear suggestion that there will be plenty of storms across the southern US, and coming out of the Gulf of Mexico then riding up the east coast.  But that is only one piece of the puzzle. What will those storms do? Will they be warm and wet (with winter perspective) or link up with cold air and bring lots of snow?
My next article will dig deeper into the connection of El Nino intensity to our winter patterns along the east coast.
See the latest animation below… But first, this never gets old!
10 week Animation-Red Well Above Normal Sea Surface Temperatures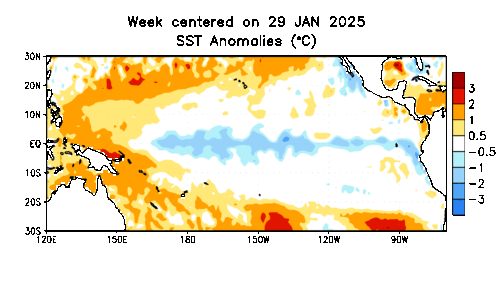 Please share your thoughts, best weather pics/video, or just keep in touch via social media
Get the award winning Kid Weather App I made with my oldest son and support our love for science, weather, and technology. Our 3 year anniversary of the release and our contribution to STEM education is this November. It has been downloaded in 60 countries, and works in both temperature scales. With your support we can expand on the fun introduction to science and real weather.[/fusion_builder_column][/fusion_builder_row][/fusion_builder_container]