The Atlantic basin includes the Atlantic Ocean, Caribbean Sea, and Gulf of Mexico. The normal season begins on June 1 and ends November 30. Occasionally a storm might fall out of season in May or December, but that is rare. Conditions needed for tropical formation start with warm water of at least 80F. Warmer water means more heat and energy for a storm to grow. However other factors such as upper level winds and even dry air or dust from the Sahara Desert can limit development. This year El Nino, warming of the tropical Pacific not Chris Farley as seen below, is expected to increase the upper level wind sheer and cut down the Atlantic Season. It is important to note that 1992 was an El Nino year with Andrew. That was one of the deadliest and most costly systems to cross south Florida. All it takes is one to buck beat the system. Below is an active list of names, followed by the seasonal forecast:
2015 Atlantic Storm Names
Ana- May 7 to 11. Peak winds 60 mph
Bill – June 15 to 21. Landfall in TX. Peak winds 60 mph. Remained a Depression crossing MD.
Claudette
Danny
Erika
Fred
Grace
Henri
Ida
Joaquin
Kate
Larry
Mindy
Nicholas
Odette
Peter
Rose
Sam
Teresa
Victor
Wanda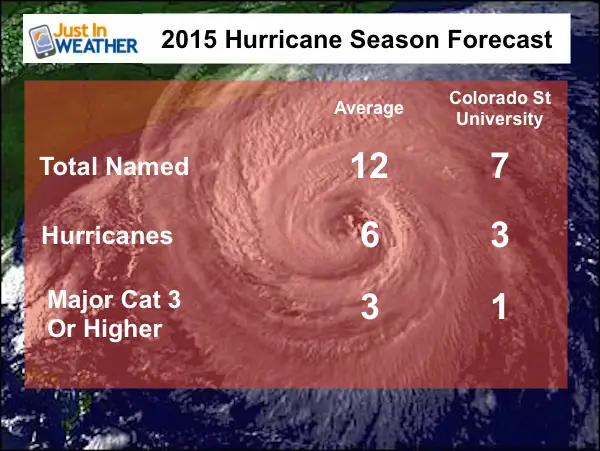 NOAA Outlook:
NOAA's Climate Prediction Center says the 2015 Atlantic hurricane season will likely be below-normal, but that's no reason to believe coastal areas will have it easy.
For the hurricane season, which officially runs from June 1 – November 30, NOAA is predicting a 70 percent likelihood of 6 to 11 named storms (winds of 39 mph or higher), of which 3 to 6 could become hurricanes (winds of 74 mph or higher), including zero to 2 major hurricanes (Category 3, 4 or 5; winds of 111 mph or higher). While a below-normal season is likely (70 percent), there is also a 20 percent chance of a near-normal season, and a 10 percent chance of an above-normal season.
"A below-normal season doesn't mean we're off the hook. As we've seen before, below-normal seasons can still produce catastrophic impacts to communities," said NOAA Administrator Kathryn Sullivan, Ph.D., referring to the 1992 season in which only seven named storms formed, yet the first was Andrew – a Category 5 Major Hurricane that devastated South Florida.
"The main factor expected to suppress the hurricane season this year is El Niño, which is already affecting wind and pressure patterns, and is forecast to last through the hurricane season," said Gerry Bell, Ph.D., lead seasonal hurricane forecaster with NOAA's Climate Prediction Center. "El Niño may also intensify as the season progresses, and is expected to have its greatest influence during the peak months of the season. We also expect sea surface temperatures in the tropical Atlantic to be close to normal, whereas warmer waters would have supported storm development."
The Other El Nino


Related Articles
Tropical Storm Formation: Origin Maps Each 10 Days and Video
History Of Naming Tropical Storms and Hurricanes
Keep in touch via social media
Get the award winning Kid Weather App I made with my oldest son and support our love for science, weather, technology. Our 2 year anniversary of the release is this November and it has been downloaded in 55 countries. With your support we can expand on the fun introduction to science and real weather:
[/fusion_builder_column][/fusion_builder_row][/fusion_builder_container]